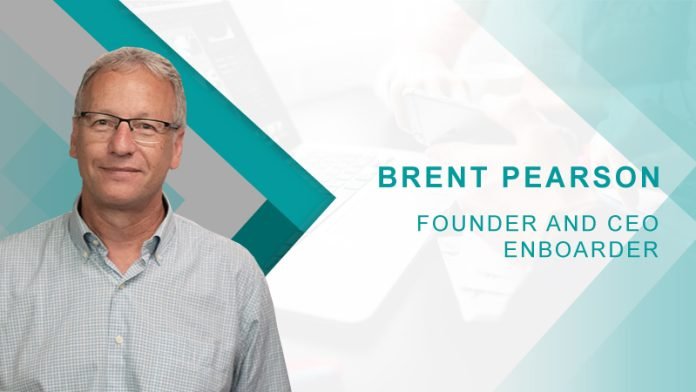 1. Tell us about your role in Enboarder?
I am the founder and CEO.
2. Can you tell us about your journey into this market?
My initial idea was actually quite different to what Enboarder eventually became. I built a low-fidelity prototype of the first idea, took it out to my network and did some validation testing – but I kept hearing 'buts' and so realised it wasn't quite right. Those early testers did, however, gravitate towards the onboarding element within that first prototype – it was clearly hitting a pain point with them.
I accepted that feedback, took a step back, did some intense research and realised that I was drawn to the idea of reinventing onboarding from a human experience perspective.
When I took the revised concept, which would eventually become Enboarder, back to the testers I knew I had something – they didn't just like it, they wanted to buy it.
3. How do you think technology is changing the HR Sector?
I think the HR tech space has lagged behind some others. For example if you look at the Sales and Marketing tech stacks, you see so many point solutions that integrate easily with core solutions like Hubspot or Salesforce.com.
Human Capital systems have been slower to open up their APIs and make it easier for best-of-breed point solutions to integrate, but it's coming. New ATS solutions and HRIS solutions have open APIs and this encourages seamless connectivity so that HR professionals can put together HR tech stacks that work for them. I don't believe that "all-in-one" systems can innovate fast enough.
4. How do you think employee engagement process has become more efficient with the help of technology? How has it benefited organizations?
Technology is absolutely assisting organisations in making employee engagement processes more efficient and effective.
Automation of manual processes provides strong efficiency and engagement gains, and also makes it possible to collect better data on employee engagement. Good technology should also be focused on helping to build and sustain employee engagement, by enabling better communication and emphasising the importance of employee experience. Every technology touchpoint should be seamless and provide a great user experience.
5. How has engagement onboarding platform introduced by Enboarder, contributed to the HRTech Industry?
Enboarder is built from the ground up to solve the onboarding challenge from an engagement and experience perspective. From our choice of communications channels, the way content is structured and delivered, to the interface of the platform, no other product so holistically delivers on employee experience.
Enboarder is also the only onboarding solution that solves the engagement issue from the hiring manager's perspective. Managers have a major influence on a hire's experience at their new job, but they're busy, and don't usually have in-depth HR training. Enboarder provides manager coaching, nudges and reminders to help even the busiest of managers deliver engaging onboarding experiences for their new hires.
6. What advice would like to give to up and coming Hrtech StartUps?
I can't overemphasise the importance of really solid idea validation at the beginning.
Is your idea differentiated or just a better execution of something else out there?
Prospects might like it, but will they pay for it?
Can they find budget to pay for it?
Can you justify the value proposition or ROI for them?
7. What technology according to you will leave its mark in 2019?
I think bots are going to come of age. Not the standard bots that guide you through linear processes that we have mainly seen so far, but truly smart bots that make your life easier by adding questions and anticipating your needs.
8. What is the vision, on which you and Enboarder are working on?
Now and in the future, the human factor remains as the key to success in talent acquisition, retention and overall employee experience. Strong employer branding needs to be backed by real relationships and human connection. At the same time, smarter technology will play a key part in helping busy employees and employers build these meaningful connections while balancing the other tasks that need to be done.
Enboarder will continue to evolve and innovate this intersection of technology and human experience.
In the short term, we want to triple our revenues and dramatically grow our Austin, TX and London offices. We want to keep delighting customers and having fun as a team.
9. Can you tell us about your team and how they support you?
Hiring a great team is the best thing you can do.
It's the foundation of your company. I have hired the best people I can find that are totally aligned to the values of the company.  If you do this, then you can really empower them to make the right decisions and you don't need to micro-manage them.
Which Book are you reading these days?
I'm in the middle of reading The Uninhabitable Earth by David Wallace-Wells. I'm concerned about Climate Change and not messing up the planet for future generations.
10. Can you give us a glance of the applications you use on your phone?
Slack – Can't live without it
Gmail – Both business and personal
Calendar – Schedule my life
Crewmojo – People Management
Expensify – Expense Management
Klipfolio and Insight Squared – Business dashboards
Dropbox – Access to any file on my phone
SoundCloud – Good beats
Youtube – Watching a great documentary about Theranos right now
RealEstate.com – Looking for a new house