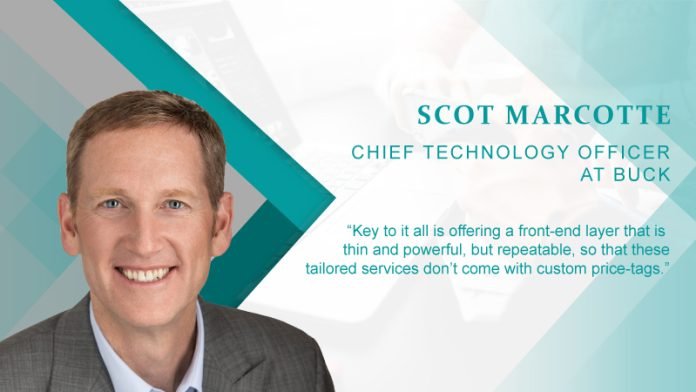 1. Tell us about yourself and your role at Buck and how you got there?
Like many career paths, mine took an unusual journey to become the Chief Technology Officer at Buck.
My father was a TV anchor and I always admired his ability to entertain, educate and impact his audience. I had a similar passion for broadcast communication but saw a different path with the emerging internet as a way to a make a difference in the lives of individuals.
Trying to making a difference in the world combining these passions for broadcast communication and digital interaction, I stumbled upon HR technology.  My industrial engineering degree would've headed me down a traditional manufacturing job path, but my media experience made that journey seem rather unappealing. HR seemed ripe for better process efficiency in the early 90s when I started – and many would argue still is – and technology was being launched to drive employee self-service.  Fortunately, the world-wide web provided an ideal means for reaching the masses in a highly personalized and impactful way.
Through the 90s I cut my teeth on some emerging services with personalized communication and administration, and then sought a company environment that was eager for innovation and excited to drive change in the HR space.
In August of 2000, I started with Buck. Buck embraced the creative use of technology to address both organizational and individual need. Taking a consultative approach to digital solutions, we recognized then and still do today that not every challenge can be solved by a one-size-fits-all technology approach.
Buck was willing to experiment with emerging tools and unproven technologies, allowing us to build some of the first HR mobile apps, algorithm-driven targeted messaging, online games and talent analytics tools.
Being owned by Mellon (now BNY Mellon) gave us an opportunity to hone our skills in the financial services side of HR.  ACS  (Buck's owner between Mellon and Xerox) helped us explore broad HR and narrow benefits administration efficiencies. Xerox provided us access to some of the world's leading innovation centers including PARC (Palo Alto Research Center) where GUI, the Ethernet and the mouse were born. Conduent focused us on the digital interaction, combining the best of systems improvement with optimal user experience.
Now that we are a stand-alone under the private equity firm HIG, we can build off that rich past with established platforms, global infrastructure and a continued entrepreneurial spirit.  HIG gives us the chance to exploit AI, Blockchain, robotic process automation and machine learning to improve business efficiency for organizations and ideal experience for individuals.
I'm excited that we at Buck can play a significant role in this evolution.
2. How have you seen the evolution of career site technology and employer branding over the years?
Initial efforts on career site technology focused on getting basic information into the hands of employees.  Similar solutions focused on policies & procedures for managers and HR audiences.
As technology advanced, so did the opportunity to create an increasingly personal experience for HR consumers. Early on, that meant online access to pay stubs, total comp info, performance reviews and the like.
Then came process improvement.  Tools emerged to simplify how HR work got done and enabled ways to increasingly put it into the hands of the users to take direct action.
Process improvement through self service morphed into robotic process automation techniques, minimizing manual interventions and hooking together otherwise disparate systems.
When we look at the state of the marketplace today, we see most vendors offering ways to help individuals and organizations address the "how" in getting HR work done.  What we don't see enough of, is the "why" someone would want to take the action in the first place. Encouraging the right behaviors, choosing the right programs, using those programs for the best end results and measuring outcomes instead of transactions should really be the focus.  And, it should be delivered in ways that help differentiate employers and extend distinct brands through better experience.
3. How do you differentiate Buck from the other companies which are catering around the employer branding and HRTech domain?
Buck believes that there is no such thing as a best practice for how that employer branding gets placed in front of end consumers.  Every organization has their distinct value proposition that needs to be marketed to attract the right talent, motivate existing employees and connect with former employees for ongoing impact. Buck takes great care in capturing that distinct brand with every deployment and makes sure that the value proposition comes to life.
Across HR technology, administration and consulting, Buck is bold, nimble and confident. We can tackle any challenge across the talent planning, management and engagement spectrum. We are small enough to break down silos and create cross-tower solutions that don't rely on cookie-cutter approaches, yet we are big enough to confidently deliver services in 120 countries using 30 languages.
Our services include comprehensive global digital workplace solutions that make an employer's distinct value proposition come to life, all the way to distinct point solutions for total rewards, decision support, benefits & equity administration and analytics.
We can bring our own flexible and scalable technology to the table or guide clients in the optimal build-out of licensed services. Either way, we know that meaningful organizational value comes from eager individual adoption, so a killer UX coupled with goal-affirming analytics is critical.
Unlike most in the industry, Buck doesn't start with a hammer in search of a nail. Instead, we take a tailored, consultative approach to bring order from the chaos. We tie together various disparate systems so that end users don't have to think about which system is used for what; rather, we architect a single eco-system, built from their perspective.
No two employers have the same talent goals, so we philosophically believe the right eco-system for one organization may not be right for the next. The HR needs of a global software developer are very different from the goals of a mid-sized Midwestern manufacturer. While there are plenty of processes and transactions that can be repeated behind the scenes, the means to entice and motivate talent needs to have a very organization-specific feel.
Buck tailors every experience to assure messaging, tone, incentives and disparate systems align with business goals.  We can even craft distinct transactional services that may not be available through off-the-shelf software, assuring the right plan design isn't trumped by technology product limitations.
We provide the wrapper to it all with front end experience and back end analytics to assure we're driving the right behaviors and measuring the right impact. Artificial intelligence assures the experience is personally relevant and meaningful across multiple underlying systems.
This approach allows organizations to take a best-in-breed, adjustable approach to vendor selection while maintaining consistent process flow and metrics.
Even our administrative and decision support tools can be tailored to achieve desired outcomes for both the user and the employer.
Key to it all is offering a front-end layer that is thin and powerful, but repeatable, so that these tailored services don't come with custom price-tags.
4. What are some of the connect factors that connects Buck  to the job seekers?
For Buck, we're fortunate to work with dreamers and doers focused on what's next to drive organizational value through the contributions of individuals. With deep HR, user experience and analytics expertise, our "whole brain" innovators and implementers apply creative thinking and cutting-edge technology to build and package solutions that solve real world needs.
We take a consultative approach to all we do, keeping current on latest innovations and driving many of them in the process.
We feel these factors make us uniquely appealing to job seekers looking for a fresh approach and enable us to create similar technology services for our clients who need something more than a cookie cutter approach.
5. Do you see corporate companies becoming more and more acceptable towards middleware companies like yours in the rapidly pacing HRTECH arena?
Advisors tell us that their clients are expecting best-in-breed administrative services for specific HR needs but also need hub experience providers that can bring it all together.  To that end, we're seeing an explosion of service providers offering tools to integrate services and create that single experience. We know corporate companies need this capability.
We truly believe, though, that it can't simply be about tying these services together in one pretty wrapper to make processes easier.  If we simply make it easier for employees to take online learning that doesn't align with their career goals or pick benefit plans that aren't right for their health and wealth needs or go through a performance review without coming out with any actionable areas for improvement – the individual and organization is no better off.
We have to assure that each individual is getting the right training, enrolling in the right programs, receiving proactive job guidance so that we can deliver productivity value to the organization and individual value to the employee.
The shiny new technology toys alone don't drive ideal behaviors, so we firmly believe that understanding strategic goals first is critical to implementing the right mix of technology services to enable results.
For these reasons, we believe our services are very much in need – if not critical – in the rapidly pacing HRTech arena.
6. Can you throw some light on any upcoming partnerships and products mtaht Buck might be launching?
We'll soon be announcing a partnership with Sisense, a leading provider of analytics services.  Sisense has been disrupting the BI market by simplifying business analytics for complex data needs.
Buck selected Sisense to deliver self-service analytics to its employees and assist Buck in developing analytics offerings to our clients.
Buck will use Sisense to consolidate its analytics offerings as well as other graphing and spreadsheet programs. Sisense will also replace a reporting portal, which serves thousands of users across the firm to manage hundreds of users and requests simultaneously.
7. Tell us one of the most important digital transformation campaign Buck made in the recent past?
In November of 2018, just three months after relaunching Buck to the marketplace, we announced our BuckConnect platform.
BuckConnect aggregates the full spectrum of a company's health, wealth, and career programs and delivers them in a highly intuitive mobile and web experience to maximize employee engagement. It creates a one-stop-shop for both the individual and the organization, while the underlying administration services remain vendor agnostic.
Using machine learning-enabled decision support tools, employees can use the platform to securely access, transact, and manage their full suite of benefits and HR programs. Users receive individualized plan support throughout the year to help them achieve their personal goals.
8. Tell us how do you manage to plug in to a more actionable customer centric model?
With the millions of employees we serve, Buck believe there are millions of best employee experiences. In other words, the best employee experience is what's right for the individual we serve. Our diverse world demands that there is no such thing as a single best practice to employee experience.
Human-centered design helps achieve this audience of one approach. The continuum of experience starts with generic, which can be valuable for top-down communication, but not much else. Persona-driven models help narrow ideal experience, but still run the risk of being stereotyped. Personalized models assure individual data, including historic interactions, is used to create a meaningful experience through the ideal channel with the right messaging and tone.
Contextual experience provides the added benefit of applying relevant work and life events for a hyper-personalized approach. We believe the more contextual, the more valuable to the individual and the more likely it will result in ideal outcomes for both the user and the organization.
A human-centered approach requires that HR borrows proven successes from our brethren in consumer marketing. Buck taps the expertise of other HIG companies to keep us from reinventing the proverbial wheel. Adherent, a leader in digital marketing, brings external consumer-facing AI, machine learning and targeted interaction expertise. Lionbridge, one of the largest language services companies, assures experience is contextual to the local dialect level. Salary.com supplies benchmark compensation and talent data helps us better understand the audiences we serve.
Along with these partners, we take an objective approach to "hub" aggregation.  It means we have to play nicely in the sandbox with all HR services providers in order to create a singular experience for the user.
9. What technology trends do you think will see a massive boom in 2019?
Of all the innovations in our industry, we're closely following innovations related to Blockchain and considering ways to apply them to HR. While we may not see extensive practical application of blockchain in 2019, we do expect a significant amount of research energy focused on it.
The more personal we get with experience, the more danger is introduced in how that data can be compromised. HR needs to continue to be stewards for the people we serve and the personal data they entrust with us. There's phenomenal value to the individual with the massive amount of data HR can access – from biometrics to claims to financial holdings to career planning – but plenty of risk with how we use that data to guide and educate.
Blockchain brings necessary control to the individual to assure their data is being used the way they want. Since each entity in the chain needs to "sign-off", users can control the degree of personalization of their experience. It also opens up the possibility of data outside HR's control, such as personal holdings, genomics, volunteer initiatives, spiritual interests and even hobbies to complete the picture of what matters to a person for complete life management.
Blockchain also allows these interactions to become more real time. Delays related to nightly valuations, bi-weekly pay cycles and brick & mortar working hours will someday soon become obsolete.
As a cost center, HR often doesn't get the latest technology. The improved business value of workforce efficiency could push HR to the front of the line when it comes to Blockchain, and Buck is eager to help make that happen.
10. Tell us how is it like working for Buck? We won't mind seeing some fun pictures.
As essentially a 102 year old startup, Buck has a chance to do it again the right way. Under HIG, we believe in the social contract between employee and employer.
Similar to what we do for our clients, we start with the strategy that our company is hoping to achieve & the total wellbeing goals our employees are looking to achieve and then apply right program design and execution to make them real.
It means that we look at industry and individual data to help us design the right HR programs.  We measure what we do to assure it meets our employees goals and our business goals.  And, we use our own technology to help that this social contract comes to life.
On a day-to-day basis, we're back to having the entrepreneurial spirit that defined us for much of our first century.  We're taking risks.  We're listening to our employees. We're having fun.
It's great to be back!
11. What book are you currently reading?
I keep coming back to the Lean Startup.  It's a great read on how to apply agile methodologies to innovation.
HR has a history of spending a lot of time, energy and resources on platforms that try to do everything and then fail miserably when put to the test of real world application.  Our best bet is to apply Lean Startup philosophies to get quick learnings from early adopters of our offerings. Those learnings – from both organizations and individuals – can then inform the evolution of product design to assure we're heading down the right path.
12. What is the one piece of advice you would follow irrespective of the circumstances?
Never settle on the status quo.  There's always a better way to enrich our lives – and the lives of our employees.