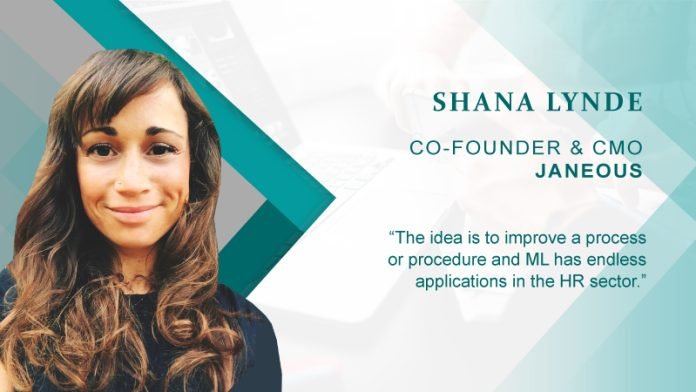 1. Tell us about your role in Janeous?
I'm Janeous' Co-Founder and Chief Marketing Officer. My role is to lead the company alongside our Founder & CEO, Blake Hawkins, as our Co-Founder. As Co-Founder, I interface with investors, I've attended an accelerator and mastermind group, and I recruit and hire for our company. I oversee all of our marketing, PR, and social media efforts, and manage User Acquisition and Retention for job seekers. Naturally, since we are a small start-up, I step in whenever and wherever needed.
2. Can you tell us about your journey into this market?
My entre in recruiting industry started right after I completed a master's degree in Clinical Psychology. I joined a boutique firm that worked with Fortune 500 medical device companies and worked with hiring managers to help them hire hundreds of sales candidates. There were times I built out the entire sales teams for new companies as well.
3. How do you think technology is changing the HR Sector?
I will speak from my area of expertise, hiring and recruiting. I re-entered the recruiting industry after some years and was overwhelmed by technology's imprint on the industry. I found human interaction had become fairly obsolete, while automated processes like bots, auto-generated responses, recorded interviews, etc., had taken precedence over connecting with candidates directly (phone or face to face).
Since joining Janeous I recognize the tremendous value technology can provide. Technology expedites the hiring process with the intention of improving the quality of our interactions. Unfortunately what is happening is that the focus is much on figuring out ways to improve bottom lines by expediting the process through saving time and effort on the side of the recruiters and HR professionals that there is a huge disconnect and lack of human interaction and personal touch during the process. Candidates lose out and are affected negatively and have fairly negative experiences during their journey as a job seeker. This is coming back to companies with the unintended consequence of extending hiring timelines, poor brand reputation, losing customers, and losing millions of dollars a year. We have reached a tipping point, particularly in HR, that a balance needs to be struck between technology and human connection, for both sides.
4. How has application of machine learning, empowered HR procedures?
Most often, machine learning is a means of optimizing expediting processes, whatever those processes are. Essentially machine learning uses algorithms to perform a specific task without explicit instructions. Most often
the idea is to improve a process or procedure and ML has endless applications in the HR sector.
5. Can you explain how your talent matchmaking works to match employers with required candidates?
Absolutely! At Janeous, we source all candidates. We aren't a marketplace like LinkedIn or Monster from which an employer or recruiter can sift through resumes. We source all of the candidates for our platform, market on behalf of our clients, and all candidate profiles remain private until the matchmaking process begins.
The process: Janeous hosts industry-and-geography-specific digital job fairs, called conferences. Currently we are hosting bi-monthly conferences for Healthcare Sales and Technology Sales in Los Angeles. We also customize job fairs for any new company that joins us and has different hiring needs.
Companies post jobs at one of our job fairs. As soon as their jobs are posted, our candidates can apply to those jobs and companies see how many job applicants apply to their job. 24-hours prior to the start of the conference, interviewers will receive candidate matches who have been auto-scheduled for interviews. At that point, the interviewer has the option of leaving them scheduled or letting our system know they are a poor fit, so we can improve the matching process over time.
If a company has made diversity hiring a priority, they can opt to match anonymously and meet a person for who they are, not what they look like.
6. How has live interviewing function on your platform helped in better hiring?
Janeous' live video connects candidates with interviewers at the earliest stage of hiring. This improves the experience for both sides is helping us with our mission to humanize the digital hiring process. Videos are 10-to-20-minute speed interviews, allowing companies and candidates to know right away if they are a good fit. Plus, our in-interview dual-sided feedback provides interviewers and job applicants the opportunity to leave a review for one another. Currently, candidates take to social media or sites like Glassdoor, and by then it's often too late for companies to improve their candidate experience and ultimately, their bottom line.
7. What are the key factors that define your recruitment and interviewing platform?
We shorten the recruiting process from 5 weeks to 5 minutes with our all-in-one process: sourcing, matching, filtering, auto-scheduling, and introductory interviews. Janeous matches companies and candidates for 2-way speed interviews during industry-and-geography-specific digital job fairs. Through our process we aim to humanize digital hiring by connecting companies and candidates directly, at the earliest stage of the recruitment process.
8. What advice would like to give to the upcoming HRTech Start Ups?
Don't just think about how you will make money or the companies you are serving. Think about employees and candidates, how are you helping them – they are the key to the first piece of the equation.
9. How do you prepare for an AI-centric World?
For now, we arm ourselves with knowledge from AI experts; how advanced and accurate the technology is today, how many years or decades AI is from refinement, the fact that an AI-centric world is more of a marketer's dream and a media movement than any type of reality in the near future. Also, we've created human-centric tech like Janeous to ensure that digital biases and AI/machine learning never take over our place in the world.
10. What are the major developments you are planning, in recent times?
Raising $1M in funding from investors and working on building the traction we need to achieve that milestone.
11. Can you tell us about your team and how it supports you?
This past month we hired our first employee, our VP of Sales, Daniel Kelchner and could not be more thrilled! He's not only an extremely experienced sales leader, but his experience has all been in the recruiting industry. He supports us with his incredible sales acumen and ability to bring customers to the table and drive the early traction we need.
Blake Hawkins, our founder, is the brains, the heart, and the engine of Janeous. We would not be here today without him – he conceptualized Janeous back in 2010 and began building the actual tech in 2017. He drives the company each and every day and is our leader.
12. Which Book are you reading these days?
Start With Why: How Great Leaders Inspire Everyone to Take Action, by Simon Sinek
13. Can you give us a glance of the applications you use on your phone?