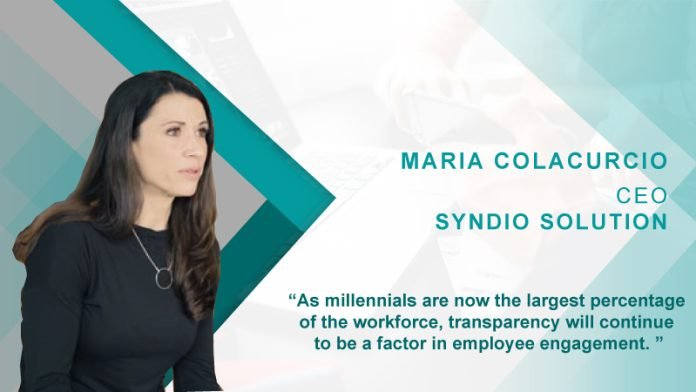 1. Tell us about your role in Syndio Solutions?
I joined Syndio as the CEO in the fall of 2018. Since that time, we've experienced tremendous momentum as companies pursue solutions to solve the issue of pay inequity. Pay equity is not a fad – this is an issue that will only become more prominent as employees start to demand pay parity and transparency. HrTech News
2. Can you tell us about your journey into this market?
When I decided to return to the workforce after taking time off to raise my six children, I started at a much lower level than when I had left, which in turn, forced me to work my way back up. In the process of climbing the corporate ladder, I realized that the motherhood penalty is a real thing.
Many hiring managers see spending time at home with young kids as a liability, not an asset. What I learned was that spending time at home is, in fact, valuable; women should highlight their at-home operations, as there is a need for that kind of experience in the workplace. When I joined Syndio, I was passionate to work at a Company that "practices what they preach."
The leadership team strives for transparency amongst co-workers and values family time, which in turn, helps us to better advise our clients in working to eradicate pay disparities in the workforce once and for all. It took my real-life experience to help mold me as a CEO and strive for pay equity not only for clients but for my team, as well.
3. How do you think technology is changing the HR Sector?
In the past, it seemed that HRTech was synonymous with the newest feature innovations being provided by the large HCM players. Now, there is a rich market of point solutions and platforms that are providing valuable business intelligence and analytics to support long-term decision making that also supports employee engagement and fairness across the enterprise.
4. How has the application of AI & ML empowered HR professionals?
For Syndio, the application of ML enables us to solve business problems for our users. One of the biggest challenges when conducting pay equity analyses is grouping employees for review. With ML, we can recommend the most optimal groups for complex org structures. This is an example of using data to predict and recommend solutions to make the experience more efficient and productive immediately.
5. Can you explain how people analytics is helping in better talent acquisition and management?
Companies are spending so much time and money to recruit a diverse workforce. But how can companies use HRTech to ensure these employees are included and retained? Research shows that pay transparency is a powerful lever to engage employees and create a sense of brand loyalty. Employees want to work for companies that pay fairly and are honest about the practices they use to establish pay.
6. Why do you think that the time has come to eradicate pay disparities?
The persistence of the pay gap is an indictment of current solutions. Now that the technology exists to analyze and resolve pay disparities due to gender or race, there is no reason companies should continue to operate in the dark. This problem is 100% solvable. We work with companies to find the underlying policies that are contributing to the gap so they can fix them and stay in compliance over time.
7. How does your platform help in delivering superior employee experience and satisfaction?
According to a Payscale research study, employees care much more about pay transparency than they do about their own pay vs. the market. This means that companies can engender a lot of trust amongst employees by simply talking about their process to define pay.
As millennials are now the largest percentage of the workforce, transparency will continue to be a factor in employee engagement.
8. What advice would you like to give to the upcoming HRTech Start-Ups?
Focus on areas that actually solve real-world business problems. We don't need any more AI for the sake of AI. Technology can be flashy and cool, but if it's not solving a problem that exists, it will not survive. Find product-market fit by constantly surveying your target audience. Ask lots and lots of questions. Never assume you know the answer and beware of the internal company groupthink. The best way to learn is to listen and ask.
9. What work-related hack do you follow to enjoy maximum productivity?
I use Smartsheet religiously. I was one of the co-founders of the company and manage to-do lists, budgeting workflow, 1:1's and other status update items in the solution. This enables me to reduce the number of meetings that are required and focus on the highest priority items.
10. How do you prepare for an AI-centric World?
By looking for areas where AI can solve real problems. AI can be useful when making a user's life easier by predicting or recommending an outcome that would otherwise require a lot of manual work.
11. What are the major developments you are planning, in recent times?
We are working on an ML classification system that recommends the optimal grouping for employees with complex org structures based on other companies in their industry.
12. Can you tell us about your team and how it supports you?
We focus on hiring people who are passionate about eradicating pay disparities in the workplace. By maintaining a focus on passion, competency, and hustle, we are building a team that is truly devoted to solving this problem.
Which Book are you reading these days?
I'm reading the Hard Thing About Really Hard Things (again). It's a great book for CEOs and entrepreneurs.