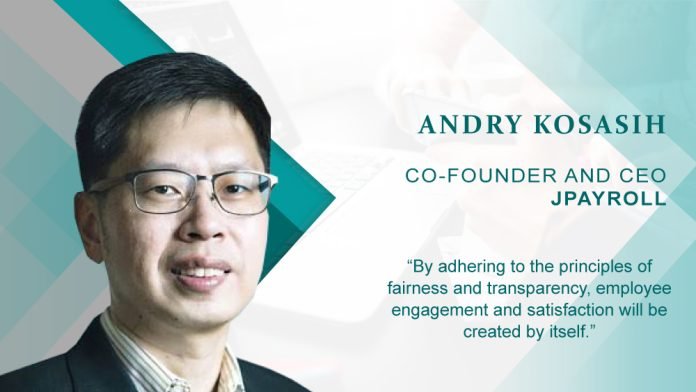 1. Tell us about your role in JPayroll?
My name is Andry Kosasih, I am the founder and CEO of Java Consulting Indonesia, a company engaged in IT business solution. Our company has been established in Indonesia since 2003. JPayroll is one of our products.
2. Can you tell us about your journey into this market?
As an ERP implementer we have experienced in giving business solutions to our customers. As we already know payroll system has different patterns and rules in each country, so we create this application based on the needs and rules that apply in our country, which will also be integrated with the ERP products we sell. After 2 years running our payroll system, we notice the market is quite prospective. Based on our experience, we are re-creating our payroll system which is independent, more flexible and adaptable to the needs of different industries without customization. Up to now, we are 10 years in this industry.
3. How do you think technology is changing the HR Sector?
Technology can be use as accelerator of digital transformation in HR Sector to reinforce a desired culture. Technology selections can make design processes to shape the desired work behaviors.
4. How has technology helped in developing the payroll system?
Maintaining confidential data through technology with less human intervention and adaptive to environment changes. Technology will make payroll system easier to operate in the complex environment.
5. How do you define your HRIS solutions?
As an Asian company, we focus more on cost control, where our customers get benefit from the applications we sell. Profit is the most important thing in business. With JPayroll we provide not only flexibility in the calculation of salary components for both allowances and deductions based on the formula, but we also put all the formula calculation in employee profile as part of employee management. We can see all the activity, history and cost center related to accounting journal all in one screen. Our application can also provide solutions for advanced time attendance requests, in mid-sized companies with hundreds of employees up to an enterprise scale with tens of thousands of employees with multiple business units and branches.
6. What is the contribution of Payrolls in achieving the target of employee engagement & satisfaction, according to you?
I believe a decent salary will supports productivity. The system must be able to adapt to an environment like this. Employee income must be in line with the performance provided. The system must be able to bridge the company's obligations with employee needs.
By adhering to the principles of fairness and transparency, employee engagement and satisfaction will be created by itself.
I have found several payroll systems fail to meet the demand for complex component payroll calculations.
7. What features of your payroll system, differentiates it in the market?
Our Payroll System has been used in 6 countries in Asia. With the Formula Parameter Based feature we have no difficulty in calculating multiple formulas, formulas in the formulas and formulas with choices placed in the workflow process. We have 3 levels of security authorization which gives more flexibility but secured. Other functions such as Employee Data, Recruitment, Training, Competency and Performance Appraisal are also available.
8. What advice would like to give to the upcoming HRTech Start Ups?
Nowadays people looks for more adaptive application that can be used for most complex situation.
9. What work related hack do you follow to enjoy maximum productivity?
Choose a place and atmosphere that is suitable for work. For me, productivity doesn't have to be the same as how long you work.
10. How do you prepare for an AI-centric World?
AI can provide accurate employee data identification and cut processes by providing accurate calculations and analytic reports. We are not yet entered into this stage, but we have prepared for this.
11. What are the major developments you are planning, in recent times?
We will continue to improve our system to become more user friendly, adaptive and evolved.
12. Can you tell us about your team and how it supports you?
We work as a team, with one vision. I encourage our team members to be more creative and innovative. And most of all, we help each other.
13. Which Book are you reading these days?
The Master Key System by Charles F Haanel
14. We have heard that you have a very joyful work culture, we won't mind having a look at some of the pictures?
It's difficult to get all the team in one place, here's some of my team member
15. Can you give us a glance of the applications you use on your phone?
I have WhatsApp, Facebook, Instagram, Grab, Kayak, Agoda, Zoom and some airlines and banks apps on my phone.