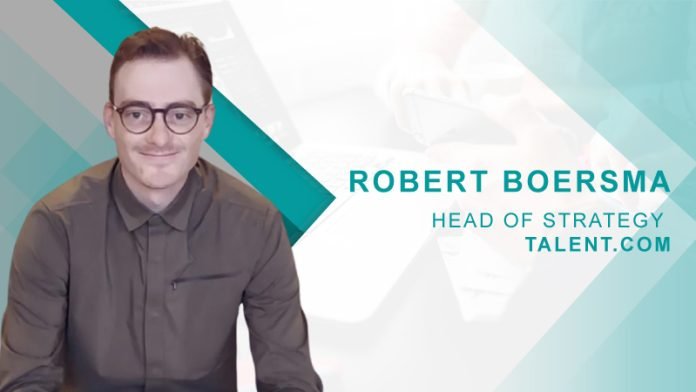 Can you please share a few words about yourself and your journey as Head of Strategy. What sets Talent.com apart from other players in the market?
My name is Robert (Rob) Boersma, I live in Montreal Canada and am the Head of Strategy at Talent.com. I've been with Talent.com since its startup days – when there were no more than 15 people in the Montreal office, and held positions from Sales, Director of Customer Success to VP Operations (North America). Before my time at Talent.com I worked at a Fortune 500 construction company in Talent Acquisition. Having seen multiple economic downturns, layoffs and mid-career colleagues needing to re-skill, I developed an ingrained interest in connecting people to work. Work is a huge part of our lives!
That's where Talent.com comes in: Talent is a global job search website – a 2 sided marketplace that connects job seekers with employers (sounds like tech-company jargon, I know). Our job is to connect the world to work. We're what you might call an aggregator – meaning that we use technology to make every single job listing available on our website, then use more technology to match jobseekers with the most interesting jobs for them. What's really cool is that even if you don't know Talent.com, you've probably visited the website – around 20M people pass through Talent.com per month! We have a massive network of partner sites that we work with to direct candidates through our website to employers – and we do this in over 70 countries. Each day we have millions of people visiting our site, whether that's to use our salary calculator, tax tools or look for work. We estimate that over half a million people per year find work because of Talent.com, and that feels pretty good!
As the Head of Strategy at Talent.com, what are some of the key initiatives or strategies you have implemented to achieve the mission of centralizing job opportunities?
Our mission is to connect the world to work – we do that by making all jobs easily searchable, and by creating the best matching system possible to ensure we're always learning about what people are looking for. Then we get in-front of as many jobseekers as possible – that's what creates our marketplace.
In my current role, I'm spending a lot of time thinking about our marketplace liquidity. Liquidity is the lifeblood of marketplaces – without it we can run into what we call a cold-start problem, where one side of our marketplace (either job seekers or employers) won't find what they're looking for and that's not good for us, or them! An easy way to think of this is with Uber, another 2-sided marketplace. Imagine loading the Uber app to get a ride to the airport, and seeing that there's no drivers available – that stinks! Or in reverse, you're a new driver for Uber, you open the app at the start of your shift and wait… there's no riders? Both are problematic and instances of a cold start – where their marketplace did not have liquidity. In our case, we want to make sure that the experience for both job seekers and employers is as positive as possible, meaning that when an employer uses Talent.com to promote their jobs, they receive qualified candidates quickly and on the flip side, when candidates search for jobs (or let's say, receive a Talent.com email alert), they see jobs that are interesting to them and they want to apply to (and ultimately, lands them a job!).
This requires a lot of coordination internally from teams like our Content team who works on making sure our technology to collect, organize and categorize jobs is always improving (using things like generative AI), to our Matching/Product teams who reads jobseeker signals like searches, clicks and applications submitted to best guess their next steps, all the way to our Traffic Acquisition team who gets our jobs in front of the right people, all so that our audience continues to grow and we can help more and more people find work every day.
How do you ensure that the sales team at Talent.com is equipped with the right tools, resources, and training to effectively meet sales targets and drive revenue growth?
A lot of being successful in sales is selling to the right customers – people who will really benefit from what you're offering and will stick with you because of it. Understanding our liquidity (as mentioned above) is a big driver of how we train, create resources, and plan for our sales groups. Put simply, we try to sell to companies that are hiring for the candidates that we have on our website. For example, our strength is not connecting CEOs into new jobs because CEO's don't really look for work on websites like ours, and that's OK as long as our sales team understands that and is not focusing on those opportunities. On the other hand, we are really good at placing people looking for say, warehouse or cashier jobs because we have liquidity.
We host training with the sales team about this topic and are always looking for ways to further understand our marketplace – it's a continuous learning process. Do we have job seekers looking for Surgeon jobs in Fargo, North Dakota? Do we have job seekers looking for Delivery Driver jobs in Atlanta? These are critical questions that our sales people need to have answers to in order to sell deals that will ultimately end up being successful. Combine this liquidity intel with a sales/prospecting focus on companies that hire the most people, have the biggest budgets, and hire in places with a large population – that's the golden combo for our sales teams to be able to drive revenue growth and hit their targets.
Change management and cultural transformations can be complex and challenging. How do you approach these initiatives to ensure smooth transitions and foster a positive and inclusive work culture?
As you can imagine, the company and culture has gone through a number of transformations over the 7+ years that I've been with Talent.com – after all, going from a little startup to 400+ employees is a lot. One learning that came during our hyper-growth stage was to take a step back and really understand your size. Especially as someone in a leadership position who might be involved directly with the founders or senior leaders of a company, there can be a tendency to feel like things have not changed all that much. That might be true for a small group, but for many of the people at arms-length from the decisions being made, that's not always the case. To help with this there's three categories that I would recommend trying to be good at:
● Employee Engagement and Empowerment: Involve employees at all levels and listen to them – get their feedback, make sure they know you hear them. Do this often, and make sure you're recognizing them and their contributions. Empower local "change champions" to give a familiar face to the changes, and address resistance with empathy.
● Vision and Communication: Have a clear vision of what you want your culture to be – and make sure your leaders all agree on it and are representing it. Communicate it often to all employees – repeat in QBRs, Town Halls, team meetings etc. Try to make communication as open and transparent as possible, but don't overshare on things that might not come to life.
● Optimize and Endure: One of my favorite books is called The Messy Middle by Scott Belsky – a fellow who started a business and ended up selling it to Adobe. He talks about how rapid change impacts a growing company and sheds light on the idea that there's really 2 modes that exist in high-growth. Optimize and endure – and just having the knowledge that sometimes it's OK to just be enduring is enough to keep teams going when all that's in the tank is steam.
Here's a great chart that shows what he means – and certainly helped me and many of my teams through some pivotal times of company and cultural change:

Talent.com's mission is to centralize job listings from various sources. How do you address challenges such as duplicate listings or outdated information to provide the most relevant and up-to-date job opportunities to users?
In our mission of connecting the world to work, a key ingredient is our indexation system which centralizes job listings from around the world into our database so that they can be searched easily by job seekers. Our system is created through automated programs that crawl the web – Google calls them "Crawlers and Fetchers". These Crawlers are programmed to be pretty smart – they check for new jobs, deleted jobs, and updates on jobs on every site each day. The same applies for duplicated jobs. As jobs are found and inputted into our database, we have a system that automatically checks to see if it is a duplicate based on many criteria like the title, location, description, URL and others. If the job is found to be a duplicate, we don't display it. There can be instances where duplicate jobs are accepted, for instance if a company is engaging with a staffing firm to hire for a specific job. In this case, we may display the posting both from the direct employer and the staffing company.
Overall, we're pretty dang good at making sure our job content is fresh and accurate. The next frontier is to further develop the post-processing of job listings – to extract important info like salary, benefits, is it hybrid/remote, what's the PTO like, signing bonus etc. These are all important pieces of info that are often buried in a job description and are hard to extract consistently. That's where cool new technologies like Large Language Models (ChatGPT, Bard, etc.) can be really helpful. Our teams are already working on using that technology to improve our job posting content. The better we know the content, the better experience we can give to job seekers, and the better applicants we can bring to employers. Win.. Win..Win!
The concept of developing prosperous hybrid cultures within organizations is gaining traction. Could you elaborate on what this means and why it is important in today's work environment?
The COVID-19 pandemic accelerated the adoption of remote work and digital tools. Organizations realized that employees could be productive while working remotely, leading to a shift in the traditional Monday-Friday 9-5 office model. Employees also realized that working from their couch (WFC) was awesome, and that work-life balance and flexibility were something they could now demand from employers. The ability to work from home or choose flexible hours has become essential for attracting and retaining talent. Especially in a labor market situation like today's, where there's almost 2 job openings for every unemployed person (US, BLS) – companies need to be considerate of this as they recruit. Removing mandatory office attendance also opens up more recruiting opportunities for companies, who can attract talent from a more diverse applicant pool, bringing in broader perspectives.
There's going to continue to be innovation when it comes to remote working, tools, and how companies can continue to create culture virtually – it's the job of business leaders to stay tuned into those advancements and keep their company relevant, and efficient.
Data-driven decision-making is a significant aspect of HR technology. How does Talent.com leverage data analytics and insights to optimize HR processes and improve decision-making within organizations?
We typically work with people in Talent Acquisition, or agencies who work with people in Talent Acquisition departments. The way we work with employers to bring more actionable data to them (and from them to us, which helps us LOTS) is by integrating with their ATS system. An ATS integration with Talent.com typically means that applicants can now apply using their existing profiles (called Talent Apply) in the click of a button – without leaving Talent.com. But that's only the start…things get really good as the data sharing commences. Because we collected the application on our site, we can tell which sources of traffic are converting best. Now the really juicy part – many ATS systems can actually pass us back what we call "disposition data"- meaning they can tell us at what stage an applicant is in: Rejected, Interview Scheduled, Second Interview, Offer Extended, Accepted, Declined, maybe even.. Hired!? That's the dream – having this info is both valuable for customers, as it helps them compare sources/vendors costs and quality, and helps publishers like us improve the service we're giving to employers. If we know what's working for them and what's not, we can adjust our campaigns quickly to make sure everyone's happy. Afterall, our candidates are here to get hired, our employers are here to make hires, and we're here to help with that.
How do the company's core values guide its approach to business and employee engagement?
Core values aren't just fancy words on a wall – they're like the North Star guiding a company inside and out. They help see beyond numbers, and embrace actions that make a real difference in the world. They give a map to leadership to help cascade our approach, and help give a framework for decisions about things both boardroom related, and not.
At Talent.com, our success is driven by a deep commitment to our core values. By focusing on our employees and customers, we create a thriving ecosystem that values and supports both our talented workforce and the clients we serve. We believe that happy and engaged employees translate into better service and innovative solutions for our customers.
Cross-functional collaboration is another key value internally, empowering teams from diverse backgrounds to come together, share ideas, and tackle challenges collectively. This collaborative spirit fosters creativity, strengthens communication, and propels us towards achieving common goals.
Furthermore, we embrace agility as a fundamental principle, understanding the fast paced nature of the recruitment and technology spaces we are working in. This enables us to remain at the forefront of the job market, continuously improving our services, and delivering exceptional value to our clients. Together, these core values form the bedrock of our success, driving our growth, reputation, and the fulfillment of our mission.
What advice would you give to organizations that are considering implementing HR technology solutions for the first time?
● Know What You Need:
It's easy to over-buy software. You can get pretty far with simple systems. Take a good look at your actual needs and figure out where tech can help. Is it hiring, onboarding, or keeping your team engaged? Shop around and buy software thoughtfully. Don't rush it! Now I feel like a parent giving dating advice.
● Choose Wisely and Focus on Being User-Friendly:
Do your homework! Research different HR tech options, compare features and costs, and read reviews. Opt for systems that are easy to use – it'll save you headaches and win over your team.
● Pilot, Train, and Improve:
Don't rush it! Start small with a pilot program in one department. Train your team well and gather feedback to fine-tune the system & processes. Once it's smooth and the kinks have been addressed, roll it out across the board.
Finally, what role do you think HR technology will play in shaping the future of the HR function and its impact on overall business strategy?
With automation handling repetitive tasks, HR teams can focus on building strong teams, process, employer branding and nurturing candidate/employee relationships. Moreover, analytics-driven tools will enable us to make informed decisions on workforce planning, talent development, and employee engagement, and aligning HR efforts with strategic business objectives. In many ways, HR technology is playing catch up with software that supports other business functions that have been seen historically as revenue generating. As more people realize that HR is a function that directly impacts the bottom line, the HR tech stack will evolve and be wholly integrated by more organizations. There's a likely future state where we see more companies like Workday that offer software that combines multiple systems into one – eventually reaching beyond the HR realm to become a universal business-operation software. We're still some time away from that, but looking for ways to allow humans to do human work is a great starting point.
Explore HRtech News for the latest Tech Trends in Human Resources Technology.
Want to Contribute? CLICK HERE To Submit Your Guest Post and Join Our Community of Writers!!!