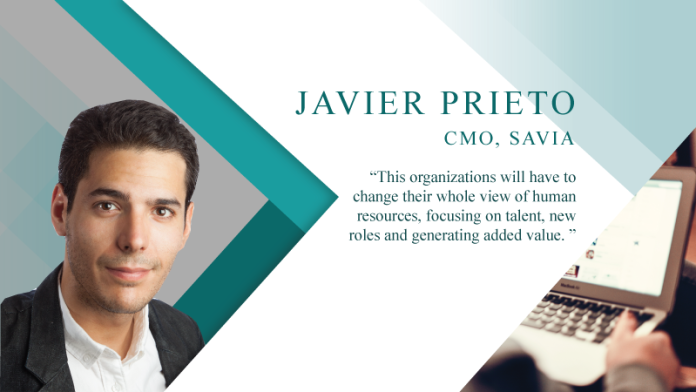 1. Tell us a little about yourself and your role at Savia technologies?
I'm currently the CMO of Savia. I started in the company as the head of design but with the growth of the company a marketing team was necessary. My work covers the whole design of the customer experience and journey. Creating an omnichannel experience that generates value and brand awareness for us.
2. How would you define your company's role in revolutionizing different sorts of Human resource support formats?
We consider that Human Resources is the starting point of the digital transformation process that a lot of companies are experiencing now. This transformation is a matter of people and how they embrace change. It also has to do with technology, but without people it is just a useless tool.
3. How do you think Savia has changed the entire scenario of digitally transforming the Human resources?
We get rid of all the bureaucratic work that gets between HR teams and their goals. How? We provide outsourcing services for payroll, tax management and low added value HR tasks. But the real value is in the cloud technology stack we offer. The BPO services work together with our other tools such as People Analytics, Time Management and People Process.
4. Where did you see the HRTech market lacking when you first started?
Automation. HR Teams still do a ton of tasks manually that holds them from achieving their goals. HR needs to keep up with them.
5. We recently observed that Savia is re-enforcing its commitment to the Public administration, can you highlight some key aspects of this step?
Public administration in Spain employs more than 3 million people, but their digital situation is way worse than in the private companies. This makes that public services are not still optimized as they should. In Savia we believe that public services get better if public employees are better managed. So, we are helping to make Spanish public sector more efficient.
6. There is a lot of talk going on about technology reshaping the roles of CTO's. How far do you justify this statement?
The role of CTO's have been changing since the beginning if the IT industry.
Change has to be their goal, so if they have a hard time with change we have a problem. If we talk about today, technology is present in more business processes than ever, so their responsibility if way higher than in the past.
Luckily, as providers we are conscious of this and try to help them by giving end to end solutions.
7. What are some of the stark differences you mainly found while catering HR Services to the Public domain, Individual companies and multinationals?
As I said, Public Sector, with exceptions, is two or three years behind. Individual companies and multinationals are more similar than ever. The democratization of technology thanks to cloud computing has made possible that small companies can work as good as big companies.
8. What do you think will be the next big thing that will revolutionize the HRTech market especially in public administration domain?
Artificial Intelligence trained with big data. Now that our customers work In a cloud environment we are able to gather huge amounts of data. With this data we will be able to automate HR process thanks to machine learning. This will produce a big change in the way public sector works. Thousands of employees will not longer be necessary, as their work is bureaucratic.
This organizations will have to change their whole view of human resources, focusing on talent, new roles and generating added value. It's going to be hard, because talent management has never been the main priority in the public sector.
9. According to you what should be the typical tech stack for which CTO's must be budgeting for next year which would help in making the payroll and resource tracking process more feasible?
There are two parts of the HCM technology stack. First side has to look into optimization. This means outsourcing, automation and better communication and process management. Once this part is covered, the second part has to do with Employee Experience. Nowadays that we, as users, are more fussy with our digital experience. The same way we demand and flawless service and experience from companies from Amazon, Uber or Google, we will expect the same thing from our own company. This means having a digital experience as good as possible.
10. Can you tell us what book are you reading currently?
As a big fan of Sci-Fi literature, I'm in the middle of "Vortex", the third part of the Spin trilogy by Robert Charles Wilson. In the professional side I have recently started reading "In Search of Excellence". A book written by Thomas J. Peters that has been on my "to read" list for a couple of years until now.
11. Do you have any tips for CTO's to adjust to the rapidly growing tech arena?
Never be the smartest person on the room so you can keep learning from others. Don't get to excited with the "latest new thing" and be very conscious of the people needs and company roadmap. Tech is nothing without people.
For more such Updates Log on to www.hrtechcube.com