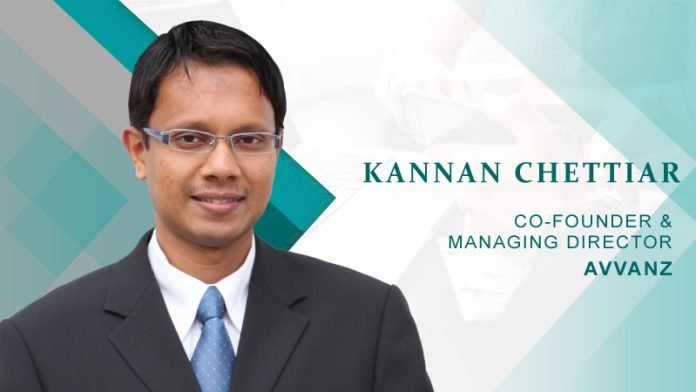 Kannan Chettiar, from Avvanz, discusses the need & importance of stringent background checks for the safety of employees, before, during, & after hiring the employee
1) Tell us about your role in Avvanz?
I am the Co-Founder and Managing Director of Avvanz
2) Can you tell us about your journey into this market?
I have worked around the globe in various commercial leadership positions mainly in Tech companies until I was headhunted to lead a leadership role in a global background screening company. I felt there was a huge gap versus client expectations and found most of the processes too manual and hence more cumbersome and prone to errors. I was convinced that technology can immensely increase the efficiency by automating workflows involving client HR, candidates and the background screening provider. Thenceforth, I started Avvanz with couple of co-founders from the same global background screening company. We managed to successfully leverage technologies like RPA, Machine Learning, Big Data and APIs to automate and streamline most of the workflows which led to awards for Avvanz's background screening platform (ScreenGlobal) as well sealing agreements with global brands. We then extended this technology to launch a 5-in-1 learning platform LearnGlobal and from then have built a reputation as a Tech-enabled HR solutions provider. In 2020, in addition to being a HRTech company, we also assumed another new dimension as a FinTech company. These initiatives and winning efforts got me Technopreneurship award as well by Singapore Business Review – Executive of the Year – HR Technology.
3) How do you think technology is changing the HR Sector?
Not just HR but Technology is enabling several sectors. We even teach companies including HR now on how to leverage disruptive technologies to digitally transform the mindset of workforce, the processes, the business units and ultimately the organization. From talent acquisition to onboarding to development of workforce, technology has a large role to play.
4) In what way is digitization empowering the Talent Acquisition activities?
Digitalization in Talent Acquisition can come in form of using Machine Language to vet hundreds of resumes in minutes, using Chabots/Videobots to interview and filter resumes quickly so that no resumes are left unlooked
and ensures the final interviewees with whom you have the actual interviews are really the cream of the crop based on your parameters. Platforms like ScreenGlobal can them help to background check thoroughly to avoid any wrongful hires.
5) What is the significance of screening in the hiring lifecycle?
Character reference checks have proven to be biased and ineffective in accurately assessing the new hires. More than 3 out of 10 resumes have statistically proven to have discrepancies. These can be in form of undeclared criminal offences, bankruptcies, padded up employment experiences, fake credentials, derogatory indicators in social media, money laundering, drug trafficking, sex offences and fake IDs to name a few. Usually during recession periods, discrepancy % typically goes up. Risks of not conducting background checks include high financial costs due to frauds, damage to brand reputation, security violations of fellow workforce and even high attrition. https://www.avvanz.com/press-release/napbs-background-screening/ gives you more anecdotal evidences of risks associated with not screening. Background screening is not optional anymore because you don't know what you don't know.
Also,
Background checks are not just for the new hires. It's also for existing employees to ensure entire workforce is of the highest level of "safety" and "integrity".
What is the impact of comprehensive new employee onboarding on the optimization of Talent Acquisition processes?
Studies show that people who are not onboarded well tend to leave the company within 3 or 6 months. Onboarding is key and it has to be highly interactive, engaging and effective in application to workplace.
6) Why do you think it is necessary to develop your employees for gauging Lifetime Value?
Avvanz's staff retention is very high and we do have many millennials. We pay a lot of attention to onboarding, integrating, continuous engagement and training to increase the Lifetime Value. No matter how much of investments we make into technologies, it's people who drive the business. They are our holy grail.
7) Can you explain to us in detail about your Screening solution?
Avvaz Screening solution is the process of thorough background checking. ScreenGlobal is inspired by an Amazon like experience and it's the only platform in the world which allows you to easily view, select checks across 150+ countries, understand the scope, read off the turnaround and price easily, order, automated candidate data entry and monitor reports real-time.
8) How is Avvanz's Talent Management Solution different from others in the market?
For Onboarding and Training, a company need to invest in several platforms: LMS, Live Training Delivery, Authoring of content, Content Library and Onboading. LearnGlobal is probably the only 5-in-1 platform on a SaaS model. This pay-per-use model is extremely palatable to any company especially in this crisis period.
9) How do you prepare for an AI-centric World?
We already using Machine Language for some of the checks like social media checks. We have internal and external facing chatbots. We are working on making them smarter now.
10) What are the major developments you are planning, in recent times?
We are close to launching a ground-breaking blockchain solution that is going to disrupt the background screening space to a large extent. We are automating more workflows in ScreenGlobal to increase our USP versus the competition.
11) Can you tell us about your team and how it supports you?
Our dynamic Avvanzers are based out of Singapore, Philippines, Canada, Brazil and India. We are looking to hire in UK, US and Australia. We have a well-connected team of consultants, operations, client success and IT Teams.
12) What book are you currently reading?
"Crushing it" by Gary Vaynerchuk. I am also a big fan of Shark Tank and Dragon's Den. I watch snippets of it everyday.
13) We have heard that you have a very joyful work culture, we won't mind having a look at some of the pictures?
Absolutely – We believe in high level of engagement even during these trying times. We do Virtual Cocktail Events, Exercises for Social Causes (You can see me doing push-ups for PTSD awareness), Virtual parties including dance, singing, bingo games with food and drinks delivered to my Avvanz Team.
14) Can you give us a glance of the applications you use on your phone?
LinkedIn
Facebook
Youtube
Straits Times ST
Business Times BT
HBO Go
English-Chinese Dictionary
My ActiveHealth
Eventbrite
Camscanner
Lino
Stocard