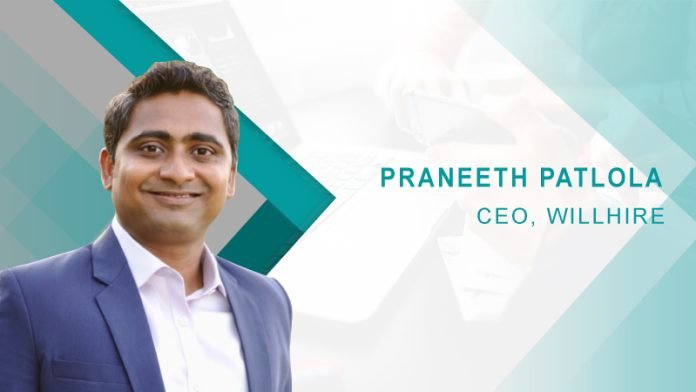 Praneeth Patlola of WillHire talks about the increasing significance of technology in talent management methods and how COVID-19 pandemic is affecting employees and employers
1. Tell us about your role at WillHire?
As the CEO of WillHire, Apart from the operations, I run the product development while ensuring the alignment of sales and marketing. As we have a very small customer success team, many a times, my role turns into a customer experience person, gaining visibility into the customer needs and ensuring customer happiness. In our industry partnerships are key for building scalable customer acquisition. Until recently I lead our strategic partnerships with several market players which includes talent atttraction channels, VMS providers, payroll partners and other technology partners. Now, I am lucky to have an industry expert dive and scale these partnerships for greater strategic success.  Most of days, I try to explore newer product features and performance to drive more value to the customers in enabling them to better optimize contingent labor talent acquisition and management.
2. Can you tell us about your journey into this market?
In 2006, I took a role as a contingent worker at Accenture through a staffing agency and the whole experience was very frustrating. Digging in deeper, I understood that contingent labor landscape has remained untouched by technology except for the VMS solution. In this journey, I attempted to build a modernized VMS for state of Texas and later launched Jobhuk, a recruitment marketplace, at SXSW in 2013. Due to its success, Jobhuk was acquired by Compunnel, one of the leading staffing agencies in the US. Even after launching Jobhuk, I felt there is a lot of opportunity for technological disruption in contingent labor market which was heavily dependent on an intermediary, the staffing agencies. After exploring all the challenges and scope for improvement, I experimented with what technology had to offer and started building WillHire, a direct sourcing solution and launched with a few beta customers. With our first customer, WillHire was successful in filling some critical positions despite a serious skill gap in the market. It was during this time, direct sourcing became a buzzword in the industry. Encouraged by the success and the opportunities available, we started expanding the product features and made improvements to deploy it as an integrated solution in VMS platforms. Today we have built partnerships with industry's leading VMS providers like SAP Fieldglass, VectorVMS and several other providers to forge a fruitful collaboration which will ultimately lead to improving efficiency of contingent labor programs.
3. How do you think technology is upgrading HR sector?
Technology has transformed every business and the HR function is no exception. Before digital transformation, HR, like any other business function had been operating in an outbound model, where every job seeker is targeted for one job opening. The concept of inbound approach has been strengthened with the arrival of modern day technology. This approach allows employers, not only to target but also nurture, only those job seekers whose skills are critical for their business. This helps them improve the quality of hire and reduce time to fill, which together saves the cost of hire. Also, the use of AI and ML, greatly reduces the time to screen candidates, while improving the efficiency of the screening process.
The modern day self assessment tools enable to screen candidate at a deeper level.
The new age of robotic sourcing is bringing huge automation in outbound sourcing and reachability saving huge time. Delivering Candidate Experience with Employer Branding is heavily dependent today's technology.
Job seeking experience of candidates are also dramatically improved with the help of technology, which helps businesses elevate their employer brand. Through mobile devices and non-intrusive communication channels like email or text/sms, candidates are continuously engaged and nurtured. Chatbots and other task automation bots are playing a major role internally in bringing efficiency to for employee engagement post hire. There several aspects of HR functions from compensation, internal mobility, re-skilling, up-skilling, compliance and almost everything is heavily dependent on technology to drive efficiency and enable to make better faster decisions.
4. How has digitalization enhanced talent acquisition methods?
In Today's world candidate experience is key. The digital transformation in talent acquisition has helped to connect employers with their target audience -, the job seekers with the right skill sets, in a seamless manner. The Talent CRM enables to re-engage candidate through the smarter matching technology, but ensuring the non-intrusive communication. The SMS and web based chatbot for volume recruitment are playing a major role in qualifying and engaging candidates generated through inbound recruitment methods. The assessment tools today not only does skill match but are able to go deeper into cultural and team fit analysis. The game based assessment tools are also enabling candidates to enjoy the journey of qualification to derive their personality rather than the long process of MBTI which is is imnot possible to adopt in the pre-hire process. The sync and async based video interviewing tools are enabling hiring team to understand and connect with candidate better and given the current COVID situation, this is going to be adopted heavily almost by any size of employers. With several players already solving for data aggregation, it is enabling to automation the outbound sourcing effort quickly and along with reachability towards qualified candidates.
5. How does your on-demand shift worker management solution, empowers talent management methods?
Our on-demand shift worker management solution helps employers to find talent for their just-in-time demands. It works like Uber. You hire a cab a few minutes before you need a ride. Similarly, based on the concept of crowdsourcing, our on-demand shift worker management solution provides the employer or their hiring managers a list of workers who are available to work on their shifts in their locality. The workers available in the solution are pre-vetted and their backgrounds checked. They can be readily deployed for any shift if the worker is available. Enterprises are able to build their private talent pools to re-engage workers faster. Our solution is closely integrated with VMS making the process even more adoptable with no change management needed within the contingent programs.
6. How can your Total Talent Management solution help employers during this COVID-19 pandemic?
Layoffs and furloughs have become common during this crisis. As a result, the number of job seekers in the market are more than ever before. This is the best time for employers to attract those talent to their private talent pool. WillHire allows employers to build a private talent pool by reengaging their furloughed employees and other impacted workers who are available in the market. We have become a go-to solution for enterprises to host these workers and leverage our AI matching and engagement to bring back the workers as and when needed. We have proven to bring back furloughed workers for on-demand roles for just-in-time needs for enterprises.
7. What features of your direct sourcing solution differentiates it in the market?
Direct sourcing has been widely adopted for critical talent or skill gaps. The built-in shift based talent management application expands the use of direct sourcing to all talent categories including Light Industrial roles. This makes WillHire stand out in the crowd of direct sourcing solutions. Enterprises are able to launch referral program as a plug-n-play without any additional budget leveraging our automated referral solution which is based on reactive referrals. Our non-intrusive engagement models via Text/SMS and Email have proven to bring higher engagement in private talent community. In general contingent program focus on supplier diversity while the real need for talent diversity is unaddressed directly. Our programmatic job distribution combined with 100+ diversity focused sourcing channel enables to address diversity hiring at scale. Our candidate assessment capabilities enable to screen candidate much faster which is rarely done in contingent programs. We have forged strategic partnerships with premium technology solution providers to make the process more efficient.
8. What advice would you like to give to the technology Start Ups?
Find a problem that is larger to solve. Segment your customer to extremely niche and listen to customers to build a solution which enables to solve the problem much deeper than the obvious.
Try to build your initial team who is equally passionate about the problem and the industry.
9. What is the Digital innovation in sales technology according to you that will mark 2020?
Sales in general in heavily reliant on relationship and understanding your customers better. Today's sales technology is enabling inside and outside sales to understand customers purchasing behavior and also gain deeper insights about your customers. The automation and reusable proven techniques are enabling sales to run based on a activity and data driven approach. The lead generation funnel equipment by marketing and content based funnel enables to influence customers better. Marketing & Sales need to be on a close alignment to ensure companies can achieve predictable sales scalability.
10. How do you prepare for an AI-Centric world?
WillHire primarily focuses on innovation in talent acquisition world to serve our users best experience. AI is the future and we have adopted machine learning in our core processes of talent engagement, screening, matching. We invest into learning and experimenting AI to several use cases beyond normal to enable us with faster decision and learn from human decisions. We are closely monitoring the recent developments in AI and how to leverage the GPU and Computer Vision AI to recruitment and automation to further improve the efficiency of contingent labor programs.
11. What are the major developments you are planning, in recent time?
We are heavily investing into programmatic job ad placement to extend the ability to set a budget at job level and get the best cost of acquisition for customers. Our approach is two-fold, one is integration with market providers who has coverage for every job category skill, diversity channels and internationally, as our needs are very specific, where we need to generate traction within 24 hours of job requisition release.
Although we have built our platform and services to scale internationally, currently our operations are limited to US & Canada. Our strategic integrated partnerships with SAP Fieldglass and Vector VMS has expedited our need to scale internationally faster. One of the major goals as organization is to scale up into UK, EMEA and AJPC by end of 2020. While at an operational level we are covering this through our strategic partners, on the product wise we are building localization for compliance, taxation and language capabilities.
12. Can you tell us about your team and how it supports you?
WillHire is very much focused in building a team that delivers through collaboration. All our teams work together in synergy to achieve our goals.
WillHire has an innovation team, which continuously identifies the challenges and makes recommendations to the development team, which incorporates those features in the solution. The account management team handles every individual account of our clients and devise strategies to help them find the best talent.
Our market & data research team that identifies potential buyers by researching the need for direct sourcing solution in the market. Our marketing team that strategizes event participation, potential customer outreach through inbound marketing approaches and a business development team that engages potential customers and advises them of custom solutions to their workforce challenges.
13. What movie inspires you the most?
I am always inspired by the ability of a director to build larger than life character and their execution ability to bring several characters into making something that is received by the largest audience in a very short period of time. I wish we could do this with HRTech products. While there are several movies which inspire me, two of the most are "legend of bhagat Singh" a bollywood movie – biopic of the indian independence revolutionary freedom fighter and "Star Trek the whole series" – which has shown the technologies possibilities which are still not achieved almost to 35 years ago.
14. Can you give us a glance of the applications you use on your phone?
I am not sure if you are asking for a screenshot our application WillHire or if you are asking of the apps I use.
Personal Phone apps: My top apps WhatsApp, Linkedin,Twitter, MyMapRun, Robinhood,
If it is the earlier: here you go.
For more such Updates Log on to www.hrtechcube.com Follow us on Google News Hrtech News