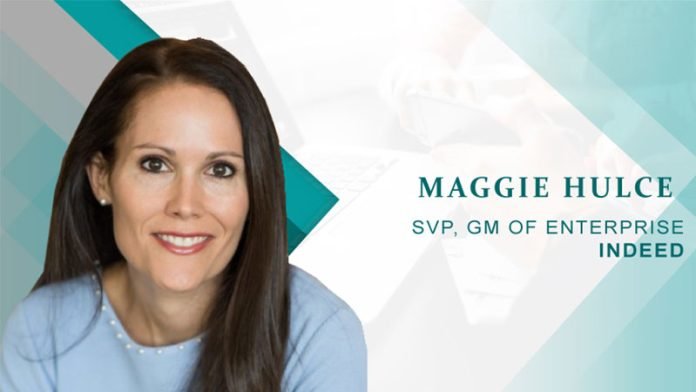 Maggie Hulce from Indeed talks about the different aspects of hiring automation and how it is becoming a renewed way to build and develop the organizational brand.
1. Tell us about your role in Indeed?
I am the Senior Vice President and General Manager for Enterprise at Indeed. In this role, I lead our product, engineering and go-to-market teams focused on helping the world's largest organizations make great hires at scale. We partner with our clients to support their recruitment strategies, with solutions that span employer branding, job advertising, sourcing, screening, interviewing and full-service hiring.
2. Can you tell us about your journey into this market?
I spent the first decade of my career developing growth strategies for large global organizations, first as a consultant at McKinsey and later as Director of Sales Strategy at Google. My other area of early career exploration focused on workforce development. I believe improving access to, and training for, a wide variety of jobs can fundamentally change lives and communities. When I joined Indeed, four and a half years ago, I saw it as an opportunity to combine my experience helping large companies scale with my passion for helping people find jobs!
3. How do you think technology is changing the HR Sector?
I see technology changing almost every aspect of HR, but there are three areas I'd call out in particular. First, automation in job advertising helps employers reach the right candidates at the right time. Second, automating screening with structured questions and skills tests makes the process more objective and reduces bias. Third, virtual interviewing, which is quickly becoming the new normal in this time of COVID, shortens the time it takes to hire. Virtual interviews also have the benefit of eliminating some of the barriers to in-person interviews, such as having to commute, arrange childcare and seek time off.
4. How do you think digitization is empowering the hiring processes?
Digital technologies help make hiring processes more efficient and fairer. They help employers reach a broader and more diverse pool of job seekers.
They help shorten the time to hire, by automating time-consuming tasks like manual resume review and interview scheduling. Lastly, they enable more objective selection, given screener questions and skills tests allow job seekers to demonstrate their skills directly to employers.
5. What is the significance of easy online application for removing barriers between open roles and available talent?
Many companies suffer from high drop off rates when they require job seekers to fill out long, non-mobile optimized applications. Even more companies struggle with timely candidate communication post application. But when you ask them, most companies know attracting the best talent requires focus on delivering thoughtful candidate experiences.
At Indeed, we want to help qualified and interested candidates connect with relevant employers as quickly as possible. As part of this effort, we recently created a virtual interviewing solution, Indeed Virtual Hiring Events, that automates sourcing, screening and interview scheduling into our virtual interview platform.
This process speeds time to interview – often from weeks to days. It reduces bias, as employers simply set objective screening criteria, and all candidates who meet the requirements are automatically scheduled to interview. Lastly, it frees recruiters and hiring managers to focus on engaging with great candidates.
6. Why is it necessary to maximize the exposure of company brands?
For many of us, our career is one of the most important choices we make. Where we work is part of our life story, part of our identities. The choice affects how we feel for most of our waking hours, where we live and how we live. When you think about it that way, it's no wonder most job seekers read reviews and consider an employer's reputation when considering where to apply.
Many employers have a thoughtful approach to conveying their brand to job seekers, in all stages of their decision journey. Online ratings and reviews help convey reputation. Brand videos and imagery help showcase workplace environment and culture.
But what also matters is ensuring your hiring processes reflect your desired employer brand. Most job seekers believe how they are treated as a candidate will reflect how they will be treated as an employee. Again, attracting the best talent requires focus on delivering thoughtful candidate experiences.
7. Can you explain to us Virtual Hiring Events and how they work?
Indeed's Virtual Hiring Events automates sourcing, screening, interview scheduling and interview reminders for all types of roles. Employers tell us how many interviews they want by when, as well as their screening criteria, and we do the rest. Since the beginning of the year, more than 1250 employers have hosted over 3700 virtual hiring events with us.
As part of Virtual Hiring Events, we offer the option to hold interviews directly on our Virtual Interview Platform, which was designed to support interviewing at scale, as opposed to general meetings. Job seekers like that they don't have to download an app, they just click into an interview. There's also a lobby they check into, so it's clear what's happening as they wait for their interview to begin
This direct to interview experience shortens the time to fill open positions and also solves real problems for both recruiters and jobseekers. Recruiters appreciate that it automates these tasks, frees up time so they can make human connections with high potential candidates. Job seekers love that they know exactly where they stand in the process, with no application black hole. This approach to hiring is also more inclusive, as it enables employers to set objective screening criteria and allows for any candidate that meets the requirements to have the opportunity to interview for the position.
8. How do you prepare for an AI-centric World?
Many Enterprise organizations already see automation/AI as a way to improve their hiring process. At Indeed, as we are focused on helping drive automation to the interview, we see the opportunity to use AI to match job seekers with employers more effectively, allowing our clients to make hires dramatically faster. Automation to the interview also frees recruiters from manual, routine tasks so they can spend more time engaging with candidates they want to hire.
9. What are the major developments you are planning, in recent times?
In this time of high unemployment and ongoing concern about the pandemic, we are laser focused on helping employers and job seekers navigate hiring virtually.
Getting job seekers to the interview as fast as possible is our top priority. To support this priority, we recently launched a US-wide Virtual Hiring Tour, offering free virtual interviews to connect employers from all industries with ready-to-work job seekers. Our goal is to help 20,000 Americans find jobs by the end of the year!
10. Can you tell us about your team and how it supports you?
My team drives the development of solutions for large employers globally. We work closely with our clients to understand and help address the challenges they face when recruiting talent. Our solutions span employer branding, job advertising, sourcing, screening, interviewing and full-service hiring.
11. What movie inspires you the most?
One movie that inspired me was "On the Basis of Sex", based on the life of Ruth Bader Ginsburg, who has been on my mind often since she passed away a few days ago.
The quote "Never doubt that a small group of thoughtful, committed citizens can change the world; indeed, it's the only thing that ever has" feels particularly relevant in this moment.
12. Can you give us a glance of the applications you use on your phone?
Three apps I downloaded for myself over the last 6 months: Calm, Blinkist and Stealth Fitness.
For more such Updates Log on to www.hrtechcube.com