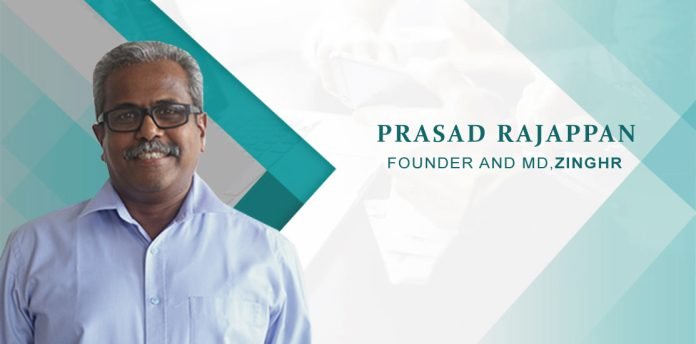 Prasad from ZingHR talks about the need and significance of simplifying Human Capital Management (HCM) given the circumstantial change in the industry.
1. Tell us about your role in ZingHR?
I am the Founder and MD of ZingHR – a Global Enterprise Cloud HR Applications provider aimed at simplifying Human Capital Management (HCM) catering to 1 Million Employee Records. A Firm Believer Of Delivering rather than Promising, Prasad has always looked at challenges as opportunities to grow. An active personality in the room who will always keep the ball rolling and getting the best out of time. He brings an experience of over 3 decades into ideating and putting a concept into action.
2. Can you tell us about your journey into this market?
Ever since I found ZingHR, it has been the driving force that is helping organizations go beyond Automation, and deliver a solution that could directly impact Business Outcomes – OutcomationTM. We aim at creating a platform for the betterment of workforces irrespective of geographical boundaries. Over 550+ Companies, across industries, trust ZingHR to empower their business goals, deliver business strategy, enhance employee performance and maximize EBITDA margins. In a short span of time, ZingHR has emerged as the best-in-class next-generation, mobile-first, employee-centric cloud HCM platform. ZingHR has been awarded coveted titles like Microsoft ISV Partner of the year (2016), Winner of CIO CHOICE – HR & Global Payroll (2017), NASSCOM Emerge fastest 50 Winners and Intech 50 Finalists.
3. How do you think technology is changing the HR Sector?
Technology plays a vital role in addressing the business continuity and productivity in a very ideal fashion and it is bound to contribute in a big way.
Add innovation to Technology and things just get streamlined and the business is up and running along with building pipelines for productivity.
This not only saves time but can create a lot of positive outlook towards Digital Transformation and Future Of Work. Implementation of Innovation and technology we feel is the KEY and that solves the entire purpose of getting things done more efficiently and also within TAT.
4. How according to you can Push-to-Payroll result in improved productivity?
This is an amazing feature which we have within our product. With the push to payroll, the HR operations teams can ensure smooth and quick salary processing by eliminating Human Intervention which can, in turn, leads to increased efficiency, reduced errors and improved productivity. It helps you seamlessly transfer or push the accurate attendance data to the payroll software.
5. In what way can be redefining Learning Management leads to employee satisfaction?
Every individual and organization needs to be on the learning curve. We need to Relearn, Unlearn, and Learn continuously. Learning and Development will play a huge role in the employee lifecycle. AI gives us the tools to predict and classify outcomes. This predictive nature can be used in capturing the need and designing a program uniquely for every individual. It will majorly help in capturing, designing, delivering and measuring the outcomes. Going ahead, organizations will have less but multi-skilled manpower. Going by this situation, one will have to be better equipped with multiple skills, else his growth will stagnate. Organizations are always willing to invest in people's potential. Post-COVID, for most organizations, the clear cut job dimensions will be blurred. The radius will need to become bigger. We need to get into the flux and thrive into it. There will be retrenchment, less number of jobs. Some sectors like travel will be critically affected, others like pharma might thrive. Businesses and people need to get more flexible.
6. What is the significance of HRTech for cost reduction?
Enterprises will be looking at HRTech adoption in the coming times.
More and more industry leaders are trying to convert their fixed costs to variable costs. This is where HR Tech could actually play a pivotal role in Employee Lifecycle management processes.
Innovation Based Products can come super handy during the WFH (Work From Home) and Remote Working options. These products will change the way we look at HRTech, Employee Engagement and Business Continuity.
7. Can you explain to us in detail about your Learning Management Solution?
Zing Learn is the most effective cloud-based learning management system . Organizations can design, deliver and track online courses. Devise interactive and gamified courses for employees, driven by the organization's goals to get the desired business outcomes. Employees can access Zing Learn anytime, anywhere. The platform has been designed for exceptional convenience for employees and is compatible with all mobile platforms.
8. How does ZingHR's Digital I Card solution work?
Basically, Digital I card is our new innovative product which we have launched to address post covid business scenarios. It is a representation of the physical ID which contains the image of the employee which he/she has uploaded on our mobile app, name, joining date, email, designation, location, department, QR Code and company name. QR Code contains the digital signature of the employee. This will enable organizations to have touchless attendance for their employees or external employees.
9. How do you prepare for an AI-centric World?
We have recently achieved a feat of integrating its AI-powered chatbot with the Microsoft Teams application. Microsoft Teams is a chat service-based application which is highly intuitive, has a great User Interface, and serves as an extremely secure communication channel between employees in an enterprise organisation. We are one of the top HRTech companies in India to integrate this milestone with a communication channel based application. The goal was to provide employees with Anytime-Anyplace-Anywhere access to key information and functionalities pertinent to their organisation.
10. What are the major developments you are planning, in recent times?
We have introduced many innovative outcomation products like Video Interviews, Digital I card, Employee Surveys, Touchless QR Code attendance, HR Analytics tool which can be utilised by the Large Enterprises during these crises. With a great response from India with over 550+ clients, we are now planning to go to new geographies globally in 2020-21 keeping in mind the increased demand for innovation-led products for enterprises. Especially in the WFH and remote working environment, touchless technology has also become a key driver and essential commodity in HR
11. Can you tell us about your team and how it supports you?
At ZingHR family we believe that our employees are part of our family, the well-being of our employees is of importance so we reach out to them regularly and ensure that they focus on more positive thinking. We focus on building trust, empathy, support as the basic pillars for all our interactions in our programs which are employee focussed so that a feeling of togetherness comes in everyone.
For more such Updates Log on to www.hrtechcube.com