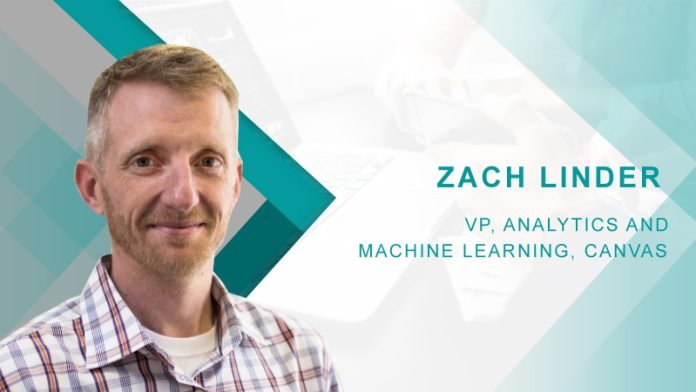 1. Tell us about your role in Canvas?
In my role at Canvas, I oversee all analytics, AI and machine learning. We are working hard to make our application as intelligent as possible which ultimately makes recruiters' lives easier.
2. Can you tell us about your journey into this market?
It all started with our last company, Apparatus, a managed cloud infrastructure company, which was acquired by Virtusa. We were quickly growing, hiring over 10 new employees per month, which means we were tasked with interviewing 3-5 times that number of individuals, if not more. Through that experience, we realized there wasn't a lot of technology or software to make the process as easy as it could be, including texting with candidates. That's what led us to create Canvas.
Canvas launched in June 2017 as the world's first intelligent, enterprise-grade text-based interviewing platform. The reception from customers has been incredible. In less than two years, Canvas has completely transformed the way companies today recruit top talent for positions ranging from machinists and welders to software engineers, sales professionals, physical therapists, nurses, pilots and more.
3. How do you think technology is changing the HR Sector?
Technology is becoming much more process-oriented , meaning that the tools are enabling the recruiters to be more scalable than they were in the past. These tools are adding a lot of intelligence and automation, allowing recruiters to focus on maintaining a great process with a solid ROI instead of managing the day-to-day tasks of remembering who to respond to and how.
4. How has AI contributed in empowering recruitment process?
AI is helping recruiters really understand the candidate engagement model , making sure that they are saying the right things and interacting in the right timeframe to keep each individual candidate engaged and moving through the process. This, plus process automation, provides = recruiters a level of capabilities they have never had before.
With AI and machine learning recruiters can focus on sharing questions that solicit substantive conversations with candidates. Some text-based interviewing platforms, like Canvas, even utilize machine learning and natural language-based analytics to automatically suggest resource and response recommendations. These algorithms also generate predetermined interview questions to help increase candidate quality and reduce the amount of time spent filling open positions.
5. How does Canvasbot help in faster and eligible recruitment?
It's all about keeping the candidate engaged. If a recruiter has to respond to each candidate individually, it'll take a lot of time to get everyone through the process. Canvasbot allows recruiters to pre-define workflows and responses to ensure each candidate is continuing to move through their journey in a speed that matches the desire of the candidate. Technology, like text-based recruiting, is making it easier—as much as 10 times easier—for organizations to screen a high volume of talent daily. In fact, a team of four recruiters can save 3,689 hours each year by using a text-based screening platform. In addition, the average time to screen a candidate takes just 4.4 minutes.
6. Can you explain how your text-based intelligent recruitment system has eased the process of recruitment?
Some of the benefits of using Canvas include:
• Attracting and retaining talent faster in a competitive marketplace
• Nearly instantaneous response times: the majority of candidates respond within one minute
• Decreased lag time between a candidate applying for a job and moving them into the screening process: It used to take as many as 10 days from the date of application to when the candidate was screened. Now, that happens within 5 minutes
• The ability to quickly send interview links, maps, video summaries, job descriptions, company culture information and more
For example, if we know we need to collect a set of five answers for everyone, then we should automate that process, which is what Canvasbot does. Canvas also enables recruiters to send out messages based on a variety of triggered actions, like new applicants from a sourcing service, completion of an assessment, or sign of initial interest. These are minor tweaks to the overall flow that keep the candidate engaged and informed.
7. What are the key factors that differentiate your recruitment platform?
With our recent acquisition by Jobvite, the industry leader in best-of-breed recruiting software, we are now a full, end-to-end solution. From referrals to a candidate CRM, ATS, on-boarding and a full messaging platform that ties all pieces together, we've created a seamless experience from interest to hire, and even post-hire, for the candidate.
8. What advice would like to give to the upcoming HRTech Start Ups?
My advice is that this is a wide-open space with a lot of room for disruption.
Find a small niche and carve that out.
9. What technology according to you that will leave its mark in 2019?
More broadly than a specific tech, I think automation will be the big theme for the remainder of 2019 and all of 2020.
10. How do you prepare for an AI-centric World?
We spend a lot of time collecting, curating and surfacing data. The AI/ML tools need ready access to good clean data.
11. What are the major developments you are planning, in recent times?
Because Canvas announced it is being acquired by Jobvite, our efforts have been focused on integration.
12. Can you tell us about your team and how it supports you?
My team is awesome and capable of making some of my crazy ideas come true. They are the ones who deserve all the credit.
13. Which Book are you reading these days?
I just wrapped up "The New Geography of Jobs" by Enrico Moretti. It's a great look into how technology is changing how and where we work and what that means for the cities and areas whether they have been successful in maintaining a tech-focused base of jobs.
14. Can you give us a glance of the applications you use on your phone?
Audible, Slack, Dropbox, Apple News, Starbucks, Canvas