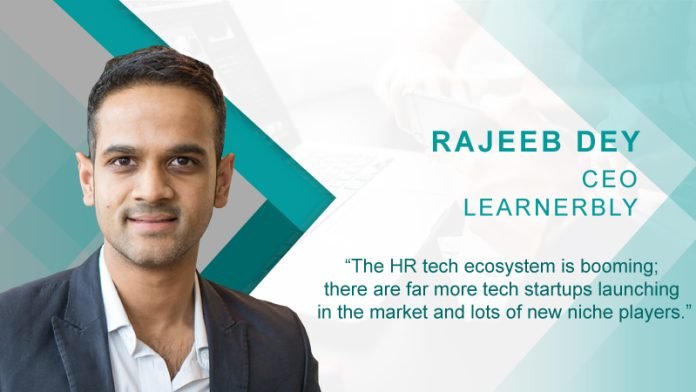 1. Tell us about your role in Learnerbly?
I am the Founder & CEO of Learnerbly.
2. Can you tell us about your journey into this market?
I have spent the last 10+ years in the HRtech market having initially launched a jobs platform called Enternships connecting thousands of startups and SMEs to interns and graduates. I launched this business initially whilst a student at the University of Oxford as a simple platform connecting Oxford students to internships within interesting entrepreneurial companies but felt after graduating in 2008 that there was a lack of exposure to these kinds of businesses on campus (where you're predominantly exposed to the corporates like Banks, Law firms, Accountancy firms etc.)
Having helped thousands of businesses hire great talent I subsequently turned my attention to how to develop this talent. I felt that with the world of work changing so rapidly its essential to continuously upskill and reskill ourselves and be in a constant 'state of beta'. However how do you know what the best course, conference, book or e-learning module is? There's very little quality control in the market especially as an SME employer who often doesn't have the resources or expertise of in-house Learning & Development teams to adequately support employees in their development needs.
I therefore launched Learnerbly just over 2 years ago initially starting as a curated marketplace of the best learning and development experiences and for startups/SME employers to give their employees access, and ideally a personal learning allowance to spend through our platform.
Since then we've evolved and expanded our proposition to support larger enterprise clients as well. In particular around engaging and retaining their talent by tracking and supporting employees on achieving their development goals. Given one of the biggest contributors to attrition is when employees feel that they are no longer developing and attrition being a huge cost to businesses it's a really important challenge to address both to ensure employees have the appropriate support to keep developing themselves and for businesses to ensure they can attract and retain top talent.
3. How do you think technology is changing the HR Sector?
The HR tech ecosystem is booming; there are far more tech startups launching in the market and lots of new niche players.
I think the challenge to traditional HR professionals is that they are accustomed to big HRIS / one-stop-shop solution providers such as Workday or SAP. However there are innovative new startups looking at tackling different challenges in the HR landscape and challenging the status quo in their specific vertical which presents both an opportunity and challenge especially for HR buyers regarding how to ensure they can use a 'best of breed' approach. For this we need great degree of collaboration and for the incumbent HR platforms to open up more to working with startups to ensure the employees have the best possible experience by using the leading tools in the various parts of the HR ecosystem.
4. Do you think e-learning is changing the life of Professionals? How?
E-learning provides access to all the knowledge/insights you could need. We shouldn't necessarily just see e-learning as formalized learning; often Google and YouTube can be the best forms of e-learning and enables anyone to be a teacher and anyone to be a learner. The challenge then comes around the curating of the content and quality control of it as the proliferation of content makes it hard to know what's good or not. This is why at Learnerbly we focused our efforts in the first 2 years on curating the very best content before switching our focus now on the application of that learning in the workplace.
5. Why do you think, companies fail to provide proper learning and development opportunities to their employees?
I think there's often a notion that simply purchasing a content library of learning content eg LinkedIn Learning or Udemy means you have adequately provided L&D for your employees. What we find is employers see very little engagement with those platforms (the highest we've heard is 20% monthly at best.) One of the reasons is not everyone even likes to learn via online learning. People learn in different ways and that's why at Learnerbly we curate all forms of learning – online and in person; books and podcasts; articles and videos; coaching and conferences. We want to ensure people learn what they want how they want.
The second issue is around the application and ongoing development conversations with managers. There is the well known stat of 75% of people leave their manager not the business; when you delve into some of the main reasons its because of the lack of career progression. Whilst its not possible to promote everyone there's no excuse to not develop people; even if you dispute the 75% stat research still points to the lack of development being the key contributor to attrition. Despite this managers are not having regular development conversations with their colleagues or creating the time and space for employees to learn and grow. Whilst it may be ok to send someone to a course or conference how often do you check in with them re the outcomes and how they're applying this to work? This is where Learnerbly is looking to help. We are looking to shift the narrative from merely the acquisition of knowledge to the application and this is when true development happens.
6. Can you share with us one of the most digitally innovative strategies that have resulted in boosting the performance of the company?
I'm not sure re 'digitally innovative' per se but externally we utilise content marketing and have a network of over 150 industry experts we have interviewed who contribute recommendations on our platform. Internally we use our own Learnerbly platform and provide all employees with between £1000 – £2000 of personal learning allowance to spend on their own development needs. This enables employees to choose what they want to learn and how they best like to learn eg pick from books, coaching, courses, conferences or free content such as articles, podcasts or videos. This means we can support employees in achieving their development goals and able to perform at their best. This has been measured and validated by us boosting our internal employee engagement scores to be the highest they've been and really ensuring we 'practice what we preach' in terms of building a strong learning culture.
7. How do you think, digitalization has made employers more capable of understanding their employees?
Employers have access to far more data than ever before on employee sentiment; skills; development goals; tenure; performance. The question is how they act on this in a way which is not merely for monitoring but actually can support employees on developing themselves which is both beneficial to them and for the business. Often a lot of these tools operate in silos and its time to look more holistically at the insights we have on employees and how we can nudge, support and coach them to be their best.
8. What advice would like to give to the upcoming Hrtech StartUps?
Try and work out your positioning in the crowded market place. Whilst it can be hard to stand out don't be afraid to speak to others in the market to explore do you compete or can you collaborate. I think there needs to be (and will be) far more scope for startups and incumbent HR platforms to collaborate and integrate via APIs if we really want to innovate and make the employee experience in line with the expectations and needs of the modern day employee (and aligned to their experiences as consumers outside of work.)
9. What technology according to you that will leave its mark in 2019?
Rather than a specific technology I think 2019 and beyond will be about the world of learning & development. Whilst I'm highly biased the nature of the challenges facing us in terms of skills obsolescence (the half life of skills being between 2-5 years), talent shortages and attrition means that businesses will continue to have to invest in developing talent.
10. What is the vision, on which you and Learnerbly are working on?
Our purpose is to develop the talent of today to fulfil their future potential which contributes to our vision of 'a world in which everyone has a role in the future of work.'
We know the world of work is changing rapidly and we want to ensure everyone have a future there; with the rise of automation and changes in technology people will have to adapt and Learnerbly wants to support people on that journey to ensure they continuously learn and grow.
11. What are the major developments you are planning, in recent times?
We are working on dynamic personal development planning tools to bridge the world of talent management with Learning & Development. This will ensure employers have ongoing development conversations rather than merely at an annual review or quarterly check in – essential if businesses want to retain talent.
12. Can you tell us about your team and how it supports you?
I am really fortunate to have a stellar team. There are all super passionate about our vision to help people achieve their future potential and have a particular interest in education / lifelong learning. Tobi our CTO has a background in online marketplaces and professional networks (having worked at Lyst and Xing); Gabby who heads us Customer Success has a background in teaching and Learning & Development; Vanessa who is Head of Partnerships joined us from FutureLearn (the MOOC platform from Open University); Neel who is our Enterprise Director was previously an early employee at General Assembly in the UK; Danny our Head of Product joined us from American Express where he spent 6+ years on product there. Having such a talented and diverse leadership team ensures we have the breadth of insights, skills and backgrounds to avoid group think and all really motivated to change the world for the better! I am also really lucky to have some great Investors, Advisors (such as the former Global Head of Learning at Google; the CTO & Co-Founder of Eventbrite and former VP of Product at Safari Books Online) and Board Members who have been really supportive throughout our journey.
13. Which Book are you reading these days?
I reading a book called The Four: The Hidden DNA of Apple, Amazon, Facebook and Google which shines a light on the dominance and rise of the 4 major players in the tech market.
15. Can you give us a glance of the applications you use on your phone?
I have a bunch of pretty mundane apps to be honest; a couple of main messaging ones like Whatsapp and Telegram. Apart from that whilst I have Instagram, Facebook, Twitter and LinkedIn I must admit I don't use them as frequently as I once would-probably LinkedIn and Twitter the most nowadays. At work we use Slack so am a daily user of that to interact with my work colleagues.
For getting around I have Google Maps; CityMapper and Waze. TripAdvisor to check out where to go/eat; Airbnb for when I want to stay somewhere.
Aside from that its mainly my email / Calendar applications which probably get the most use (and of course Netflix when I get some down time!)