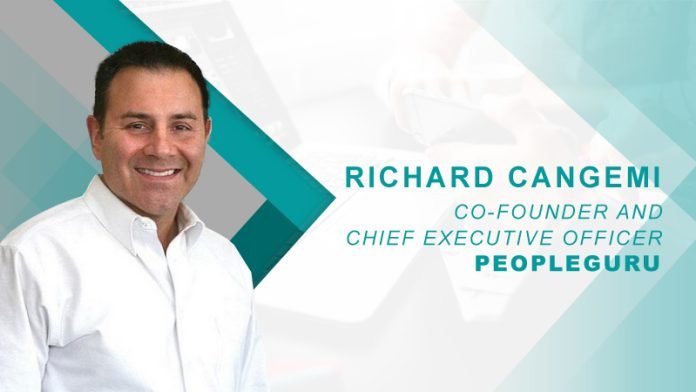 1. Tell us about your role in PeopleGuru?
As Chief Executive Guru at PeopleGuru, my role is to motivate and empower my Guru team to make great decisions and serve our clients. I also focus much attention on our product road map and our sales and marketing efforts. It is also my responsibility to assess new opportunities and new markets for PeopleGuru.
2. Can you tell us about your journey into this market?
PeopleGuru was founded for agile, growing, mid-market organizations who have outgrown the "payroll-centric" SBOs and need a more capable and adaptable workforce management solution. PeopleGuru elevates our clients' people management capabilities to improve their business performance.
3. How do you think technology is changing the HR Sector?
The HR industry is still using paper processes so there is still an opportunity to convert from manual processes to efficient software based processes. Also, many organizations have been slow to embrace technology use to its full potential. A recruiting platform should do more than source many candidates to fill an open positions; it should provide tools to identify those that represent a good cultural fit and have the right experience and qualifications as well.
Compliance is much easier for HR to keep up with due to technology. This lifts a huge burden off HR and legal teams. There have been new state-specific time and labor laws, state-level privacy regulations, and even local laws for employee leave. Modern HR systems can be a lifesaver to aid organizations in their compliance efforts.
But by far, technology is empowering better, faster, and less biased HR decisions. HR can mine its vast data stores with new tools for forward-looking, predictive trends, and historical analysis capabilities for actionable insights that can drive business performance.
4. How has data driven approach empowered your HCM solutions?
HR now expects to use data to drive and justify decision-making. Actionable insights capabilities, built in workflows, and notification triggers are the modern tools HR leaders rely on to be unbiased and efficient. A system like PeopleGuru, can guide decision-making where HR departments can provide recommendations on how to drive an organization forward with targeted people initiatives to improve engagement, retention, and wellness. With a modern people management platform, HR can drive business performance with agile review cycles, goal setting, and measurement; this rigorous data collection activity provides transparency to individual and organizational results so leaders can align resources to business objectives.
Within an HR system, data is key to the day in the life of a Manager. Managers have the ability to be alert to employees who are approaching overtime or what days and times employees prefer to work which helps to efficiently schedule and reduce absenteeism.
The best people platforms should analyze workforce trends such as absenteeism, compensation, and will even facilitate promoting employees through a succession path fostering a great culture and reducing turnover with a policy of promotion from within.
5. Can you explain how does your platform help in better documentation and simpler payroll processing?
Payroll processing is fast and foolproof with PeopleGuru. Our clients can collect time with traditional timeclocks, modern kiosks, or even web punch; we calculate overtime, shift differentials, and pay rates by job with pre-defined rules, auto pay salaries or car allowances, and calculate and deduct benefit premiums. The PeopleGuru system knows what local, state, and federal taxes to collect based upon where an employee lives and works.
PeopleGuru payroll processing is simple. It allows you to run and rerun payrolls, preview payroll registers, and post payroll all without intervention from PeopleGuru. Our platform generates payroll previews, allows for sign-offs at multiple levels that require controls, and then handles all of the funding and payment of employees including deductions and taxes without any manual intervention.
6. How does employee benefit help in better employee engagement and satisfaction?
The best organizations have an engaged workforce. PeopleGuru's people platform is so special due to its ability to assist in fostering a culture of engagement. Regardless of an employee's location or employment status, PeopleGuru's built in tools are used to recognize high performers and make positive feedback, collaboration, and check ins between onsite and offsite teammates and managers efficient, fun, and productive. All of this captured institutional knowledge feeds additional data points within the system so HR leaders can make accurate and unbiased decisions.
7. How do you differentiate your HCM platform from others?
PeopleGuru is not for every organization. We focus on organizations that are investing in growth and wish to improve their business performance to be more competitive. PeopleGuru is designed for agile, mid-market organizations that share our desire to serve an inspired performance oriented workforce. We value simplicity in our user interfaces, speed in deployment of enhancements, and our ability to be flexible to support Customer growth and internal change. In a nutshell, if a mid-market organization needs to inspire its people to drive improved business performance, we believe PeopleGuru is the answer. In addition, the PeopleGuru solution is affordable because as an all-in-one people management platform, our Guru clients have no additional costs for separate implementations, specialty products, or software programming for interfacing different system modules.
8. What advice would like to give to the upcoming HRTech Start Ups?
HR technology startups would be wise to settle on building a technology that has a demand underpinned by a current need within HR departments. Generating demand for a new product in the HR field is hard, as HR leaders are so busy and difficult to engage. The world of consumer privacy and employee privacy is converging and I would expect to see GDPR like rules coming to the U.S. soon enough. HR departments will need much help to comply. In addition, the AI field presents so much opportunity for a technology startup to innovate.
9. What work related hack do you follow to enjoy maximum productivity?
I answer emails three times a day. I return emails in the morning, shortly before lunch, and later in the afternoon. In doing so, it allows me to stay on task, prepare for scheduled activities and meetings, and be 110% engaged with my Guru associates.
10. How do you prepare for an AI-centric World?
HR can begin to prepare for this AI-Centric world by ensuring that their organization is capturing the right data and accurate data. Artificial Intelligence can only be as good as the data it relies on.
Many consumers rely on AI for internet search and soon employees will rely on AI for common employee questions and guidance on next steps. HR professionals can lead the effort to be the data custodian for people data and push to leverage AI toward more strategic uses. This would mean ensuring data accuracy and the decision making rules so that the AI experience is useful and impactful in driving good business decisions such as hiring, promoting, and terminating.
On a final note, as HR professionals embrace AI to automate answers to employee questions, HR departments run the risk of becoming disconnected from the workforce. It will be important for HR leaders to maintain their human connection within their organization
11. What are the major developments you are planning, in recent times?
At PeopleGuru, we have a couple of major developments that are in the works that we see tremendous value in:
• Scheduling with AI to autofill, backfill, and predict future schedule rotations
• Coaching and goal setting for managers to encourage frequent touch points to ensure employees are aligned with high priority objectives.
• Additional features to support Agile HR and the Agile Workforce
12. Can you tell us about your team and how it supports you?
The PeopleGuru team has an open mindset. Our team exchanges new ideas openly and values the truth in our results above all things. There are times of disagreement, but those disagreements have been useful in keeping us focused on what matters. It works because there are high-levels of collaboration and trust. The PeopleGuru team challenges and inspires me each and every day to do my best work. We are a transparent team that is accountable and invested in our success and there is no place to hide here; our successes and failures are on display for all to see. Working side by side with the PeopleGuru team has been an amazing and rewarding journey for me so far. I look forward to the challenge of growing our team with talented Gurus that share our great attitude and are a good cultural fit.
13. Which Book are you reading these days?
I am currently reading Measure What Matters by John Doerr and The Innovators Dilemma by Clayton M. Christensen.
14. We have heard that you have a very joyful work culture, we won't mind having a look at some of the pictures?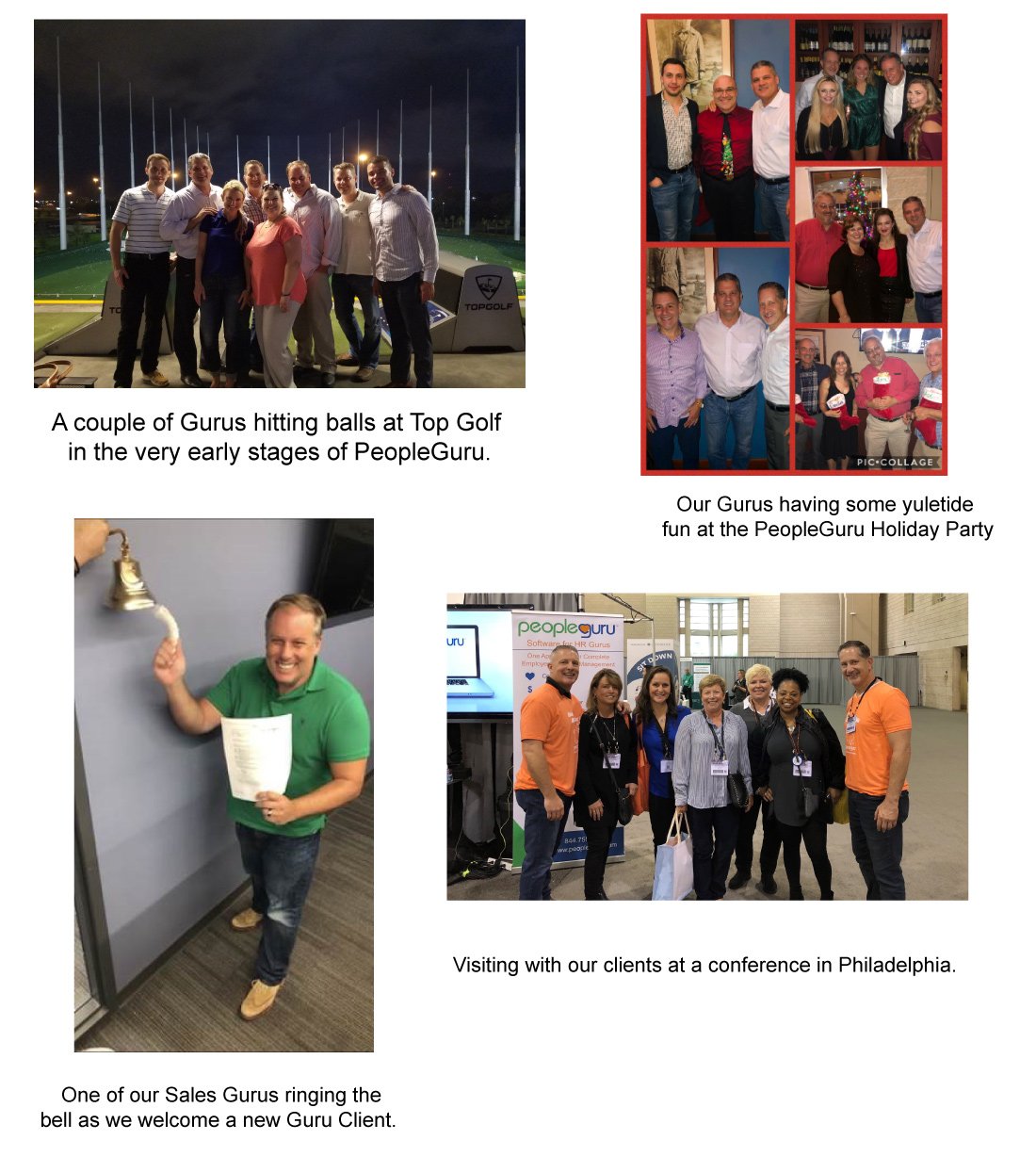 15. Can you give us a glance of the applications you use on your phone?
I use apps for everything: PeopleGuru for work, social, weather, news, music, home automation, banking, travel, meetings, and reading. I even have apps on my phone for e-learning.