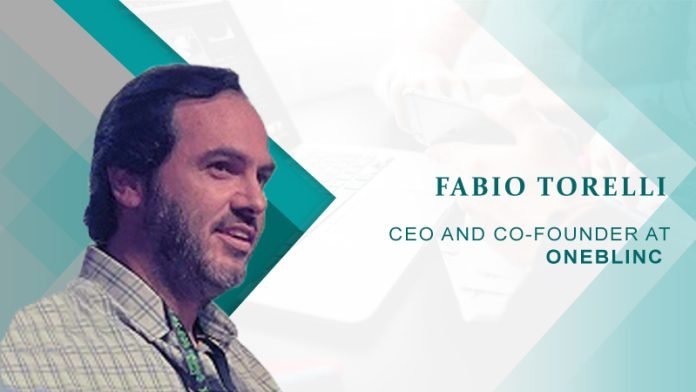 Fabio from OneBlinc elucidates the significance of financial employee wellbeing and how it directly equates to workplace productivity & efficient talent management.
1. Tell us about your role at OneBlinc?
Officially, to outsiders, I'm the CEO and founder. Inside OneBlinc, I'd like to see myself as a coach who always tries to get the best out of each team member, and who never sugarcoats things. As a company we move fast and take challenges head on.
2. Can you tell us your journey into this market?
I 'grew up' in global institutions like Citibank, Banco Santander, and MasterCard, mostly in emerging markets, where I learned from some of the most brilliant financial minds in the world, during some of the biggest global crises. When I moved to the U.S. to join a financial venture in 2013 I was astounded by the underserved markets, which resembled more Brazilian middle class borrowers, than my preconceptions of the American consumer. I was also delighted with the American work culture of purpose and productivity. The vision of OneBlinc was made possible due to this combination of our experience in distressed markets and the abundance of motivated, qualified talent.
3. How do you think technology is changing the HR Sector?
Thanks to technology finding and hiring talent has never been easier. Not only have job platforms made recruiting faster, they have also delivered incredible precision
We can filter by skills, location, experience, and with the advent of machine learning, even more advanced traits that optimize for cultural fit. The hiring and payroll processes that just a few years ago required us to have a full time HR admin, now can be done seamlessly through HR SaaS services like Gusto. Starting a company has never been easier thanks to HR technologies.
4. How do you think optimization of loans are benefitting the workforce spread across industries?
Financial wellbeing equates with productivity as many studies have shown. Not being able to pay bills is an enormous source of stress for many in the workforce, and employers are taking special notice. This is why more and more employers are partnering with financial institutions to provide financial training and services as benefits to their workers. Providers like OneBlinc, provide a path for workers to get themselves out of their financial holes in a fair and equitable manner, and large employers are thankful because employees are happier and more present at work.
5. How does your fair financing solution help individuals with poor credits?
Credit scores today aren't fair. At OneBlinc we don't care about traditional measures—we care if you have the financial ability to take a loan right now. We use alternative data and technology for our credit decisioning process. We hit 94 APIs, in 10 seconds, and almost instantly we are able to approve a loan at minimal cost. We believe individuals deserve speedy responses and that receiving the loans the same day makes a world of difference. We know they need it badly, and they know we got their backs.
6. What do you think differentiates OneBlinc solutions from other lenders in the market?
What sets us apart is that we are cutting-edge in technology and old-school in customer service. Technology and data is at the heart of what we do. It is what enables us to work smarter and serve our users better. Traditional lenders in the U.S. are stuck in the paradigms of their old credit models. They don't leverage the infinite amount of new, alternative data like we do. They are also not artisanal in how they approach customer interactions. There is a personal touch to every client interaction, and we empower our team to make that conversation their own. By empowering our frontend employees we have attained the highest ratings on TrustPilot, Google, Facebook and BBB reviews. Below is a link to our Youtube Channel series created by one of our superstar to educate consumer.
The Balance (https://www.youtube.com/channel/UCqaFKNy52e-Q1q99dbQRUoQ)
7. Can you explain how easy payment plans help employees in managing their expenses?
It is all a matter of not allowing the customer to get into a vicious cycle of a debt trap. The predictability of easy payment plans combined with education and tips are incredibly effective in helping employees to regain control of their expenses
Simple services like notifications on auto-renewing subscriptions and overdraft notices are great examples on how we nudge employees in the right direction.
8. What are the major developments you are planning, in recent times?
We have an exciting roadmap ahead, but I'm particularly excited by our upcoming OneBlinc Free Checking accounts for our existing customers. Zero fees. Forever! Simple as that. We are also looking into savings accounts, credit cards, and other services based on our ongoing conversations with our customers. We want to develop products that they want and that will help them achieve their financial goals.
9. What advice would like to give to the upcoming Tech Start Ups?
Learn cheap and fail fast. Always. Do not transform your start up into a lab, with endless research. Execute quickly and see if customers want it.
10. How do you prepare for an AI-centric World?
It is getting traction fast. We must be in contact constantly about what is coming. In our case we are trying to educate ourselves straight from the source – China. What the guys are experiencing over there is crazy. It is evolving too fast! Get ready.
11. Can you tell us about your team and how it supports you?
Our team shares a common purpose. It is powerful. When you can have people so aligned with your purpose, you have an incredible atmosphere. I am incredibly grateful for the level of service and new solutions that they are delivering to our customers. I love my team. Best squad I have ever worked with.
12. Which Book are you reading these days?
I am a die-hard sports fan, and I love the stories of the great sports personalities, as I feel they provide valuable lessons in life and business. On my nightstand I currently I have "Eleven Rings: The Soul of Success", by Phil Jackson. It reveals the secrets for successfully finding, retaining, and managing superstars. At OneBlinc we like to think of all in our team as superstars, and if I do my job correctly, our collective success will surpass our wildest dreams.
13. Can you give us a glance of the applications you use on your phone?
To the untrained eye, my phone looks like a pandemonium of apps. I am constantly downloading fintech apps, productivity apps, and random apps to check out different interfaces, offerings and experiences that could be relevant for OneBlinc. The world is moving at the speed of light, and this is my way to keep an eye on it.On the front page, however, you will find my exercise and sports apps- Nike Run Club, ESPN, OneFootball, and Apple Podcasts. Healthy body, healthy mind.
For more such Updates Log on to www.hrtechcube.com