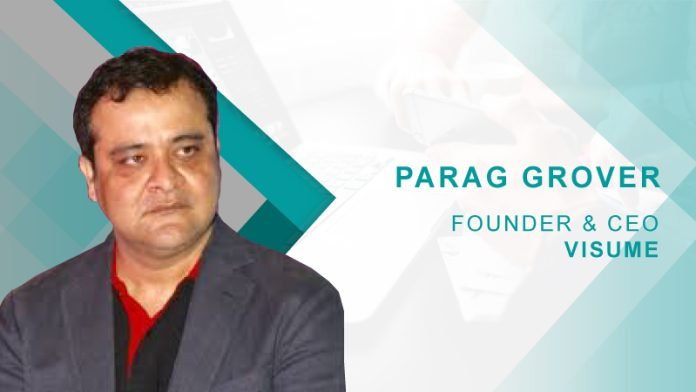 Visume's Founder & CEO Parag discusses the role played by technology in enabling organizations to make smart hiring and efficient candidate evaluation possible.
1. Tell us about your role in Visume?
As a Founder, I am responsible for driving the vision and growth of Visume. I believe that the execution of vision must be market-responsive and in line with the needs of the users.
2. Can you tell us about your journey into this market?
Talent Acquisition in so far is a resource intensive process; and the presumption that only humans can understand humans sets a damper to any automation in this area.
This became painstakingly apparent to me during recruitment within our own organization wherein it used to take 4 months+ to close any job opening with a quality hire. And once I realized that this problem was across the board with many organizations (despite using TA solutions), it was a clear that this problem was solvable with the right tools.
3. How do you think technology is changing the HR Sector?
HR sector is primed for technology because the problems are very real and easily solvable with the right technology. With the recent pandemic, there is a positive and accelerated mind-shift towards remote collaboration and virtual interviews. All this is accelerated by the right technology, and automation remains the key to greater productivity and transparency in the recruitment process.
4. How do you think digitization is empowering the hiring processes?
Digitization exists at multiple levels, and the word itself means different things to different people. Digitization is more than just about the tools and platforms; but instead these tools and platforms need to map to larger vision of Digital Transformation to bring the right business benefit to an organization.
5. What is the significance of omnichannel candidate engagement in hiring?
It is important to have a single dialog with candidates; even if the dialog spans multiple channels (email, SMS, IVR, social boards etc).
We must consider that different candidate profiles may be reachable via different channels, and hence use the right channel to engage with the candidate at the right time. Better engagement means better hiring.
6. What role does smart evaluation play in identifying the right fit candidate?
It is a known fact that Resumes are a poor predictor of candidate skills or fitment within an organization. The evaluation of a candidate needs to be based on the estimated performance of a candidate for the given role and required skills. The smart evaluation looks at the skills desired from the job description and objectively evaluates the candidates using scientifically designed quizze, tests and F2F discussions. The skills may even include soft-skills which can be evaluated using standardized psychometric analysis techniques.
7. Can you explain to us in detail about your smart automation feature?
The talent acquisition teams have the onus task to manage and consolidate sourcing across multiple job boards and even multiple recruitment consultants. Essentially it means to minimize manual interventions in the recruitment process to avoid duplicate datapoints and enhance collaboration between various subprocesses of recruitment like resume screening, Evaluation and assessments, candidates dashboard capturing his lifecycle for the job, reusability of the candidates database for open jobs etc etc
8. Why is offer management necessary for smart hiring?
With a high drop-out rate of candidates not accepting the offer or accepting offer and not joining, it becomes imperatives for CHROs/Head of TA's to have a business view of offer acceptance and date of joining. Offer management offers a consolidated dashboard of the candidate in various stage of the offer lifecycle such as offer accepted, in discussion, rejected and joined. This rolls-up to the KPI's of the recruiter as well.
9. How do you prepare for an AI-centric World?
AI is enabled by data, and data is enabled by processes. Hence, any foray into AI or analytics must begin from digital transformation which captures the data points in all the stages of a process. Next, we must have clear expectations of the role of AI in digital transformation. Are we looking at decision support systems, or decision-making systems? This question fundamentally alters our approach of what we want to achieve with investment into AI-driven platforms.
10. What are the major developments you are planning, in recent times?
Effective remote collaboration is the mantra for productivity, especially in the light how businesses have fundamentally evolved due to the recent pandemic. Our focus is on increasing productivity in the recruitment processes, enabled by modern age video conferencing and video interview features. This also mandates greater transparency and digital traceability across all the stages of the recruitment process; thereby complying with statutory mandates.
11. Can you tell us about your team and how it supports you?
We have a cross-functional team that mixes youthful energy with experienced wisdom. Our teams are based on the pillars of self-empowerment, ownership and collaboration; hence the question is reversed i.e. how can we support our teams in what they want to do.
12. Which book are you currently reading?
True North By Bill George and Peter Sims
13. We have heard that you have a very joyful work culture, we won't mind having a look at some of the pictures?

14. Can you give us a glance of the applications you use on your phone?
Routine applications covering different Genres like Entertainment, Business, Social Networking, News etc
For more such Updates Log on to www.hrtechcube.com