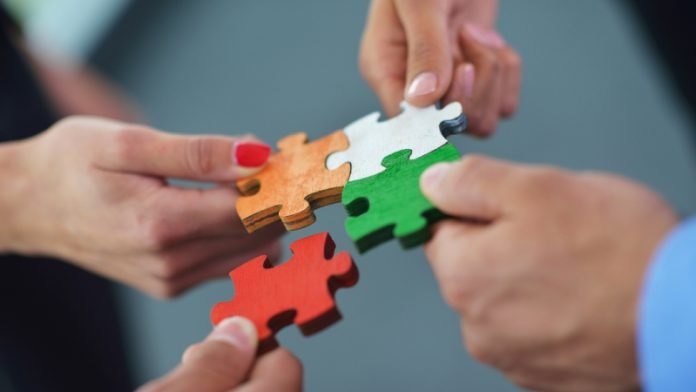 A united workforce is critical to your team's success. But true teamwork does not happen overnight. The modern day workplace is full of obstacles that can sometimes impede a company's progress towards becoming a collaborative workplace. Remote employees, non-desk workers, language barriers, and siloed departments can make it difficult for teams to effectively connect and collaborate.
Achieving a collaborative company culture can be especially difficult for companies with a large frontline workforce. Non-desk employees (workers who don't sit and work at a desktop) and hourly workers are often overlooked and left out of company-wide culture initiatives. A disengaged frontline workforce can have costly consequences for the broader organization. Fortunately, new innovations in HR tech are working to address these issues.
When it comes to choosing an internal communications tool to improve workplace collaboration, there's no shortage of options. However, not all digital communication tools are made equally. If you truly want to get your team running like clockwork, here are five must-haves when searching for a communication solution to add to your team's HR tech stack.
1)   Use a Real-Time Communication Tool
True collaboration happens in the moment. It's spontaneous, genuine, and often unplanned. It can't be contained in a weekly meeting or another listless email update. Real collaboration requires seamless lines of communication in all directions. Top-down, bottom-up, and peer-to-peer. That's why it's essential to use a team communication tool that supports both synchronous and asynchronous communication at any time, from anywhere.
HR leaders need to provide their workforce with a standalone tool that allows employees to communicate one-on-one, in a group, or in targeted streams in real time.
Existing communication tools often do not support instant dialogue. Email is the digital equivalent of snail mail. If you need an immediate response, shooting off an email and waiting to hear back is an exhausting process that saps time and energy away from your team. Furthermore, most frontline employees aren't even given a company email, so this isn't even an option. Other mobile tools like text messaging or WhatsApp are difficult to manage, and may even violate security regulations around data privacy.
2)   Make it Mobile-Friendly
Work doesn't just happen inside the office. Over 80% of the world's workforce is comprised of non-desk employees. These frontline workers have been historically underserved, with limited or no access to the frontline communication tools they need. For this reason, it's crucial that your internal communications strategy includes a mobile option.
With a team app like Beekeeper, companies can offer their frontline employees a two-way line of communication to anyone in the organization. Whether you manage a housekeeping team at a hotel,  or employees on the factory floor or on a construction site, they have a way to stay connected to the rest of their workforce.
3)   Remember App Integrations Are Your Friend
Apps upon apps upon apps. Fortunately, there's a simple solution to get all the apps in your HR tech stack working together to make your team's day-to-day life easier, and help them be more efficient and productive.
With an internal communication solution that offers a robust array of Marketplace apps to choose from, the customization options are endless. Beekeeper, for example, offers integrations with a number of best-in-class tools for HR leaders such as ADP, Mirus, BambooHR, and much more.
Your company's communication challenges are unique, so it's important that your software solutions are as flexible and customizable as possible to meet your team's exact needs.
4)   Don't Forget Security
For some teams, especially frontline workers, they're often forced to fend for themselves when it comes to collaborating with their co-workers. When left to their own devices, these teams often turn to consumer chat apps like WhatsApp for group communication. The problem is that these group chats often leave the company exposed to dangerous data security breaches.
It's crucial to use an internal communications tool that's secure, especially with the recent passage of GDPR regulations which went into effect on May 25, 2018. These security regulations affect any company that does business in the EU. Google has already been slapped with a hefty fine of 50 million euros, so it's more important than ever that the HR tech your company uses meets the updated security requirements.
The good news? You can take the stress out of scouring the marketplace for a more secure SaaS solution, and go with a tool that is already GDPR-compliant like Beekeeper.
5) Make Sure It's Easy to Implement
Change can be scary, and rolling out a new tool to your team may be met with some resistance in the beginning. The key to overcoming your team's fear of change is a well-executed roll out to show them that this new tool is nothing to be afraid of.
Be sure to carefully analyze the level of support that comes along with any HR tech you're considering using. Not all of them offer the customer support you'll need to successfully get your team onboard.
With an app like Beekeeper, you'll have the option to have a dedicated Customer Success Manager that will lead you through every step of the way. They'll show up onsite to help with initial roll out to make sure your entire team is onboarded successfully. Afterwards, they'll stay in touch with regular check-ins and offer tips on how to encourage employee engagement and get the most out of this new tool.
Collaboration is Key
The benefits to building a collaborative company culture are virtually endless. Collaborative teams are often more productive, motivated, and engaged. They also have lower turnover rates and better morale. But collaboration must be built on a solid foundation of communication. For this reason, it's vital that company leaders take the time to evaluate their HR tech to ensure they're providing employees with the tools they need to communicate well, and collaborate effectively.