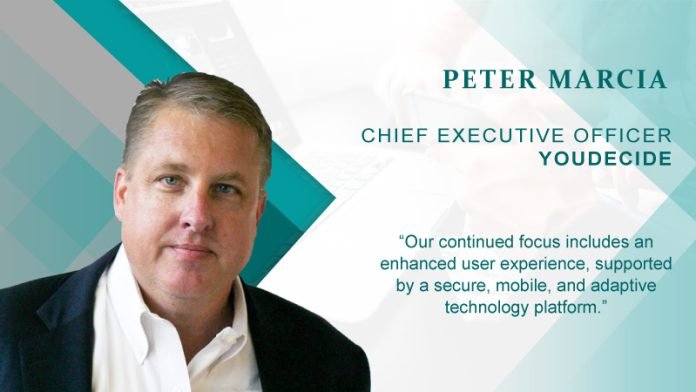 1. Tell us about yourself and your role at YouDecide?
As the leading VBO firm in the marketplace, YouDecide provides a full suite of consulting services and technology solutions to support large employers in the design, integration, communication, deployment and administration of voluntary benefit programs.
I assumed the CEO role in 2007 after several years as an investment partner. In my position, I oversee strategy so that we can continue to innovate and create unique value to our clients. As a strategist and benefits consultant, I have experience solving a multitude of company problems that directly impact employees, such as financial wellness, employee engagement, retirement readiness, and much more.
2. Can you tell us about your entrepreneurial journey?
Over the past 30 years, employers have been seeking solutions to balance rising health plan costs while maintaining high value options for their employees. Employers and employees are bearing these escalating costs, while coverage value has continued to erode. As a result, cost-saving strategies have been shifting to voluntary benefits over the past 10+ years. Mainstream carriers are focusing on these products to offer solutions to employers struggling to provide employees with creative ways to manage the increasing, out-of-pocket medical expenses that are inherent in high deductible health plans. I observed the evolving market very closely and saw an opportunity developing in the early 2000s.
Creating an exceptional voluntary benefits solution with a customized set of products and services, is no easy task. To address this challenge, we created our voluntary benefit outsourcing (VBO) solution. In 2009, I filed a business process patent to protect the intellectual property and processes YouDecide created and continues to develop. On November 7, 2017, the United States Patent Office awarded YouDecide an U.S. Patent for our VBO solution.
This patented solution allows an innovative web-based platform that provides our clients a powerful and flexible portal to communicate and deliver voluntary benefits, work life, and consumer discount programs to their employees, retirees and family members together into one powerful integrated solution while significantly reducing human resources, technology, communications, payroll, and administrative costs of managing such programs.
3. How do you think your product is benefitting employees?
Many voluntary benefit programs provide attractive incentives to the employee and employer alike: special underwriting provisions, additional discounts, payroll deduction and ease of enrollment. Many voluntary benefits cost about the same a daily cup of coffee but unlike this morning treat, can give employees peace of mind and address gaps that might be evident in the employer healthcare plans or financial wellness programs.
Since the launch of the YouDecide VBO solution in September of 2008, there has been an exceptional response from the marketplace. Today, YouDecide manages over 40 active VBO platform installations for Fortune 1000 employers representing approximately one million eligible employees. In addition, we manage approximately 50 global marketplace clients providing our deals and discounts marketplace to their employees.
In an age where innovation, thought leadership, and white-glove service are valued more than ever before, YouDecide remains dedicated to modernizing and simplifying voluntary benefits outsourcing for our clients.
4. What are some upcoming updates/announcements can we expect from YouDecide?
YouDecide will continue with our mission to engage, compel, and delight our client's employees through the YouDecide portal experience.
Our continued focus includes an enhanced user experience, supported by a secure, mobile, and adaptive technology platform.
In addition, our deployment of content management tools will allow us to deliver more personalized, optimized, targeted communications to engage the individual employee (an "audience of one") and is all supported by an integrated portal, product and utilization reporting platform.
5. How does your product help organizations and employees save money?
For our clients' employees, YouDecide offers access to voluntary employee benefits and consumer product discounts only available in the workplace. According to Bankrate's 2018 financial security index survey, "34 percent of American households experienced a major unexpected expense over the past year. However, only 39 percent of survey respondents said they would be able to cover a $1,000 setback using their savings." To this point, YouDecide's broad portfolio of consumer programs and services directly addresses this savings gap by stretching the average employee paycheck.
With insurance and financial wellness programs such as automobile and homeowners, accident, critical illness, hospital indemnity, pet care, legal and long-term care insurances; identity protection; purchasing programs; car loans; and, home mortgages our programs provide financial support and security offering "peace of mind" and a safety net in this "tightrope" walk of life.
6. What's your company's mission?
We relieve the burden of managing multiple insurance offerings, work/life programs, and non-insurance consumer products and financial services offerings, while mitigating the cost of administering said programs.
We reduce the expense of maintaining and configuring multiple payroll deduction slots. YouDecide's proprietary SureDeduct™ technology provides plan sponsors with the option of payroll deduction for all plans-with a single deduction file to manage.
Our experienced team of consultants provide tailored programs to meet the specific needs of population subsets-each with varying benefits requirements-on a provider-agnostic basis.
7. What are some HR Tech trends you're anticipating this year?
Communication Technology
Today's employee expects to receive communications through a variety of platforms (social, email, blogs, etc.) and devices (desktops, tablets, smartphones), but depending on your employee, some methods are more preferred than others.
In order to fully measure the success of open enrollment, benefit managers will need to have more robust communication, reporting and data analytics capabilities. Modern technology can track the device employees use to engage with the communication, how long they read that communication, what browser they are using to read the communication, etc. A wise benefit manager can use this information to determine where employees like and expect to receive communications and use this information to help inform future enrollment communications.
Payroll Deduction Administration
Currently, technology allows voluntary benefit outsourcers the ability to offer consolidated billing by combining multiple benefit payroll deductions into one deduction amount for employees. This allows employers to offer multiple voluntary benefits without the additional administrative headache. Voluntary benefit outsourcers, in turn, take care of the remittance and reconciliation process with the carriers.
Consolidated eligibility and single-slot payroll technology will continue to automate the complex interchange of enrollment and premium files between multiple carriers and providers. This allows the benefit manager to focus on designing benefit plans rather than worrying about being bogged down by administrative hurdles.
8. What are some trends in HR Tech you are anticipating over the next 3-5 years?
Enrollment Medium
Where we are now: Smart enrollment technology is key to success. In this one-click shopping world that we inhabit, it is critical that we think of voluntary benefits in the same way. We've come a long way since the days of paper applications and applying directly with an enroller. Now, you can enroll online for your benefits, which allows benefit managers to track employees' progress through enrollment.
Where we will be: Benefits managers/customer service reps will be able to leverage technology to further personalize the enrollment process with targeted, relevant recommendations and insights that can help the employee make the best decision. These recommendations will be specifically made for the employee and take into account the employees' interests, financial goals, age, and family situation.
9. What books are you reading these days?
I am reading a few books: The Way I See It by Temple Grandin; The Square and the Tower  by Niall Ferguson; Leonardo da Vinci by Walter Isaacson; and Reverse Innovation in Healthcare by Vijay Govindarajan and Ravi Ramamurti.
10. Can you give us a glance of the applications you use on your phone?