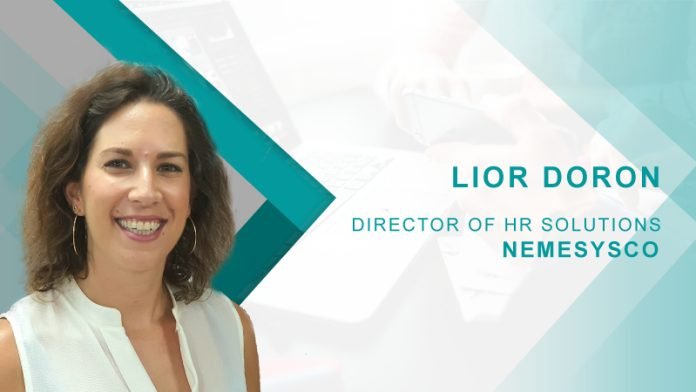 Lior Doron from Nemesysco puts light on the increasing importance of technology in the HR industry & how their Voice Analytics is enhancing various HR functions
1. Tell us about your role in Nemesysco?
At Nemesysco, my area of responsibility involves managing the company's voice analytics products and solutions for the human resources space.
My role includes defining and managing our voice analytics solutions that are intended to improve the productivity and effectiveness of employee recruitment processes and retention efforts. These voice analytics solutions are targeted at senior level decision makers at both recruiting firms and internal HR teams. Our solutions give these decision makers in-depth understandings of their candidates and employees and can be used for matching a candidate to a job description, analyzing an employee's potential risks and much more.
To my great joy, my work allows me to meet a wide range of partners in diverse fields and interact with customers from different countries and cultures.
2. Can you tell us about your journey into this market?
My ambition when I joined Nemesysco and took this position was to improve the recruitment process for both employers and candidates. I am proud to say that the approach that we have developed with our voice analytics technology and personality trait analysis provides benefits to both sides, allowing employers and candidates with wider insight to make more informed decisions throughout the recruiting processes.
Throughout this journey, we have significantly expanded our collaboration with our go-to-market partners in different regions. As the demand has grown for our solutions in the HR space, I am constantly strengthening my knowledge of recruiting and retention processes and enjoy very much sharing the insight that I have developed with new customers.
3. What technologies do you see that are changing the HR sector?
The answer to this question is clearly any technologies that have to do with managing remote recruiting processes.
Technologies for this have actually grown in usage well before the Coronavirus outbreak. We saw that many international companies began using such tools and solutions to better manage the HR activities of their global operations.
Of course, the recent social distancing and work-from-home mandates – which will likely be with us for the foreseeable future – have intensified the need for HR solutions to manage remote recruiting.
The uptake of video interviewing tools is one obvious example.
We have numerous end user organizations and external recruiting firms that are applying our voice analytics to their remote recruiting processes. Our solution is often applied in the early stages of the recruiting funnel in order to rapidly identify a qualified set of candidates for further evaluation.
4. How is AI improving HR processes and outputs?
When AI was initially applied to the HR space, many questioned if it could really replace human interactions. From what we saw at the time, many of the objections came from external recruiting firms that were concerned that the application of AI would make their role in the recruiting process redundant.
Of course, this is not the case and did not happen.
For employers, AI is enabling larger volumes of candidates, especially in the early stages of the recruiting process, to be evaluated quickly and in a standard framework.
Because of this, many recruiting firms have shifted their focus and are now offering expanded input to employers to the later stages of the recruiting process.
Candidates are also benefiting from AI with a better understanding of what types of positions and employers are a good fit for them.
5. Can you explain how emotion detection can help in employee engagement and retention?
As a manager, like any other managers around the world, I prefer not to be surprised and have the knowledge that is needed to be prepared for whatever comes next. With this in mind, emotion detection and measurement based on voice analytics can and should be part of any company's employee engagement and retention program to provide HR teams and managers with this crucial information and assist their ongoing management tasks.
Our approach to voice analytics can be applied to establish a baseline of the emotional state of each employee in an organization. Any changes to this baseline can quickly be identified. Some common examples of emotions that many of our customers monitor for include changes in levels of motivation, frustration, stress, burn out and so on.
These changes are not always detectable, even to the most experienced manager, and this is where voice analytics for emotion detection offers a lot of value.
An analysis of a candidate's or employee's genuine emotions detected with our voice analytics can provide in-depth insight into the person's personality and soft-skills.
This analysis can be used not only for rapidly screening candidates in the early stages of the recruiting funnel, but also for matching candidate compatibility with company values at the later stages of the hiring process.
This analysis can also be used for ongoing employee engagement. Examples include performance reviews, routine security checks and evaluations for promotions.
6. How does your approach to voice analytics help in monitoring employee wellness, which is a prime concern for companies during COVID crises?
We actually have been experiencing a significant increase in demand from our customers in the HR sector to apply our voice analytics to monitor the wellness of their employees that are now working remotely. These are very interesting projects.
Typically, customers have told us that over the past few months that they were able to transition their workforces to work from home. Many managers have explained that their companies were able to maintain the continuity of their work processes with collaboration tools like video conferencing and shared virtual workspaces.
However, these same managers admitted that they had no way to understand how these new working conditions impacting individual and team productivity as well as the state-of mind of each staff member.
For these customers, we are applying our voice analytics to monitor employees and identify those that are experiencing changes to their emotional state. These customers are running our voice analytics technology on both real-time conversations, including group video conferences, and recorded conversations. With our technology, employers are able to highlight those employees that are experiencing changes in emotions relevant to the workplace, such as stress, frustration, fatigue, motivation and enthusiasm.
7. What benefits of your voice analysis technology are HR teams attracted to?
Before answering this question, it will be worthwhile to say a few quick words about how our voice analytics technology works. Our technology – which we call Layer Voice Analysis – is designed to reveal the genuine emotional state of a person. It works by detecting and measuring uncontrolled psychophysiological changes to a person's voice during open conversations. HR is actually a very significant vertical of the many vertical applications for our voice analytics technology.
With this said, the feedback we get from our HR customers is that our technology provides an efficient framework for quickly evaluating candidates and understanding their characteristics. Additional benefits that we hear from our HR customers is that our technology is straightforward to use and easy to integrate into their existing recruiting processes. Others tell us that it expands their output by increasing the volume of candidates they can evaluate with greater accuracy.
We also work a lot with service centers offering recruitment screening and what we learn from them is that the use of genuine emotion detection is allowing them to speed up their offering. In fact, in these times of social distancing, this really is the only valid option we see for properly vetting and overcoming the lack of in-person interactions.
8. What advice would like to give other technology companies looking to enter the HR space?
From our experience of entering the HR space, it was very important, especially at the beginning, to engage and cooperate with channel partners in local markets to access initial end user organizations that were open to adopting a new technology like ours. Once we proved the value of our voice analytics for improving recruiting processes with an initial set of customers, we were gradually able to access additional partnerships that led to deployments in other regions.
Building trust with these partners and end user customers has been the key to successfully maintaining long term relationships in this space.
9. What are the major developments that your company is preparing for in the near future?
In the coming months, we will be publishing exciting new techniques for genuine personality assessments. Our R&D team is in the process of completing the research and we can only say at this point the following: the positive and negative responses to past experiences can be extracted and analyzed to accurately understand and project how a candidate or employee will respond to future challenges. This will provide recruiters and managers with true understanding of the person in front of them and will be able exactly know what to expect of each candidate or employee.
I strongly believe that our new approach will completely challenge all existing understandings and assumptions. Our new approach will have a wide ranging impact on many vertical markets.
10. What work related hack do you follow to maximum productivity?
I have always made a conscious effort to maintain a good balance between my professional and personal life. Separating the two is not always easy, although doing so makes my work significantly more productive. Simply things like exercise, reading and family time are a big part of this.
11. Can you recommend a good book you recently finished reading?
I just finished reading House of Spies by Daniel Silva. This book has absolutely nothing to do with work and it was great reading to disconnect. I have always enjoyed reading suspense novels. I still prefer to read printed books as it helps me separate myself from the pressures of work.
12. What are some of the favorite apps you use on your phone?
Google Keep is an app that I have been using for many years. It helps me stay organized and keep my email and to-do lists synchronized. LinkedIn is another one. I also recently started using Spotify.
For more such Updates Log on to www.hrtechcube.com