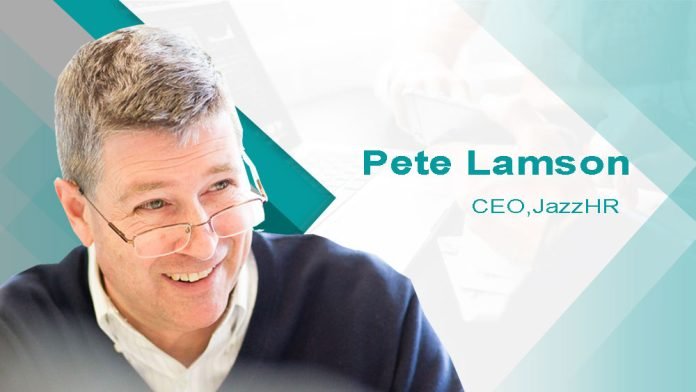 Pete from JazzHR dissects the varied attributes of recruitment & highlights the specifics of tech empowering the processes of employer branding & collaborative hiring!
1. Tell us about your role at JazzHR?
As JazzHR's CEO, I am responsible for our organization's strategic direction, overall performance, and day-to-day operations. This involves developing short and long-term growth plans, collaborating with shareholders, and executing our overall mission of empowering SMBs to hire more effectively, faster, and at an affordable price point.
Since 2015, I've been privileged to work alongside our world-class team to deliver the best recruitment solution on the market.
2. Can you tell us about your journey into this market?
I've spent the past 25+ years working with emerging growth companies, primarily in the technology space. Throughout my career, I've focused on the global small business community, in particular and led expansion efforts into this market with major B2B and HR-specific brands.
3. How do you think technology is upgrading the HR Sector?
From recruiting and onboarding to employee engagement and performance management, the HR sector's core responsibilities and objectives often require significant manual effort. Yet historically, the sector has been underserved from a technological perspective. This is especially true for small and mid-sized businesses. Unlike larger companies, SMBs often lack the resources needed to leverage emerging innovations.
HR technology solutions, like JazzHR, have transformed the way this sector operates.
SaaS applications, in particular, have enabled teams of all sizes to leverage enterprise-level tools, resulting in increased efficiency, productivity, and engagement. Streamlined tech stacks now replace processes that previously involved siloed touch points, thus speeding up the entire employee lifecycle. And with the recent shift toward remote work, the need for and impact of HR technology has never been greater.
4. How has digitization empowered recruitment professionals?
Recruiting teams have one of the most important yet challenging jobs within any organization: finding the right people to achieve their company's mission.
Prior to solutions, such as JazzHR, hiring teams generally cobbled together a homegrown system of spreadsheets, word documents, and email inbox management. The result was a labor-intensive and slow process with subpar candidate communications. Even today, only 14% of SMBs are currently using a best-in-breed ATS.With the right recruiting solution, talent acquisition becomes a competitive advantage. Digitizing the process of souring, screening, and hiring best-fit candidates has allowed businesses to recruit faster and avoid making costly bad hires. By automating high-volume tasks, centralizing candidate communications, and building integrated tech stacks, recruitment professionals can reinvest hours of time and thousands of dollars back into more strategic activities with greater business impacts.
5. How has JazzHR continued helping SMBs amid the pandemic disruption?
The COVID 19 pandemic has hit small businesses harder than any other market.
We took action quickly, including offering JazzHR at no charge for essential care providers and providing flexible pricing for customers who had frozen their hiring efforts. JazzHR is committed to supporting the SMB community in these extremely challenging times.
Now, as industries slowly reopen, SMBs are beginning to restaff—and they're turning to JazzHR.
Since the onset of the pandemic in early March, we've grown our customer base by continuing to do what we do best: provide an industry-leading solution at an SMB-friendly price.
One of our customers, Teambuilding.com, used JazzHR to launch a brand-new virtual product during the pandemic. Their CEO Michael Alexis speaks to JazzHR's impact right now best: "We're getting more corporate leads in a day than we used to get in a week. JazzHR's efficiency has allowed us to focus our attention on the best candidates, especially in a busy time where we need to devote most of our energy to converting business, not sifting through applications."
6. Can you explain to our audience in detail about your capability of collaborative hiring?
A collaborative recruitment process—one that involves both HR professionals and cross-functional teams—speeds hiring, improves the candidate experience, and reduces unconscious bias.
JazzHR empowers teams to build collaborative hiring processes through a number of powerful tools at various stages within the recruitment funnel:
● Referral tracking – Leverage current employees' networks by requesting and tracking referrals right from JazzHR.
● Coordinate availability – Invite multiple team members to interview candidates with JazzHR's streamlined calendar integrations.
● Share feedback – Centralize real-time input from multiple hiring team members in JazzHR with @mentions, Interview Guides, and star rankings.
● Track progress – Customize JazzHR's hiring workflows to incorporate multiple departments with automated tasks, emails, and reminders.
7. How has the shift to remote work impacted JazzHR, and how has your team adapted?
Until the onset of COVID-19, our employees were working fully in-person out of our Pittsburgh, PA and Waltham, MA offices. Now, we are 100% remote. Though the change was unexpected, our team has done a phenomenal job of transitioning to this new environment.
This has been possible by prioritizing open and effective communication channels above all else. We rely on tools like Slack for real-time messaging and incorporate face-to-face interactions through regular video calls. From weekly virtual happy hours to all-company meetings, these video discussions and communication tools have been critical in allowing us to stay aligned from afar.
To keep our company culture alive, we also encourage team members to connect for activities like one-on-one diversity and inclusion discussions, virtual coffee hours, daily trivia games and even our own version of JazzHR Jeopardy. Not only have these allowed us to continue fostering a spirit of belonging and collaboration, but they've provided needed moments of laughter and levity.
8. How essential do you think employer branding is in present times?
Now is a defining moment for shaping your organization's employer brand. How you treat your employees, customers, and community in times of crisis directly influences your company's long-term reputation.
To build trust and make a lasting positive impression, communicate thoughtfully and set a tone of transparency both internally and externally. HR technology plays an important part in doing this effectively— JazzHR's employer branding tools, for example, empower you to showcase your approach at various touchpoints, including your careers page and job descriptions. Foster your employer brand now to reap the rewards with future job seekers.
9. What differentiates your recruitment platform from others in the market?
JazzHR delivers the best product at the best price, backed by the best customer service.
Unlike competitors, we remain laser-focused on the unique needs of SMBs. JazzHR offers easy-to-use recruiting tools that empowers small and mid-sized teams to hire faster for as little as $39/month. We complement this pricing with world-class service, as demonstrated by our 98% customer satisfaction and retention rates.
Our expansive partner ecosystem also differentiates JazzHR from other providers. Made up of 250+ industry-leading technology and service providers, our network allows businesses to build seamless end-to-end HR tech stacks. To deepen the hiring experience further, we also offer custom-branding capabilities with JazzHR White Label.
10. What are the major developments you are planning, in recent time?
From a product perspective, we're investing in enhancements to JazzHR's core features and functionalities, including Reporting, Offers and eSignatures, and Candidate Texting. We've also extended JazzHR's reach through the launch of our first-of-its-kind White-Label platform. Partners and brand-first customers can now quickly deploy a custom-branded version of our award-winning software without the significant investment. To ensure businesses are reaching the most diverse talent pools possible, our team is also focused on expanding JazzHR's sourcing channels.
As an organization, we're continuing to grow and keep diversity and belonging at the core of everything we do. We've just elected Jen Kurtz as JazzHR's first Diversity & Belonging Chairperson.
11. How do you prepare for an AI-Centric world?
We recognize the value AI can provide the SMB market in automating high-volume tasks, streamlining disjointed processes, and saving time. It's important to note, though, that AI cannot—and will not—fully replace the uniquely human elements of recruiting
To strike this important balance, we empower teams to guide the automation of tasks with their own intelligence through tools like JazzHR's Knockout Questions. This allows them to increase efficiency while remaining in control of their overall strategy.
12. Can you tell us about your team and how it supports you?
I think the question is backwards, and instead should be "How do I support them?" We are fortunate to have a tremendous team at JazzHR. All employees play a critical role in helping small businesses hire more effectively, and at a price point designed for small businesses. My job role in supporting them is to ensure we have the right strategy and the right resources. The intellect, passion, and commitment of our team is humbling and pushes me to bring my best every day.
13. What movie inspires you the most?
The Shawshank Redemption and The Remains of the Day
14. We have heard that you have a very joyful work culture, so can you share with us some of the fun pictures of your workplace?
                                              A snapshot from a JazzHR virtual happy hour
                                     Celebrating International Women's Day in our Pittsburgh office (pre-COVID)
                                                Cheers to our recent Inc. 5000 recognition!
For more such Updates Log on to www.hrtechcube.com