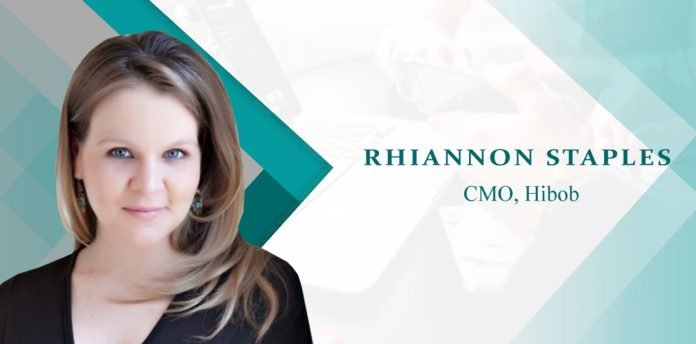 Rhiannon from Hibob talks about the changing dynamics of the hrtech industry and how HRIS and data can give HR teams a seat at the employee experience table.
1. Can you tell us about your role at Hibob?
As CMO of Hibob, my ultimate responsibility is to help grow our business by educating the market on how Hibob addresses the challenges faced by HR leaders of modern, mid-sized fast-growing companies.
2. Can you tell us about your journey into this industry?
I have spent my entire career in the technology industry, and the majority of that time I have worked with hypergrowth organizations. I have experienced first-hand how important a strong foundation is for companies to scale and for their employees to be successful. When considering new opportunities a little over a year ago, Hibob appealed to me because it is challenging how traditional HR has been done and is addressing real challenges I have faced as a business leader. I was excited about the opportunity to be part of an organization that was affecting change and helping set up other companies for success.
3. How do you think technology is upgrading the HR sector?
HRIS is becoming mission critical in the remote work tech stack for companies of all sizes and across all industries. Over time, we have seen that HR tech has become significantly more agile and is now focused on serving employees and managers as much as it does HR – democratizing HR entirely.
Most notably, COVID-19 has changed the role of HR teams and given HR team members a very critical seat at the table. Now more than ever, the impact of the HR team is evident.
Their focus must be on their people and teams to enable employees, managers, and HR to engage and communicate effectively despite being apart and while facing new, unexpected challenges.
Modern HR tech appeals to a broad set of stakeholders – HR, managers, employees and the executive team. In doing so HR tech providers must focus on adaptability, integration, personalization, ease of use, and data-centricity. The result is HR technology that has become more ingrained in the daily operations of companies. Instead of a function that employees forget about, it's something they rely on and engage with daily.
4. How has integration of analytics eased the functions of HR professionals?
Data has given HR professionals a seat at the executive table. Just as access to data revolutionized marketing in the past decade, it is having the same impact on HR functions, shifting the perception of HR as a support function to an understanding of HR as a strategic role. HR professionals are now understood to have the ability to make predictions based on data, and then guide employees and leadership to navigate the business forward.
5. Why is D&I paramount to a strong culture and to long-term business success?
A great byproduct of some of the societal strife we've all seen in recent months is that modern companies are finally understanding that diversity and inclusion initiatives are no longer merely a 'nice to have' – rather, it's a make or break for the economic success of a business. In the age of accountability and social media, the days of being able to hide progress on this front are over. Diversity and inclusion is critical because it ensures that the ecosystem leadership has created within a company is representative of the real world we live in.By ensuring you have a diverse spectrum of ideas, voices, and minds contributing to every part of your business structure, you're ensuring your output is relevant for modern-day consumers and not just one group or demographic.
6. How do you think firms can put their money where their mouth is in terms of the actions that they should take to foster an inclusive culture?
There's no better way to foster an inclusive culture than to ask the marginalized employees within your company as a starting point about what they want.
By connecting with and surveying your employees – particularly the ones who will be most heavily impacted by these initiatives – not only are you ensuring that you're actually fixing the broken system that led you to the status quo, but you're opening yourself up to new ideas you may not have thought of previously. Creating an inclusive culture is everyone's responsibility internally, so making sure it is top of mind for the entire organization is critical. Being transparent with where you're failing is key as well – it shows that you're committed to fixing the problems and being honest along the way.
7. What features of your performance platform differentiates it in the market?
Hibob's platform – which we call 'bob' – is different from other HRIS solutions in that it was designed to be a system of engagement rather than a system of record. We understood that the needs of modern, growing companies centered around the employee experience and wanted to build something that supported the needs of HR, managers and employees, alike. So we focused on building a platform that was intuitive, agile and easily integrated with other systems. Effortless access also leads to better adoption so we built an intuitive mobile app as well as integrations with collaboration tools such as Slack and Microsoft Teams to allow bob to easily operate in the flow of work. But perhaps the most unique aspect of the platform is that it was designed with a social component as a means to help businesses foster organizational culture.
Beyond the employee experience, bob is also appealing to managers and HR teams. Because it is data-driven, bob helps CHROs, CFOs and other business leaders analyze and extract key insights that can lead to strategic decisions about the business and its people.
8. What advice would you like to give to the technology Start Ups?
Investing in your people is key to starting a strong business. You're only as strong or successful as your weakest link, and without a passionate and dedicated team, your company will be more likely to fail.
9. How do you prepare for an AI-Centric world?
HR plays a crucial role in helping employees to develop and evolve their skillsets. Automation is changing the needs of the labor market every day, and while it may eliminate the demand for humans to fill certain roles, we will never run out of problems to solve. Increasing efficiency does not reduce the impact that humans can have in the workplace, but rather changes the work they can do. When HR helps employees upskill – whether it's through mentorship programs, training, or other initiatives – they are effectively preparing them for the ever-changing world so they can tackle new problems and take on new roles.
10. What are the major developments you are planning, in recent time?
At its core, bob was designed to help modern companies navigate the changing world of work, and the challenges that are in the spotlight today – such as diversity and inclusion and remote work – have long been relevant to our client base. On the diversity and inclusion front, we recognized that businesses needed to support non-binary gender identification and gain better visibility to how they are progressing on fostering an environment of inclusivity. We were the first company to launch this type of tool, which now gives hundreds of other organizations around the world the opportunity to let their employees decide how they are addressed and defined. Not only does this help workers establish their workplace identity from the get-go, but also eliminates potential missteps, provides clarity, gives underrepresented groups a voice, and supports a culture that is safe and inclusive.
Most recently, the remote work challenge has thrust productivity measures into the spotlight as companies have been scrambling to adapt. The improved performance management capabilities on bob help companies guide and analyze the performance of team members while working from home. Not only is this important to the overall success of an organization so they can make data-backed decisions, but it also helps managers and HR get an understanding of how everyone is coping with remote work, and allows them to easily identify areas for improvement and growth.
11. Can you tell us about your team and how it supports you?
My job as a leader is to work for my team, not the other way around. I provide strategic direction and the team understands how to translate that direction into a plan and then put it into action. Because the Hibob team is spread across the globe with employees in Tel Aviv, New York, and London, our company is faced with the same challenges that the bob platform is designed to solve. By finding new obstacles in our day-to-day, it helps us think about how we can help other companies improve their daily operations as well, and thus drives innovation and new ideas.
12. What movie inspires you the most?
While it didn't originate as a movie, these days it's all about Hamilton in my house. What inspires me the most is the lens Miranda used to tell this story. In addition to making the history approachable, animated, and mainstream, he retold the story with a modern twist and made it so nothing feels predictable. From the diversity of the cast to the choice of music, to the ending of the play – spoiler alert: it's not about Alexander Hamilton -it is remarkable how the core themes of the show are every bit as relevant today as they were more than 200 years ago. It inspires me to remove bias and assumptions in my own work, and consider a different lens and approach.
For more such Updates Log on to www.hrtechcube.com