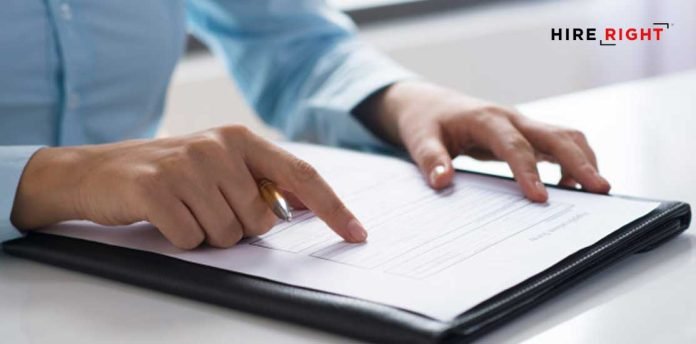 HireRight, a leading provider of global employment background checks, drug testing, education verification, and electronic Form I-9 and E-Verify solutions, has expanded its COVID-19 Screening Solution in the U.S. through its Drug & Health Screening services. HireRight now offers COVID-19 viral marker (molecular via RT-PCR) assurance testing, as well as new referral options through Preworkscreen and CIC Health. These additional capabilities build on our previously announced ad hoc COVID-19 solution for symptomatic or exposed individuals to help employers screen large workforce populations to help prevent the spread of contagion.
As a leader in workplace risk mitigation, HireRight continues to be committed to helping our clients navigate the impact of the COVID-19 pandemic on their workforces by providing tools to address changes in their screening programs. Our COVID-19 screening solutions include:
Ad hoc testing* through a COVID-19 viral marker test option that has been authorized by the FDA under Emergency Use Authorization (EUA). Employers can elect to order a COVID-19 viral marker test through the HireRight platform. The test detects the presence of coronavirus in the saliva of the test taker. Unlike blood draws or nasal swabs, the saliva sample is easily self-collected and is not technique dependent.
Assurance testing* offers the same COVID-19 viral marker test that has been authorized by the FDA under Emergency Use Authorization (EUA), offered at periodic intervals for the entire workforce, usually at least once per week. This widespread testing of healthy people allows employers to return to full operations by helping identify cases of COVID-19 early – especially among employees who are either pre-symptomatic or asymptomatic without outward signs of infection – versus testing programs that focus on the testing of individuals who are symptomatic or who have suspected exposure to COVID-19.
A COVID-19 Self-Assessment Tool through Preworkscreen to offer a simple and efficient way to conduct employee COVID-19 symptom questionnaires that aligns with CDC/State guidelines. Each day before work, employees complete the assessment on their mobile device of choice. Results are compiled in real-time and immediately available, so you can quickly track and monitor the overall health status of your workforce.
Additionally, in order to make cost effective, fast turn-around assurance testing available to larger enterprises, we are partnering with CIC Health, a leader in creating COVID-19 testing programs. Along with a full-service, low-cost testing solution from a nationwide network of laboratories, CIC Health can manage needed collectors and medical oversight of testing results.
HireRight has provided customers with guidance and assistance concerning various challenges arising as a result of the COVID-19 crisis. With the launch of these additional screening options, HireRight furthers our partnership for our clients by offering a range of COVID-19 viral marker test options that have been authorized by the FDA under Emergency Use Authorization (EUA).
"We continue to be committed to helping our clients move forward from the COVID-19 crisis and cultivate a safe workspace for their employees and customers," said Dr. Todd Simo, Chief Medical Officer at HireRight. "The addition of COVID-19 assurance testing and referrals through Preworkscreen and CIC Health offers even more tools to help our clients return to as normal work operations as possible."
For more such Updates Log on to www.hrtechcube.com