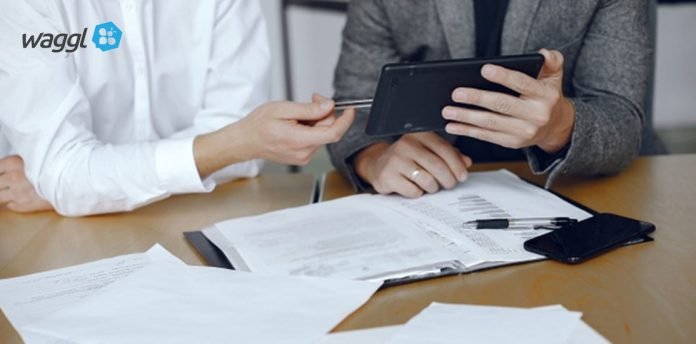 Waggl, the most powerful Employee Voice platform for strategic HR and organizational leaders, today announced that it is the recipient of two Brandon Hall Excellence in Technology Awards: A Gold Award for Best Advance in Employee Engagement Technology and a Silver Award for Best Technology Innovation for the Remote Workforce.
Brandon Hall's Excellence in Technology Awards Program emphasizes the value of collaboration between HCM leaders, business leaders and technology developers. A panel of veteran, independent senior industry experts, and Brandon Hall Group senior analysts and executives evaluated the entries. Winners must meet the needs of all stakeholders, especially the end-users.
"We are honored to receive these two highly esteemed accolades from Brandon Hall, and believe that they serve as a significant validation in the importance of Employee Voice," said Michael Papay, Co-founder and CEO, Waggl. "HR professionals understand the value of Employee Voice, and are ready to utilize it as a tool for boosting engagement. And with many organizations still operating remotely, engagement is becoming even more critical to achieving ongoing success."
Waggl is an Employee Voice platform that helps organizations measure and improve engagement through simple data visualizations and meaningful crowdsourced dialogue between managers, leaders and teams. Over the past six years, Waggl has evolved its platform from a lightweight, consumer-driven app to a robust Enterprise Platform capable of supporting organizations with many thousands of employees. The company has also rebuilt its foundation/underlying architecture to better support and scale with the organizations whose leaders, managers, and employees depend on it as their Employee Voice Platform. In tandem with that, Waggl undertook an audit to attain SOC 2 Type II Compliance, a premiere designation that marks the company's commitment to data integrity and ensures that it meets best-in-class security standards.
Developed by the American Institute of CPAs (AICPA), SOC 2 is an auditing procedure that ensures 3rd party service providers are securely managing data to protect the interests of customers and the privacy of their clients. SOC 2 defines criteria for managing customer data based on five "trust service principles"—security, availability, processing integrity, confidentiality and privacy. The Type II SOC Report details the operational effectiveness of a vendor's systems and certifies that they meet relevant trust principles.
"Waggl has always maintained the strongest commitment to the information security and data integrity of its clients," said Drew Batshaw, Co-founder and CTO, Waggl. "Our SOC 2 Type II Compliance will help to reassure our customers that we are taking all of the steps necessary to keep their data safe. The rigorous process of the SOC 2 audit helped us further codify and strengthen our security and data protection practices."
In addition to its SOC 2 Type II compliance, Waggl continues to add new features and functionality designed to enhance safety and make the platform more collaborative:
Crowd Flagging. Waggl's crowd moderation tool is a safety feature that allows employees to bring posts that they feel are inappropriate to the moderator's attention.
Redesigned Pulse Creation. Waggl's new pulse creation process is easier to use, and offers the ability to save drafts and edits.
Enterprise Reporting Capabilities. Waggl has upgraded its reporting solutions to include enhanced, interactive results for managers and a suite of exportable spreadsheet-based reports for advanced analysis.
Multi-Language Pulsing. This capability enables many of Waggl's partners to deliver a more inclusive solution to their diverse multi-lingual employee populations.
In the past few months, Waggl has been repeatedly honored for its product innovation and technology advancements. Lighthouse Research and Advisory named the Waggl Engagement (WE) Solution as the "Best Innovative or Emerging Tech Solution" in Talent Management; the 2020 CEO World Awards recognized Waggl with a Silver Award for Best New Product in the category of "Technology Software"; and Inspiring Workplaces, commended the company as "Vendor of the Year" for the second consecutive year. Waggl is also the recipient of a Bronze Golden Bridge Award in the category of "Best Technology To Combat and Reduce the Impact of COVID-19" for its "Putting People First" initiative and earned a 2020 Stevie® Award for Great Employers in the category of "Most Innovative Use of HR Technology During the Pandemic." In addition, Waggl earned several Fall 2020 G2 awards, including "High Performer," Easiest to do Business With," and "Best Support."
For more such Updates Log on to www.hrtechcube.com