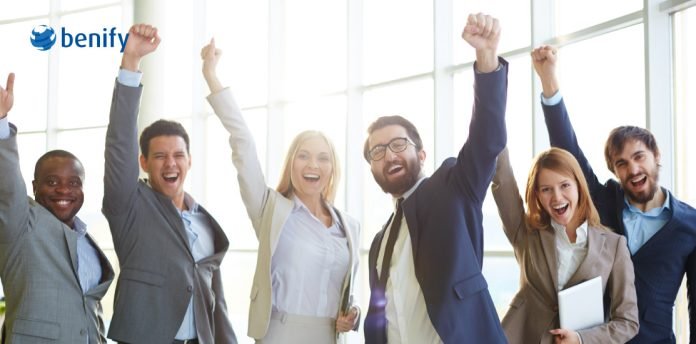 To say that COVID-19 has changed the lives of employees everywhere is an understatement. Today, employers recognize their responsibility to support their employees. But what do employees actually want? Benify surveyed over 5,000 employees to find out. Read on to discover.
While no organization has been unaffected by COVID-19, exactly how an organization is affected varies; some industries are experiencing large declines, while others are experiencing increased demand.
Similarly, the effects and to what degree the pandemic affects employees depends on the individual, and specifically one's ability to adapt to change and one's resilience.
As a result, employers recognize their responsibility to offer their employees support. But exactly what do employees want from their employers? To find out, Benify surveyed more than 5,000 employees from various industries and age groups throughout Europe to find out what benefits are most important to them, and what role technology currently plays in employee experience today.
The People Have Spoken
When we asked survey participants which employee benefit would make them consider changing employers if their offering was better than their current employer's offer, 42% of UK participants say flexibility. In fact,
flexibility is the most desired employee benefit for women and men across all ages and industries
and is particularly desirable amongst employees under the age of 30, with more 50% of this age group making it their number one choice. Flexibility is also very much in demand in Sweden and Germany, with flexibility ranking second to only bonus/profit sharing.
The emphasis on flexibility may come as a surprise when many workforces around the world are currently working from home and already likely to have greater flexibility than before COVID-19. However, as Katie Goodwin, Head of Client Relations International at Benify, explains, with the arrival of the pandemic, the meaning of flexibility has changed:
"Flexibility pre-COVID-19 meant working from home, making sure your work could fit around your life, and that's even more relevant now. Work and home lives are now blurred, and juggling your family commitments, elderly care, children, and being able to go for a run in the middle of the day takes a different level of flexibility. Getting into the headspace of being able to separate your work and your life when it's all in one place is a challenge. The flexibility of being able to differentiate between those two things is really important to people."
The Flexibility to Choose
It's not just flexible working hours and the flexibility to work at home that employees want today, it's also flexibility around employee benefits. 75% of survey participants in Sweden, 66% in the UK, and 63% in Germany say it would be helpful to adjust their employee benefits package according to their personal needs.
In organizations everywhere, we see multiple generations working together, each with their own needs and preferences. In our survey, not only can we see differences between countries, but also between age groups.
However, even when you have taken geographical location and age into consideration while assembling your employee benefits offering, you also need to think about which benefits are most important to men versus women. Therefore, for benefits to be useful to employees, they need to be customizable and personalized; however, flexibility can quickly turn into an administrative nightmare without the right tools in place.
The Role of Technology
If there is one thing we have learned from this pandemic, it's that we can adapt quickly when we need to. COVID-19 has accelerated the digitalization that was already underway, and if not for the digital developments in recent years, including HR technology, the crisis would undoubtedly have had different effects on our working lives.
Technology plays a vital role in the way we work and the overall employee experience.
Over 50% of employees in the UK and Sweden under 30 say they would like their employer to offer them access to digital tools such as an employee benefits platform, where they can, among other things, view payslips, enroll in their benefits, and read company messages.
For all of us today, our mobile phones have become an integral part of our personal life and work life. This is reflected in our study where 56% of employees in Sweden, 49% in the UK, and 48% in Germany say it is important to them that they can access their benefits through an app on their mobile phones.
How are you managing the current situation, and are you giving your employees what they want and need? Discover more findings and take your organization's employee experience to the next level by downloading The Benefits and Engagement Report: A European employer's guide to employee experience of the 2020s. That's all.
To learn more about global benefits management, visit media.benify.com, where you can download e-books, whitepapers and client cases, and read our latest blog posts, listen to webinars and more.
For more such Updates Log on to www.hrtechcube.com
---
ABOUT THE AUTHOR
Scott van Dort


Scott van Dort is an HR & Employee Benefits content specialist at the HR Tech firm, Benify. Scott has been part of the in-house creative team at Benify for just over two years and is responsible for all English language production across all markets. His thought leadership pieces have been featured in The Times, The Telegraph, and various HR resource hubs often with a strong emphasis on employee wellbeing, HR tech, employee engagement and personalized communications.