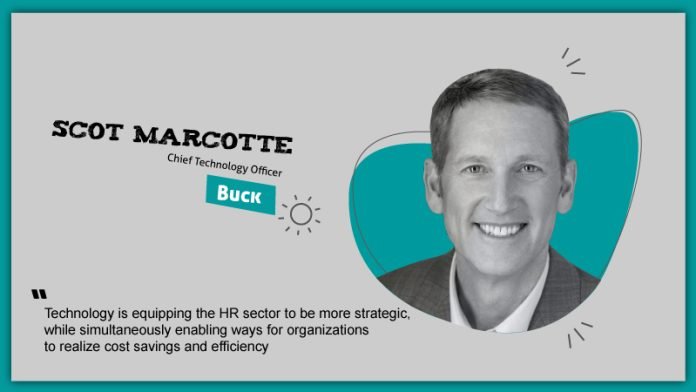 1. Tell us about your role at Buck?
As Chief Technology Officer at Buck, I'm responsible for leading the development of our customer-facing HR technology so we can meet our client's needs today and tomorrow. Our employee engagement tools, administration applications and analytics capabilities are designed to provide employees with the tools they need to manage and enhance their health, wealth, and professional wellbeing. For organizations, investing in these systems can improve productivity, lower costs, and enhance employee morale.
2. Can you tell us about your journey into this market?
I started with Buck in August 2000 and it's been an exciting and exhilarating journey. New consumer and business technologies and applications have transformed the world of work. We have always been very nimble in our approach, adapting and applying these new technologies in creative ways to better meet the HR needs of our clients and their employees.
Our team has always been willing to experiment with emerging tools and unproven technologies, allowing us to build some of the first HR mobile apps, algorithm-driven targeted messaging, online games and talent analytics tools.
Today we are building off Buck's rich past with established platforms, global infrastructure and a continued entrepreneurial spirit. We're investing in AI, Blockchain, robotic process automation and machine learning to improve business efficiency for organizations and to create ideal experiences for individuals. And we continue to take a consultative approach to digital solutions, recognizing that not every challenge can be solved by a one-size-fits-all technology approach.
3. How do you think technology is upgrading HR Sector?
Technology is equipping the HR sector to be more strategic, while simultaneously enabling ways for organizations to realize cost savings and efficiency.
This is increasingly important, particularly today as organizations respond to the current pandemic.
For years, HR has hoped to be at the heart of business planning and now, more than ever, it is. Every organization is considering how to optimize their workforce structure and leverage HR analytics to model the financial impact of those decisions. These steps are critical for strategic planning. The best technology tools provide HR leaders with the ability to map workforce needs with projected revenue forecasts, and then model scenarios. And it's important for leadership teams to consider all aspects of their people related costs – benefits, compensation, and infrastructure.
Equipped with workforce reshaping analytic tools, HR leaders can then enable the right workforce actions. In some cases, rapid onboarding may be needed. In others, rapid training may be necessary for efficient remote work. Certainly, there may also be needs to consider salary adjustments and even work reductions.
Technology is at the heart of enabling rapid adjustments to staffing, training and rewards. For organizations to navigate through the current pandemic, HR technology is more important than ever.
4. How has data-driven approach empowered HR professional?
Every HR decision can be enhanced with data. For organizations, workforce decisions should be modelled with the confluence of all people data – across compensation, talent, health, engagement and financial analytics. For employees, HR professionals can use data to measure the impact of their programs on employee wellbeing, and new decision-support tools can help individuals make the right HR program decisions for learning, benefits, and career by tapping personalized information.
5. How does analytics help in obtaining employee engagement?
When it comes to data and analytics, HR professionals realize that measurement is more than just a reporting exercise, it's a step toward achieving ideal results. For example, with engagement efforts, HR professionals should be identifying whether users consumed a message, whether they acted on the message, whether the action result in the right outcome, and most importantly, whether the outcome resulted in a sustained ideal behavior. For every HR program – from training to wellness programs – HR professionals would be evaluating the entire interaction and using analytics to determine effectiveness.
Take for example, a smoking cessation program: A message goes out on smoking cessation, leading to enrollment in a cessation program, leading to individuals becoming nicotine-free, leading to sustained nicotine-free behavior. The accumulation of all these – for all HR programs – allow organizations to best identify the programs and messaging to that drive the best value. Key performance indicators (KPIs) may cover compliance, cost reduction, productivity, retention and the like. HR professionals can then weigh the relative value of their investment (ROI or ROV) on every program they offer.
6. Can you share some of the factors that play a huge role in employee satisfaction?
The COVID-19 pandemic is causing significant emotional stress for employees and their families. In this environment, the most reassuring thing employers can share is that they are doing everything in their power to sustain jobs. Even if this means salary reductions, furloughs, or tight expense control, job security concerns can create significant stress on an already sensitive population dealing with real life and death health issues.
Enabling people to either work remotely or be as safe as possible in their current work environment are the next most important factors that can impact employee satisfaction.
Frequent communication is another critical element of employee satisfaction. Communication should be considered in three directions: top down clarity on organizational plans in light of the pandemic, employee to manager/management communication for informed answers to pressing concerns, and employee-to-employee peer communication through the use of webcasting technology to stay connected professionally and personally.
Technology, of course, plays a significant role in all these communications. The workforce planning analytics discussed earlier can help organizations consider all possible levers to avoid layoffs. Remote work supported efficiently by IT can help employees stay productive, and webcast technology allows individuals to stay connected. Microsites and employee feedback mechanisms can ensure that communication flows in all the right directions.
7. What are the key things for employees that businesses need to do post COVID-19 pandemic?
In preparing for a post COVID-19 world, organizations should consider using technology to:
– Model workforce scenarios
– Keep closely connected to former employees, especially if reductions are needed, to preserve goodwill and to provide a ready pipeline for qualified workers
– Streamline onboarding processes to enable rapid repatriation as conditions allow
– Increase efficiencies and reduce costs during the pandemic, provided they didn't compromise employee engagement
8. What advice would you like to give to the technology Start Ups?
Technology start-ups are likely dealing with plenty of financial stress given the state of the economy. Clearly, technology that allows organizations to operate remotely will be in high demand. That will include innovations for remote learning, project coordination, output-based incentives, and project-based work arrangements.
For operational efficiency, it may also mean that physical space won't be critical. Start-ups could have the benefit of no workplace overhead as they assemble a diverse set of workers wherever and whenever they need resources.
9. What is the Digital innovation in sales technology according to you that will mark 2020?
The new normal will likely see sales staff available in project-based ways. A full sales team may no longer be needed. Instead, we may see "connectors" bring one company's services to another buyer. Sales incentive compensation technology, as a result, will likely need to accommodate this move to a "gig" sales environment.
10. How do you prepare for an AI-Centric world?
From an HR perspective, we need to make sure that chatbots, robotic process automation, targeted messaging and other AI-enabled technology is informed by the data already available to help individuals achieve their physical, financial or professional goals.
11. What are the major developments you are planning, in recent time?
As employers prepare to weather the downturn, HR will play a critical role within organizations and help executives prepare for the recovery that will follow the current crisis.
Many organizations are attempting to find ways to avoid massive layoffs while staying solvent – considering furloughs, across-the-board salary reductions, deferred bonuses, early retirement, etc. – and our analytics capability is factoring the COVID-19 impact based on location, for example workforce limitations based on the likelihood of sick leave. Similarly, we're identifying the impact to both healthcare costs and retirement plan funding for financial projections. Finally, we're developing tools to rapidly repatriate employees when it's time to hire again.
12. Can you tell us about your team and how it supports you?
I'm fortunate to be surrounded by dreamers and doers focused on what's next to drive organizational value through the contributions of individuals. With deep HR, user experience, and analytics expertise, our "whole brain" innovators and implementers apply creative thinking and cutting-edge technology to build and package solutions that solve real world needs.
Our team takes a consultative approach to all we do, keeping current on latest innovations and driving many of them in the process.
13. What movie inspires you the most?
The Shawshank Redemption is a movie that viewed in the current context of COVID-19 provides incredible inspiration. While the circumstances Andy Dufresne faces are extreme, even in comparison to our current environment, he sustains a vision of hope. That vision lifts him to be the best he can be in the worst of conditions. In the process, he lifts those around him to be better people and to share in that hope.
With our HR technology, we have the opportunity to impact the lives of millions of people. At Buck, we see it as a significant responsibility to help individuals thrive in their personal and professional lives. Similarly, technology needs to be more than a tool, it needs to provide the means to inspire hope to get us through these times.
14. We have heard that you have a very joyful work culture, so can you share with us some of the fun pictures of your workplace?

15. Can you give us a glance of the applications you use on your phone?
These days, it's all about keeping current and socially distant. To stay on top of technology, the pandemic and general diversions, I grab my news via Flipboard. To keep socially distant, but socially engaged, I'm all over Zoom for virtual meetings, Zwift to cycle with 100s of thousands of my closest friends, and Strava to share the embarrassing results.