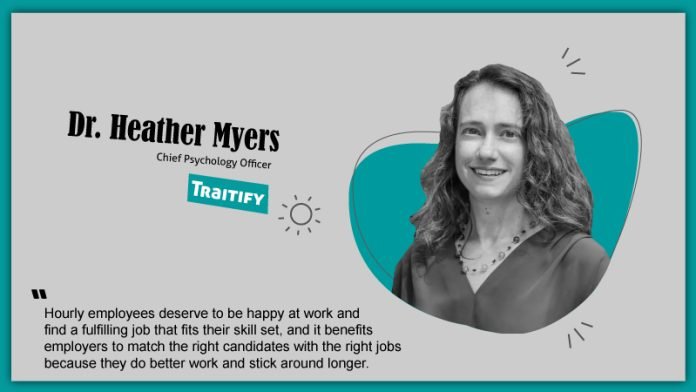 Dr. Heather Myers, Chief Psychology Officer, Traitify talks about the role of assessments for an insightful hiring process and nurturing talent pools
1. Tell us about your role in Traitify?
I'm the Chief Psychology Officer at Traitify, which on a day-to-day basis means that I lead our psychology team in designing and validating the Traitify assessments and helping customers identify the key characteristics of successful employees in their roles.
2. Can you tell us about your journey into this market?
I have a Ph.D. in psychology with an emphasis in personality, an MS in statistics and over 20 years of experience in research design and psychometrics, so Traitify felt like the perfect fit for me. Initially, I started as a consultant hired to validate the first Traitify assessment, and I loved the company and its mission so much that I became more and more involved until I landed in my current role. I am thrilled to get to create industry-changing assessments and feedback that are quick, accessible, and appealing to the full range of workers, from hourly employees to executives.
3. How do you think technology is changing the HR Sector?
I think one major shift is a change towards experience, speed and automation. Candidates have a low threshold for bad application experiences and recruiters are looking for ways to maximize their time.
Companies have recognized for decades that personality assessments, for instance, can give you an accurate picture of a candidate's strengths and weaknesses. Unfortunately, many of those legacy assessments were not built for the modern candidate. They are not mobile-friendly, take 30 minutes to an hour to complete and cause a lot of applicants to abandon the process.
Much of the work we have done to introduce HR technology in the hiring process pushes the envelope to make the hiring process better for everyone involved. The Traitify assessment is mobile-first and takes about two minutes to complete, and the results are scientifically predictive, making it a win for both candidates and HR. In high-volume industries with a lot of human capital, technology can make enterprise-level HR tasks easier without negatively impacting candidate flow.
4. How would you say human insight platforms are empowering the hiring processes?
When you're hiring thousands of people each year in distinct roles the way you would at a restaurant, retail store or warehouse, HR teams want to know what kinds of employees perform well in those roles.
Employee turnover can be a serious problem in many industries that hire at a high volume. Hiring managers in restaurants, retail and logistics are dealing with labor shortages and are trying their best to get candidates in the door — but that's not enough. If you don't have any method for matching candidates with the right open positions, they will be unhappy in short order and look to leave.
Hourly employees deserve to be happy at work and find a fulfilling job that fits their skill set, and it benefits employers to match the right candidates with the right jobs because they do better work and stick around longer.
Personality data is a great tool to help find that right fit candidate, and the benefits don't stop there. The insights from assessments can also be used to customize learning and development tools to the individual, keeping them engaged and growing in their job. Engaged employees are far less likely to turn over and this is a huge win for employers.
5. In what way do assessments impact job discovery and nurturing of the talent pools?
Assessments can be a great way to engage passive talent pools by personalizing communications and allowing candidates to find open positions that align with their interests. For example, we sometimes have clients who send a link to the Traitify Career Interest assessment to members of their passive talent pools. The potential candidates receive a summary of their results as well as links to jobs at the organization for which they may be a good fit. This process re-engages great talent and excites them about potential opportunities.
6. How does Data-Driven Predictive Hiring help in reducing turnover?
Predictive hiring means aligning candidates more closely with job opportunities in which they are more likely to be successful. By better understanding a potential employee's strengths and weaknesses, you can create a better match between candidate and role, leading to higher productivity and job satisfaction. Right-fit candidates who are well-managed and well-compensated are far more likely to stick with your company over the long haul.
7. What is the significance of your Personality API for Recruitment?
From the beginning, Traitify understood that if we were going to be successful, we needed to be flexible. At the core of this is our personality API, which allows us to transport personality data into any system willing to receive it. This not only benefits recruiters by making this data available in the platforms they already use but can easily benefit the entire HR team through talent management by integrating into existing HRIS systems and providing the human insight that is so desperately lacking from current programs.
8. Last year we covered the news of Traitify's fundraising. How has the company grown since then?
Since our funding round in early 2020 we've rolled out Traitify Engage, an employee engagement product that helps companies deliver personalized content for new hires through the onboarding process and continues to provide managers with helpful information on their employees and engagement exercises throughout the employment lifecycle.
We've also published The Happiness Report, our first annual survey of the high-volume workforce in America.
9. What are the major developments you are planning?
This year is going to be a big year for Traitify. I can't say much beyond that, but we are very excited to share with you some very large updates in this last half of the year.
10. Can you tell us about your team and how it supports you?
I've got a phenomenal team here at Traitify with extensive experience in psychometrics and learning and development, enabling us to apply the results of Traitify assessment in innovative ways across the talent experience. We work closely with our exceptional product development team to design and validate Traitify's assessments and create new product solutions like Traitify Engage, an employee engagement tool the company debuted in the last year. This powerhouse team is the science behind the design and why so many customers see such incredible reductions in turnover when using Traitify.
11. What book are you currently reading?
At the moment, I'm reading The Psychology of Time Travel by Kate Mascarenhas. I'm only a few chapters in so you'll have to check back with me later for a full review, but the concept of time travel and the psychological implications are certainly gripping.
12. We have heard that you have a very joyful work culture, do you have any stories or fun photos of Traitify's team?
We really do have a very joyful work culture at Traitify. I'm always a bit amazed by this as I have always worked almost entirely remotely, and my team is widely distributed from the UK to CA. My team, for example, is so close-knit that when we travel to work together, we often stay with each other or in the same hotel and balance work with sightseeing, game nights and cultural experiences. We're also known to have virtual costume contests, baby showers and cooking demonstrations!
13. What mobile applications do you use the most?
This is a very interesting question, and after consulting my phone, the top five mobile apps I use are LinkedIn, Instagram, Facebook, Duolingo and YouTube. Clearly connecting with others is at the top of my list, followed by learning Spanish (YouTube videos provide a great resource for practicing my listening skills).
For more such Updates Log on to www.hrtechcube.com