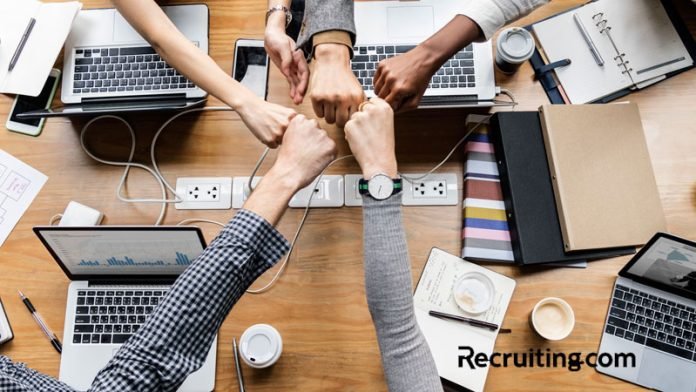 Recruiting.com, a leader in career site technology and employer branding, today announced a strategic partnership with innovative applicant tracking software solution HiringThing hrtech.
With unemployment below four percent, the combined resources and expertise of the two companies will double down on solving HR's biggest challenges in talent acquisition. Recruiting.com's expertise in employer branding, recruitment marketing and career site technology coupled with HiringThing's customized recruiting workflow, network of leading job boards and fully integrated recruiting toolkit allow companies to attract and engage best-fit candidates with a superior candidate experience. "Our new, exciting partnership with Recruiting.com is perfectly aligned with our mission of making recruiting happier and easier for our customers," said Jess Tejani, VP operations & finance at HiringThing hrtech news.
"The partnership with HiringThing reaffirms our belief that companies must have a great candidate experience to attract the best talent to their organizations — especially in today's highly competitive recruiting environment," shared David Harden, CEO of Recruiting.com. "HiringThing has created a beautiful candidate experience when candidates apply for a job, and now HiringThing customers have the opportunity to start that experience further up the funnel at point of interest through a fully branded Career Site, utilizing Recruiting.com's employment brand and recruitment marketing expertise."
Joshua Siler, CEO of HiringThing, added, "Creating a great candidate experience is very important for our customers and we believe through our newfound partnership with Recruiting.com, we will be able to provide them with a more innovative and authentic way to scout new talent relationship management software."
About HiringThing
HiringThing, founded in 2012, is award-winning recruiting software that helps simplify and shorten the hiring lifecycle by automating processes, facilitating collaboration and organizing data. Our team includes experts in interface design and top-notch developers who write clean, powerful code. Our goal is to manage the complexity of the process on the backend so that our customers can focus on what matters most — finding the perfect hires. For more information, call 888.769.2023, email info(at)hiringthing.com or visit http://www.hiringthing.com.
About ATS Anywhere by HiringThing
HiringThing's ATS Anywhere platform is designed to provide modular recruiting and world-class applicant tracking solutions that help innovative companies move quickly and add incredible value to their customers. Our powerful recruiting API allows companies to enable Hiring Happiness™ for anyone, anywhere. For more information, call 888.769.2023, email info@hiringhappiness.com or visit atsanywhere.io.
About Recruiting.com
Recruiting.com builds innovative recruiting software to help organizations compete for talent through more relevant, authentic and personalized experiences. We enable employers to attract and engage job seekers through our world-class career site solutions, optimized for easy integration, search engines, social media and mobile devices. For more information, visit www.recruiting.com or call 888.637.3895.