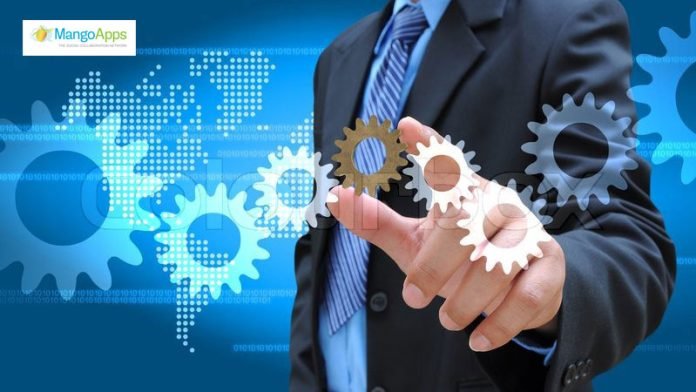 MangoApps, the leading provider of cloud-based employee software solutions, announced the launch of Mango HR at the HR Technology Conference & Expo this week in Las Vegas, NV. Human resource organizations across the globe struggle every day to deliver meaningful and impactful solutions to keep their employees informed and engaged. Most HR solutions today are outdated and fail to keep up with the demands of a modern, mobile, and generationally shifting workforce. With Mango HR, businesses get a complete HR platform specifically designed for the needs of today's employees: keeping them informed, excited and engaged.
"When we designed Mango HR we recognized that enterprises today struggle to find effective HR solutions. Over the last decade, the needs of workers and the workplace have changed. Technology has evolved but the HR solutions available in the marketplace have largely stayed the same. Not only are these tools outdated, they were never built for the cloud and the way we work now." said MangoApps CEO Anup Kejriwal. "With Mango HR, our vision is simple: to provide a complete employee experience by giving organizations all the tools they need to effectively inform, engage and excite their employees with one single platform. By focusing on providing a complete employee experience, HR teams can dramatically improve employee engagement and company culture".
With Mango HR, employees get everything that's missing from their workspace today. From searching for important announcements, events, and corporate documents, to getting to know the company hierarchy or connecting to their peers, to engaging socially and collaboratively, Mango HR fosters a strong company communication and culture. Whether users are on mobile, desktop or web, employees navigate Mango HR as they would their favorite social media or productivity app. Mango HR aims to widely replace existing enterprise HR solutions while changing the way that businesses and employees interact.
The Mango HR platform currently includes a full suite of HR solutions, including Social Intranet, Company Directory, Employee Social Network, Rewards & Recognitions, and Employee Surveys. Over the next six months additional HR centric features like Applicant Tracking System (ATS), Employee Onboarding, Employee Vault, Paid-Time-Off, Learning Management, and eNPS are expected to become available. New sign-ups before the release of these features will be upgraded at no additional cost.
Pricing & Availability
Mango HR is sold as a subscription service and starts at $5/user/month. In addition to shared cloud-based deployments, Mango HR is also available for private cloud or on-premise deployments for customers with higher security and other special requirements. For more information, please visit https://www.mangoapps.com/solutions/hr
About MangoApps
Founded in 2008, MangoApps is the leader in cloud-based employee intranet, engagement, collaboration and HR software. MangoApps is privately held and is based out of Seattle, WA with an office in Pune, India. Businesses of all sizes use MangoApps products to modernize, consolidate and streamline many of the siloed applications employees use into one single platform. MangoApps' focus on providing a complete employee experience enables employees to work in one environment, dramatically improving adoption, engagement, and team productivity. Visit us at http://www.mangoapps.com to learn more.