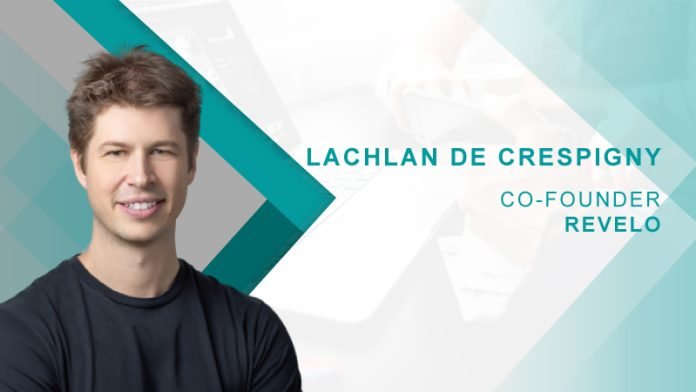 Lachlan de Crespigny talks about how Revelo helps companies with immediate access to qualified talent, and how the pandemic changed the talent hiring landscape.
1. Could you tell us about yourself-what were you seeing in the world and market that made you want to start up Revelo?
I've always been interested in tech, but my background is in business. When I was living in the U.S. in 2014, I was intrigued by the massive growth happening in the tech and business sectors. This was when companies like Airbnb and Uber were growing in popularity and they had business models that relied considerably on tech platforms. I realized that there was an increasing demand for highly skilled tech developers and tech talent that would, ultimately, exceed the availability of U.S. talent. With more companies adopting tech-first business models, I knew that demand would outpace the supply of tech talent. There are statistics that support this. Demand for software developers is expected to reach 22% by 2029, according to the U.S. Bureau of Labor Statistics. Businesses will need more tech talent to operate in the modern workplace, and leaders are already scrambling.
It was this information that sparked the idea for Revelo. My co-founder, Lucas Mendes, and I knew that the market in Latin America was ripe with highly skilled tech talent and that they were uniquely positioned to serve U.S. companies because of the shared time zones. We launched Revelo to provide U.S. companies with the tech developers and designers that they need to support their company's growth. Our turnkey platform equips companies with the tools to hire tech staff without a hassle or delays.
2. Would you mind talking more about Revelo? What is remote staffing technology and how is it different than a staffing agency or recruiter?
What sets Revelo apart from a staffing agency or recruiter is that it eliminates the middle man. With our technology, business leaders are able to find and hire qualified technology professionals and onboard them as quickly as possible. We help companies staff their engineering teams by providing a network of thousands of skilled web developers. When subscribed to our platform, clients have immediate access to qualified professionals-instead of having to wait to hear back from a recruiter or staffing agency with a list of pros.
This model helps leaders and companies make continued investments in their engineering teams according to their schedules. This flexibility is critical as the tech sector grows and demand increases. Companies will inevitably find that they need more tech talent on staff or available as contract workers. Hiring can be complicated when working with staffing agencies or recruiters because there are multiple hoops to jump through before you are ever introduced to the talent. With Revelo, companies have immediate access to qualified, vetted talent. Company leaders can go from deciding to expand their engineering department that morning to hiring a new team member later that afternoon-the process is that simple and straightforward.
3. What does your target audience look like?
Our target audience is any type of company looking to leverage remote tech talent to grow their business. Most of our clients are in the United States because of the timezone alignment with Latin America. This is a significant benefit because teams can work simultaneously and on the same schedule, despite being located in different countries and on different continents. Instead of waiting until developers wake up (because they're on the other side of the world), leaders that work with teams they hire through Revelo will work on the same schedule as their tech developers.
4. Why are tech companies having such a hard time finding tech talent today?
The demand is simply outpacing the supply. Every company, no matter the industry, is looking to technology to support business growth. Not only do companies need websites so that they can reach prospective customers but they may also need their own platforms or internal databases, or even applications that serve employees and customers. The pandemic also accelerated digitalization in a way that made the tech talent search extremely competitive. Now, everyone is looking to staff their IT team with people who can support their employees as they work remotely or on a hybrid schedule.
Tech companies are struggling to find tech talent simply because they are hiring in a highly competitive market.
You have to be the best of the best, with the highest offerings and best work environments to attract employees of any kind right now. With the increased demand on the tech sector, it is even more difficult to find and attract tech talent.
5. How has the pandemic and shift to remote work changed hiring, attracting, and managing talent?
Even before the pandemic, I believed that companies would shift to remote work models. I knew that this would come down the line as employees bartered for more flexibility and asked for a more sustainable structure that supports work-life balance. When the pandemic began, this shift happened much more rapidly than we expected. It was a nearly overnight shift to remote work, and then companies and employees grew more dependent, with time, on the flexibility and benefits of remote work.
This transformed the hiring, attracting, and talent managing processes because it put employees at the center of business. Companies were now required to focus more on supporting their teams, offering flexibility, and sourcing from a wider pool of talent because their teams weren't bound by geographic locations. More than anything, the entire process of talent hiring, acquisition, and management has gone digital. Companies rely on tech tools to find talent, and then they use platforms like Zoom or Google Meets to interview that talent, and most companies manage their teams using digital tools like project management software or messaging systems like Slack. The pandemic made us more reliant on tech and, as a result, it has increased demand for tech talent to sustain the platforms that keep companies running.
6. What are the problems that companies face in sourcing, hiring, and managing talent?
The biggest problem that companies face in sourcing, hiring, and managing talent is the lack of availability.
The global worker shortage has made companies more competitive for talent and has placed increased pressure on the hiring process. Now, you can't simply offer a decent paycheck and a few benefits. Things like competitive pay, workplace flexibility, and full benefits packages are all table stakes in this increasingly competitive talent marketplace. Companies have to go above and beyond to find the talent they need, and even then, it can still be difficult to win employees.
Another problem is that many companies, because of the rush to fill open positions, are not equipping their teams with qualified employees. Companies are taking on less qualified candidates simply because they need someone to join their staff. This is a problem created by poor sourcing. Many companies don't have the tools to source from a qualified pool of applicants, and they spend time weeding through a list of prospective employees that are likely not qualified for the job. This is why remote staffing technology, like Revelo, is so essential-it finds qualified, vetted candidates and removes the guesswork from the hiring process.
I think many companies are still hesitant to hire offshore talent because they are unfamiliar with the process. They don't know how to manage the complexities of market-based pay, taxes, or the paperwork required for hiring remote talent. Those administrative tasks are daunting and time-consuming and it's no wonder that leaders are hesitant to go offshore. That said, it doesn't have to be a difficult process. This is one of the things we considered as we founded Revelo, the need for a simplified hiring process for offshore talent that manages the complexities of hiring from different countries. Our platform manages payroll, benefits, and local compliance so that leaders don't have to stress about learning new regulations each time they hire an offshore developer.
7. What are the risks to companies if they don't address the supply and demand equation for tech talent? How will this affect America's competitive edge?
The biggest risk of insufficient tech talent is that companies will fall behind. If they're not equipped to grow and scale for the digital age, they will not have a chance against their tech-driven competitors. This applies across industries. Every company and leader should be looking for ways to digitalize their business model and incorporate technology into everyday business operations and practices. To compete in the modern marketplace, you must maintain the standard of tech innovation.
If companies don't determine how to source tech talent, businesses in the United States will lose their edge. This is not the time to become resistant to change or hesitant to try something new. If companies invest in tech talent, and source qualified professionals, they can stay competitive.
8. What do companies need to do to think differently about employment for the new remote workforce?
First, leaders should embrace the benefits of this trend toward remote work. It does not only benefit employees, but it benefits companies as well. Remote work expands the pool of talent and opens up more opportunities for growth. Companies will no longer be limited by geography and they can source talent from a variety of locations without requiring relocation. This will, ultimately, help companies be more competitive because they can find the best talent regardless of location.
Second, company leaders must think about how they support remote employees. Leaders must implement processes and systems that help remote teams communicate, collaborate, and complete their work efficiently.
Third, it's essential that companies adopt tech-first strategies. This is a critical moment and companies still have time to adapt to an increasingly digital workforce before they get left behind. Investing in tech teams and tech staffing will grow the digital side of the business and help companies stay competitive and current.
9. What do companies need to know about hiring a full-time remote LatAm-based software developer?
There's an incredibly wide range of tech talent in Latin America that is equipped to handle the rapid, tech-centric growth that companies in the United States are experiencing. Latin American software developers are well-versed in all the critical coding languages, and they can operate in the same time zone as the companies they work for.
10. What is the biggest piece of advice you could provide to company leaders about helping them fulfill their needs for tech talent, specifically software developers?
The most important piece of advice I can offer is that you must look to new markets to source tech talent and software developers. Don't limit yourself or your company to developers who can work from your company's headquarters. You will inevitably run out of talent if you limit your search based on geographic location. Find a system that can support you in the talent search and connect you with qualified talent.
For more such Updates Log on to www.hrtechcube.com