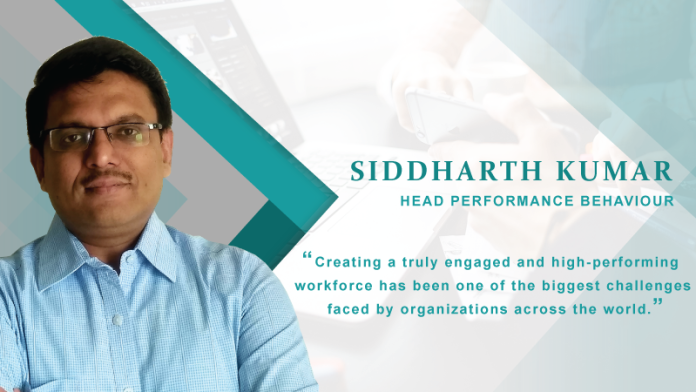 1. Tell us about yourself and your role at worxogo?
I am Siddharth. I have been in the industry for around 21 years having worked with organizations like PwC consulting, IBM, Gallup Consulting along 3 main domains – strategy, people and digital solutions across industries. Last couple of years, I have worked with different start-ups at the intersection of Behaviour & Technology. My expertise is in driving strategy and performance by integrating people & behavior science, analytics and digital solutions.
Currently I head Behavior Labs at worxogo, where we learn and develop different approaches for performance behavior design which forms the underlying basis for our cognitive AI engine – Mia!
2. What is the core problem worxogo is trying to solve?
Driving performance! Creating a truly engaged and high-performing workforce has been one of the biggest challenges faced by organizations across the world.
Traditionally approaches to solve this problem is by focusing on performance products which use process and automation. However, we at worxogo believe that the gap between potential and performance persists – up to an extent of 40%. Our belief is supported by numerous Industry publications that indicate that most employees perform only up to 60% of their potential. So, it is the 40% untapped value (and employee potential) left on the table that we address and help our customers unlock!
3. So, if not process and automation, how do you unlock this untapped performance?
Behavioural economics and neuroscience is the next frontier of performance excellence. Organizations are close to maximizing the productivity gains that process and automation achieve – which paint each employee with the same brush.
Now is the time to think of each "individual employee" as unique, understand what makes them tick and offer personalized support to help them perform better – basically, using segment of one! This approach is gaining traction in customer facing areas (Amazon, Uber, Google etc. do this for customers). However, employees are not a focus.
So, we developed Mia! Our cognitive AI engine, that operates at the intersection of behaviour science, neuroeconomics, AI and cloud technologies. For example, Mia delivers Sales impact by integrating with CRMs and delivering a more engaged, productive salesforce – upping productivity significantly.
4. Tell us more about Mia. How does it coach the employees about their behavioral actions?
Think of Mia as a personal digital coach to each sales rep and helps drive productivity, sales.
It is a cognitive engine that seamlessly learns (about what drives each sales rep), predicts (what will each rep achieve) and coaches (reps to improve performance)! All this is achieved by seamlessly integrating with existing CRM systems.
The first step is understanding what motivates each sales rep and their behavioural preferences (this uses sophisticated algorithms that take inputs from a variety of areas).
It then predicts where each rep will end-up in terms of sales (using proprietary algorithms and predictive analytics). Finally, it coaches employees using cognitive nudges using principles of behavioural economics and neuroscience.
5. How important a role you think AI plays in aligning employee behavior with organization imperatives in all this?
Individuals' motivations are complex, and each individual is different from the next. Each individual performs different aspects of his/her job at different levels of achievement. Managements today struggle to help, enable their teams to work towards a unified business objectives, this is especially true in case of large and geographically spread out teams. Mia acts as a policy deployment tool that connects management with their sales teams or any front-line team to do just that. AI comes into the picture by providing team insights to them to proactively solve problems their teams are facing. Think of it like a performance wingman for managers that helps deliver a more engaged team and higher business outcomes.
6. How is Mia different from other AI based products for performance management/employee engagement?
Most existing products focus on the left brain (showcase data in a better, consumable way and hope the employee acts). Mia takes a couple of steps further by making the information actionable, and enabling the sales rep to take action as well.
As I mentioned earlier, the biggest differentiator is the integration of tech and behavioral science to drive actions by personalizing performance at scale. Each rep is treated uniquely based on their unique motivations and triggers.
Application of behavioural economics, and more so in enterprise context, is a relatively recent body of work which is at variance with solutions built on rationality based classical economics thinking. Thanks to the pioneering work and insights by Behavioral economists like Daniel Kahneman, Dan Ariely, Richard Thaler and B J Fogg that this space of behavioural economics and persuasive technology is now getting its due attention. We at worxogo are at the forefront of this space in the enterprise space. That's what makes Mia unique.
7. Do you think AI will be the decisive face of the HRTECH industry in the coming years? Especially in terms of employee wellness and employee proficiency management?
Yes, AI is becoming an important enabler. But, we don't believe AI is a silver bullet which will solve all problems. AI needs to be used judiciously to improve performance while helping the employee achieve autonomy.
8. Do you think AI will replace people? What is your take on this?
Our intent is completely opposite of this. We understand the unique value that every employee brings to a company and therefore Mia coaches every employee differently. We look to augment and compliment the work of every manager and employee in an organization, and not replace them. So, for us, AI is "Augmented Intelligence". It is just an enabler that delivers – a means to an end, not the end in itself.
9. Coming back to Mia, what is the current scale of deployments and kind of impact that it has created?
Since its launch in 2015, we have seen significant success with now close more than 40 deployments across 6 countries from organizations including Diageo, ICICI bank (India's largest pvt. Bank), PwC, Sutherland to name a few.
Mia currently coaches and drives performance across ~100,000 employees sending with more than a million nudges weekly. Our customers see business impact of up to 25% sales increase up to 2X higher productivity, and a more engaged collaborative culture.
10. What seeded the idea of building a cognitive digital coach for employees? Especially in the arena and market which still sees a lack of technology in the most needed sectors?
worxogo founders have decades of experience in driving business performance in their roles with in organizations including IBM, PwC, EY. Both processes and Technology are usually designed with a left-brain view or analytical view which pre-supposes that if the steps are laid out, every employee will follow the steps but this usually doesn't yield the results as desired.
They realized that behavior is the next frontier in achieving business goals and treat employees more than just resources. They worked with Baba Shiv, (A professor at Stanford and an expert in the area of neuroeconomics) on building out the concept of merging behavior science, neuroeconomics with AI. Given the adoption of cloud, mobility and ubiquity of mobile solutions, the founders felt the time was right to build out the solution – that was the genesis of Mia.
11. What apps do you keenly follow?
Of course, my answer is going to be our own worxogo's engine!
12. What is the one quote to you live by?
Learning never stops! Keep learning! It makes us more empowered and propels us to keep doing better!
For more such Updates Log on to www.hrtechcube.com