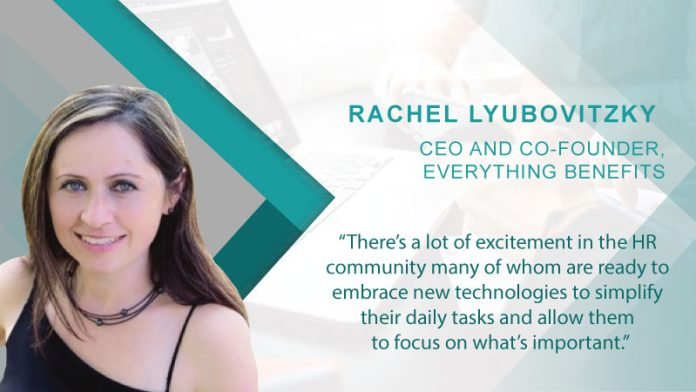 1. Tell us about your role in EverythingBenefits?
I co-founded EverythingBenefits in 2015. As a CEO and co-founder, my days are a mixture of inspiring, training and leading a talented team of 100+ nationally and internationally towards the vision of simplifying the benefits experience for all.
2. Can you tell us about your journey into this market?
EverythingBenefits is a third venture for our leadership team. Back in 2014, we were renting space from a brokerage company and exploring various opportunities. We noticed that the space we were housed in had a ton of file folders and was very chaotic. So after a lot of research and talking to a ton of people on the opposite side of these paper file folders, we realized we wanted to be in the Benefits Automation space.
3. How do you think technology is changing the HR Sector?
The HR sector has historically been one of the least technically savvy departments in most organizations – most of whom still rely on manual processes to hire, train and onboard employees. Technology is starting to change this through automation and Artificial Intelligence (AI).
There's a lot of excitement in the HR community many of whom are ready to embrace new technologies to simplify their daily tasks and allow them to focus on what's important.
Just to give a few examples – currently most HR departments receive hundreds if not thousands of resumes to sift through and make decisions on whom to interview. AI will soon make these decisions easier and faster, freeing up HR's time and also helping to take individual biases out of the equation.
In the benefits world, technology now exists to automate various processes. Forward-thinking employers are recognizing that it helps them save time, reduce risky errors, and keep their organizations compliant. For instance, managing COBRA benefits has a lot of moving parts – the ever-changing regulations, keeping track of time periods, ensuring nothing is missed. Technology can take the burden out of managing this process which should be a no-brainer for every organization.
4. How do you think, digitalization has made employers more capable of understanding their employees?
To continue on my prior comment, benefits tech going digital is doing tremendous things for employees and employers. First off, they are able to learn about available benefits not by looking through the paper pamphlets but by using their work computers and smartphones. They are able to make better choices and get the services they need faster. Think about what telemedicine has done for many of us. From the employer perspective, being able to meet their employees' benefits faster and better AND to be able to understand what choices they are making and why is an incredible step toward driving employee satisfaction and building better and longer lasting relationships.
5. Your Partnership with PrismHR to deliver full-service COBRA Administration Solution is being looked as a game-changing step in HRTech Industry? What are your views on it?
PrismHR is one of the top platforms in the US for providing technology solutions for Professional Employer organizations. Many of those companies handle COBRA in-house or work with older solutions that require heavy manual intervention that comes by this pre-Internet age law. Our solution reduces all manual work to just two clicks. Kind of amazing what technology can do these days! That's the game-changing effect of it and we are applying it across the board for other manual benefits admin processes.
6. EverythingBenefits provides end-to-end management solutions for H.R., can you name one of the most complex function of HR sector which was eased with the help of technology or solution provided by you?
Benefits Reconciliation is by far the most tedious and time-intensive of all benefits processes. It involves looking through multiple carrier invoices to identify billing discrepancies. Those involved in this process have to check if the organization is over-billed or under-billed by the carriers, are employees in the right health plans, is the organization paying for benefits on terminated employees? It requires a lot of time, patience, and an eye for detail. If anything is missed, it can result in a huge expense or a potential liability for the employer. In 2017, we launched Benefits Reconciliation, a solution which automates this process in a matter of seconds!
7. If asked to choose one, what do you think is more important, developing quality products or customer service and satisfaction?
Both! Even with the highest quality-made products and solutions, customers should never compromise on customer service! Without investing in the latter, even the most promising organization will eventually face challenges. Active customer feedback loop can also be a treasure trove of information that leads to product enhancement and new ideas.
8. What advice would like to give to the upcoming HRTech StartUps?
Do your homework! Spend time with potential clients to understand their challenges. Look to see what exists in the market. Spend time perusing reviews of existing products to see what's missing or can be improved upon.
9. What technology according to you that will leave its mark in 2019?
Solutions that will address the growing need of employers seeking to rein in their benefits costs, automate their processes, and finally measure the ROI from offering ever growing sets of benefits will be the winners this year.
10. What is the vision, on which you and EverythingBenefits are working on?
We're continuing to discover new ways benefits technology can change people's lives and will remain committed to helping employers have the best benefits experiences possible!
11. What are the major developments you are planning, in recent times?
We've got some very exciting things coming out soon. A brief hint, employees will have a blast being in the driver seat of their benefits experience 🙂
12. Can you tell us about your team and how it supports you?
My co-founders and I are lucky to have such talented and driven individuals driving EverythingBenefits forward. They are an inspiration for me every day as they continue to push forward and execute on some really amazing ideas. It may sound unusual, but we consider many of our clients and partners a part of our team, too. They are our muse, keeping us on top of our toes and on top of our game. It's gratifying to have their support.
13. Which Book are you reading these days?
Building a StoryBrand: Clarify Your Message So Customers Will Listen by Donald Miller reflected on and crystalized many ideas we share as a team. It is a book every service provider company should have on their reading list.
14. We have heard that you have a very joyful work culture, so can you share with us some of the fun pictures of your workplace?

15. Can you give us a glance of the applications you use on your phone?
Skype gets the most use on my phone – it allows me to communicate with my team on-the-go and ensure urgent questions get immediate attention. I have dozens of others including Zoom, LinkedIn, Uber, Lyft, Seamless, MyFitnessPal (to keep my eating habits in check!), and various news apps.