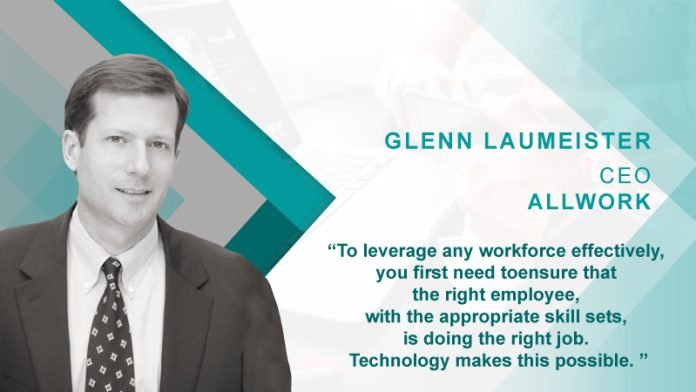 1. Tell us about your role in AllWork?
As the CEO of AllWork, I focus on creating a vision for the company and working with my team to execute. In particular, I'm interested in bringing new technology to companies who are faced with managing the new gig-economy workforce.
2. Can you tell us about your journey into this market?
Over the course of my career, I have been a serial entrepreneur and technology CEO who has launched and scaled numerous technology businesses including the freelancer marketplaces CoachMarket, for executive coaching and corporate training consultants, and Thuzio, a freelancer "digital talent agent" for professional athletes.
Before AllWork, I co-founded Partsearch/PartStore.com, an e-commerce and enterprise software business for consumer electronics, computer, and appliance replacement parts that grew from an idea to over $75 million in revenue.
Now with AllWork, we're reinventing the entire process of freelancer management at scale. We have one end-to-end platform that has everything a company needs to transition their workforce to a more flexible and efficient on-demand employment model.
3. How do you think technology is changing the HR Sector?
New cloud-based platforms that combine multiple functions into one solution are being increasingly deployed for more and more specific vertical market needs. It used to be that HR tech systems were built to serve in a horizontal fashion and were not designed with specific industries in mind — that has rapidly changed.
With the technology available today, HR has become more streamlined and effective. Managers can spend less time on the administrative tasks associated with managing their team. By using one end-to-end platform for scheduling, budgeting, learning management, and payroll, they can provide more flexibility and reduce costs that are usually associated with workforce management.
4. How has technology contributed to better workforce management?
To leverage any workforce effectively, you first need to ensure that that the right employee, with the appropriate skill sets, is doing the right job. Technology makes this possible.
There are 75 million+ hourly workers in the U.S. earning over 2 trillion in wages annually and companies are still managing them the same way they did 50 years ago. Most of the industry is still using paper, spreadsheets, and other manual processes. Technology and on-demand work platforms like AllWork have created a new model to automate all of those tasks. AllWork's enterprise software and mobile app handle all talent management including budgeting, timesheets, scheduling, communication, training, education, and reporting and analytics. We are making it simple for any company to convert their workforce to an on-demand workforce management model with the only complete end-to-end solution for hourly workers.
If you think about how companies were accessing a flexible workforce in the past, they were usually using staffing agencies, trying to manage it themselves with spreadsheets, or utilizing a generic payroll company that wasn't designed for their industry. As you can imagine, all of those methods were costly and time-consuming. AllWork's approach is the use technology to provide all the services that were historically driven by a staffing agency but we're able to offer them at a much lower cost. In addition, our model creates a workforce that is much more engaged and performing at a higher level because they feel directly connected to the employer rather than a staffing agency.
5. Do you agree that freelance working culture is getting very popular?
Absolutely. We know that by 2020, over 40% of the workforce will be freelance. This shift to a more flexible workforce is inevitable and companies need to adapt to this shift away from the traditional fixed 40-hour workweek.
What's interesting now is that there is a convergence of both how workers want to work and the technology needed to make that possible. This is causing a rapid acceleration of the gig economy workforce because now you have not just the desire of the workers to work flexibly but also the technology to make that happen in the form of smartphones and work platforms like AllWork.
6. How do you differentiate your reporting & analytics from others?
Our reporting suite is fully integrated into our platform, giving clients a 360-degree view of their workforce management. Consistent with our vertical-specific approach to software, we have built reporting and analytics specifically for the industries that we serve so that they get real- time, actual data in the exact format they need to make better decisions on how they spend their labor budget. It's also providing feedback in real-time so they can make better business decisions even faster. Our suite of reports helps them to instantly control their spend, see budget to actual numbers, see sales numbers, and understand their return on investment relevant to their talent spend. They can now optimize their labor spend in the same way they've implemented technology to optimize their supply chain. No more under or over hiring and lost productivity due to lag time from an outdated reporting system.
7. What advice would like to give to the upcoming HRTech Start Ups?
I see too many entrepreneurs who have a great idea but haven't taken the time to evaluate the marketplace to see if their product is truly better, faster, and cheaper than what's already out there. Is your concept unique enough to convince enterprise buyers to give you a try? In other words, do your research. Understand the buying options that clients have today.
8. What work related hack do you follow to enjoy maximum productivity?
Our, probably controversial, work hack is that we don't use slack or instant messenger internally because we find it distracting. We'd rather talk to each other in person or pick up the phone!
9. How do you prepare for an AI-centric World?
At AllWork we're already developing AI chatbots and predictive scheduling that will make workforce management even more efficient. Just imagine needing to schedule someone for a shift tomorrow and being able to quickly engage with a chatbot who can automatically send out a work request to the talent who is available.
Like any new technology, a lot of the hype will die down over time and instead, we will see well-though-out business applications that are delivering real value rise to the top. The customer ultimately just wants to see the results.
10. What are the major developments you are planning?
The next evolution of our software will include a focus on proactive customer interactions where the software, rather than reacting to what they want it to do, will proactively tell them the exact piece of information they need or take an action on their behalf. This is an exciting new feature that our customers want to see because it will continue to help save them time and money while increasing the performance of their workforce.
11. Can you tell us about your team and how it supports you?
At our stage, there are a few really key functions that you need to move the company forward. Right now, this is really a focus on how we create awareness in the enterprise market so obviously our sales and marketing teams are key to our growth. In addition, everything that we're developing from a product standpoint is new so having a strong product team that works closely with our enterprise sales team gives us the opportunity to quickly implement new features and test them for our customers.
12. Which book are you reading these days?
Play Bigger: How Rebels and Innovators Create New Categories and Dominate Markets by Al Ramadan, Christopher Lochhead, Dave Peterson, and Kevin Maney
13. Can you give us a glance of the applications you use on your phone?
Everyday uses: Golf channel, Amazon Prime Video, YouTube TV, and Kindle. Notably absent: Facebook and Instagram.