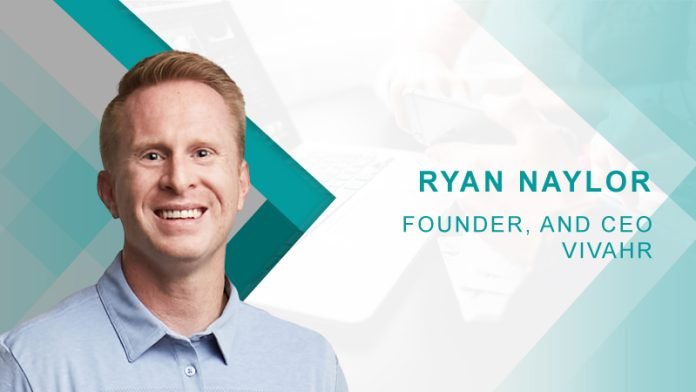 Ryan Naylor talks about what excites him most about the industry and how he manages to stay relevant in such a fast-paced industry.
1. What did your childhood look like, and moving forward, how did you get into entrepreneurship?
I got my first taste of entrepreneurship when I was in high school. I started a window washing business, and I saw the power of having recurring customers and making my own money from something I grew. I've actually never had a traditional "job," I've always had my own business after that. I tend to lean toward recurring business models, so the idea that if you build strong relationships, then they'll stick around forever. I deliver value, and the greatest form of value is when equilibrium exists, when customers start referring you to their firms. It's a great feeling!
2. Can you give us a brief overview of your career before VIVAHR?
So I've always been involved in business and cultivating my own small businesses. I started a marketing agency in 2008 called Local Work Marketing that worked primarily with small business owners. While working with these businesses, I saw that the biggest pieces of their business in jeopardy were actually people. They hadn't taken the time to scale their people, which led me to branch out into HR.
3. What are the main pinpoints that customers approach you with?
I get approached by small businesses that are unable to attract quality talent. They also don't know how to stay organized and collaborate efficiently with teammates. A lot of customers go from using spreadsheets and outlook folders to wanting to put it all in a cloud, and this just doesn't work when it comes to keeping track of candidates in the hiring process. We've really streamlined this process with VIVAHR's software, making it easier to track the entire lifecycle of hiring.
4. Anything that you want to add about how you can stand out to competitors?
Tapping into that culture market is super important. Cultivating and communicating a transparent story to audiences will help to set you apart, and just having that commitment to providing the greatest user experience as possible is huge.
5. How is your work changing as your company scales up?
For my personal work, in the early stages of VIVAHR, I wore every hat, from sales representative, customer service, to developer. Today, I'm able to focus more on strategic alignment and finding opportunities to collaborate and work with new technologies. Integrations with software companies is where I spend most of my time now.
6. What excites you the most about your industry?
68% of all new job growth is expected to be inside the new job sector. 3 out of 5 jobs are happening within small businesses with job growth. I believe that myself and VIVAHR are the ones that can really tap into this growth and help these businesses by giving them the resources they need to recruit efficiently and attract the right people.
7. How do you manage to stay relevant in a fast-paced industry?
Our focus is investing heavily into additional technology that can simplify, automate, and save companies money. That's a big part of our growth. VIVAHR would like to be known as a product-led growth organization; we focus on hiring the smartest and brightest minds to build the best software, and we let our customers tell our story for us. We are committed to making sure that we deliver the best value to our customers, and we're delivering.
8. What is the most significant piece of advice for company leaders?
Your employees are only going to respect your company as much as the company respects them.
Doing your best to treat your employees right should be one of your highest priorities, and it goes a long way.
9. Do you have a motivational quote that drives you to achieve more at work?
The first thing that comes to mine is a quote from Monty Williams, head coach of the Phoenix Suns, my hometown. He said, "everything you want is on the other side of hard," and I really relate to that when it comes to building and growing a business.
For more such Updates Log on to www.hrtechcube.com