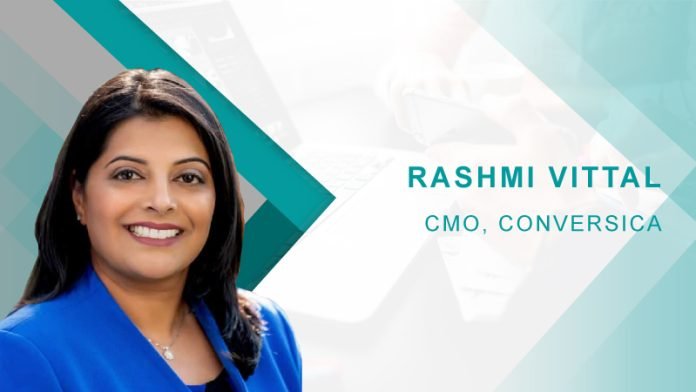 Rashmi Vittal, CMO at Conversica discusses the ways in which Intelligent Virtual Assistants can empower employees and deliver an exceptional employee experience.
1. Tell us about your role in Conversica?
I'm the CMO at Conversica and oversee all things marketing from brand awareness to demand generation, corporate and product marketing, GTM strategy and sales enablement.
2. Can you tell us about your journey into this market?
I've been in enterprise software for over 25 years. During that time, I've brought to market different AI-powered solutions from content and predictive analytics solutions to now Intelligent Virtual Assistants.
3. How is digitization empowering the workforce of today to engage with the customers?
It should come as no surprise that today's prospects and customers expect communication on their terms. This includes prompt and personalized conversations across multiple channels—including website chat, email, text messaging, and digital voice—as prospects and customers investigate a company's offerings, request product demos, seek answers to questions or talk with a representative. But delivering timely, personalized responses to every prospective buyer or customer is simply not possible for marketing, sales and customer success teams that are limited by time and resources.
To do this successfully, organizations need to invest in specialized solutions, like Intelligent Virtual Assistants, that can scale to engage prospects and customers in two-way, human-like conversations that identify the need and take the appropriate action.
By utilizing artificial intelligence (AI), machine learning (ML), and robotic process automation (RPA) technologies in concert, organizations streamline processes and create more efficient workforces.
These types of Intelligent Automation solutions have played, and will continue to play, a key role in how companies across every industry augment their workforces to navigate the recovery from COVID-19; especially when applied to front-office departments.
COVID-19 has not only significantly impacted an organization's ability to acquire new customers but also, more importantly, its ability to retain and grow existing customers. Now, with organizations planning for recovery along with economic volatility, companies can't rely on human capital alone to drive productivity and performance. Intelligent Automation solutions, such as Intelligent Virtual Assistants, have the ability to quickly augment workforces to scale accordingly. For any company, irrespective of their industry or market segment, the new normal must embrace these types of innovative solutions in order to survive and then thrive.
4. What is the role played by IVAs in augmenting revenue generating teams?
Intelligent Automation solutions have played and will continue to play a key role in how companies across every industry navigate the recovery from COVID-19; especially when applied to front-office departments. In particular, Intelligent Virtual Assistants (IVAs) are augmenting revenue-generating teams across sales, marketing, customer success and finance to immediately increase workforce productivity cost-effectively and re-engage every opportunity to attract prospective buyers, qualify and increase pipeline, retain customers and accelerate revenue growth across the customer lifecycle.
Businesses ranging in size and industry are looking toward AI, Intelligent Automation, and specifically Intelligent Virtual Assistants to optimize key functions. One traditional aspect of business that's getting a technological boost is sales. Rather than leaving it up to your workforce to reach out and follow up with interested prospects, IVAs work to qualify opportunities; automating this crucial, yet repetitive task. An augmented workforce powered by Intelligent Virtual Assistants ensures an end-to-end customer experience that always drives to the next best action and ensures that users' investments in marketing and selling to a customer are maximized by retaining and growing that customer.
Here are a few examples of how Intelligent Virtual Assistants augment workforces and improve business operations:
For Marketing, an IVA can handle website chat requests, drive attendance to and follow up after critical virtual and physical events for your business maximizing return on those investments.
For Sales, an IVA can engage leads, qualify those leads and elevate sales-ready leads directly to the attention of a Salesperson leading to higher quality pipeline and better conversion rates. By automating the lead qualification process, sales people can focus on building trusted, value-driven relationships that accelerate new customer acquisition.
For Customer Success, an IVA can proactively communicate important announcements, gauge the health of a customer or determine their interest to buy additional products or services.
For Finance, an IVA can politely but persistently collect overdue payments across your client and partner ecosystem.
5. In what way can virtual assistants impact employee experience?
Intelligent Virtual Assistants (IVAs), as the name implies, are virtual team members that work in tandem with people to automate crucial, but repetitive and time-intensive tasks. IVAs empower Sales, Marketing, Customer Success and Finance team members to focus on the high-value work they actually enjoy. By augmenting a company's workforce, business professionals and intelligent automation technologies work together on tasks to get the job done.
6. What makes Conversica's IVAs different from others in the market?
A Conversica Intelligent Virtual Assistant is an AI-powered, SaaS-based software application that serves as a virtual team member and autonomously engages contacts, prospects, customers, or partners in human-like, two-way interactions at scale to drive towards the next best action accelerating revenue; whether that's scheduling a sales meeting, gauging interest to buy additional products or services, or politely but persistently collecting overdue payments.
Unlike traditional chatbots, which can only deliver canned responses to predetermined questions that have taken months to be stood up by internal teams, Conversica's IVA's can communicate harmoniously across channels and engage in natural, two-way dialogue to assist people throughout the entire customer journey – not just intelligently route web inquiries to a human. Intelligent Virtual Assistants come equipped with pre-built conversations for chat and workflows which can be configured and deployed within minutes. So, there's no need for your busy employees to develop workflows or write conversations from scratch.
Additionally, we just announced our Website Chat using Conversica's IVAs, which allows customers and prospects to start on one channel and easily move to another channel to have a deeper level of engagement with a product or service. From the very first touch, IVAs stay with that prospect or customer across their entire customer journey and realize instantaneous time-to-value for organizations.
7. How do you prepare for an AI-centric World?
We are now in a digital-first world and embracing AI-centric solutions will be critical for organizations to compete in this new world.
When AI-Solutions are applied to augmented workforces, productivity and performance of those teams dramatically improve. By embracing an augmented workforce, teams help establish healthy relationships with prospects from the first touch and grow and retain those customers, which in turn results in revenue growth. Digital transformation is happening at a rapid pace as a result of the pandemic, and businesses that fail to keep up with this acceleration and adapt, will ultimately fall behind.
For more such Updates Log on to www.hrtechcube.com