Perry Oostdam is CEO and co-founder of Recruitee and is currently active in Rhodan Ventures as an informal investor. He loves to be involved in programs like Rockstart Accelerator and speaks regularly at conferences about entrepreneurship and SaaS.
1. Tell us about your role at Recruitee?
I'm the Co-Founder and CEO of Recruitee. Together with Paul, my Co-Founder, we started the company in 2015 as a scalable and international business supporting other companies to optimize their hiring.
2. Can you tell us about your journey into this market?
We built Recruitee with the goal of helping companies of all sizes launch their hiring, scale their teams, and lead their organizations.
Initially, Paul and I started a gaming company called GeoRun. As that company was expanding, so did our hiring needs. Quickly, we found that the candidate market was tough and hiring tools were not that easily adapted to growing teams and their needs. That's when we decided to create Recruitee – a user-friendly talent acquisition platform built for recruiters, and hiring managers alike.
Since launching in 2015, we've seen our team grow from just myself and Paul to over 100 employees in three offices: Amsterdam, Poznan, and New York. It's been a great journey to reach over 3,000 customers in more than 74 countries. And our fast growth did not go unnoticed. Recruitee ranked #21 in Deloitte's Rising Star Technology Fast 50 in 2019 and we've been nominated again as part of the Deloitte Technology Fast 50 in 2020. We see all these nominations and rankings as a sign that we're on the right track and continue to grow in the talent acquisition market.
3. How do you think technology is changing the HR Sector?
I'm not sure how many people know this, but on average recruiters spend up to eight hours a week on repetitive manual tasks. That includes tasks such as scheduling interviews, sending standardized emails, organizing candidate applications across multiple excel sheets. That's neither time nor cost-efficient.
I think that's where technology makes a difference. HR tools help recruiters and hiring managers to reduce the manual workload and spend time actively engaging with top candidates, building a strong employer brand, and finding the best talent out there. With HR tech, hiring becomes a more efficient and collaborative process.
4. How is digitization empowering the talent acquisition process?
Using HR tools for your talent acquisition allows for more control of your process.
For example, an Applicant Tracking System (ATS) allows you to easily manage large volumes of applicants and candidates, streamlining the recruiting process. There are multiple such tools that allow you to save time and money, and more importantly, help recruitment professionals find and hire the right candidates.
5. What is the significance of user-friendly pipelines for efficient hiring?
A hiring pipeline is all about having an easy overview and an effective way to get the job done. If you're using multiple spreadsheets to keep track of your pipeline, information can get lost, especially if you're working with a hiring team. An ATS allows you to track the progress of each vacancy, step-by-step, via your pipeline dashboard.
Being able to visualize your hiring process on your dashboard and having the option of checking into the analytics behind the graphs and numbers means you can easily evaluate the progress. You can find out what works, what doesn't, and where you're going wrong along the process.
6. How can automation impact the standardization of recruitment?
Automation relies on data and standardized processes. However, this doesn't mean that the entire recruitment process will become 'one size fits all'. You introduce automation to streamline your hiring process by reducing time-to-hire and improving the candidate experience.
Think of routine tasks such as emails or interview scheduling. Having them automated for when a candidate reaches a particular stage in your pipeline can save time and hassle.
7. In what way can tailored onboarding drive the achievement of hiring goals?
Having a tailored onboarding process means that you can ensure the HR tool you're about to use will improve your exact pain points. Otherwise, you're not using it for its intended purpose.
It's about really helping the customer grow and succeed with their hiring. For example, our Customer Success team sits down with the client to understand their goals: how many hires this year, how many recruiters will be onboarded, etc. Then they check-in twice a year to see how the customer is progressing if they need more training or support.
8. How are data analytics playing a major role in streamlining hiring?
It's no secret that companies want to optimize their hiring efforts, and have information around ad spending for new jobs, time to hire, etc. Analytics help you see where to gain efficiencies. With talent analytics, you can make data-driven decisions that lead to better employee engagement, improved productivity, and increased revenue.
9. How can mobile apps affect talent acquisition?
Mobile apps are an example of efficiency: people work more on-the-go and want easy access to work tools (mails, calendar, data, etc). By using an ATS that also has the mobile app feature, you can easily manage your jobs, candidates, and hiring team wherever you are, from one central point. The talent acquisition process becomes more accessible and effective.
10. How do you prepare for an AI-centric World?
AI will help assist recruiters in finding the best fit for the job. It won't replace or take over final hiring decisions, but it will surely help cut time. Implementing AI to HR tools can reduce or fully automate time-consuming activities such as screening hundreds of resumes, evaluating candidates. It can also provide an unbiased assessment of the applicants.
The potential for using AI in recruiting is enormous and should be explored. As an industry, we're only at the beginning of this innovation.
11. What major developments are you currently working on?
As a product-led company, we make sure that all our developments are centered around customer feedback and industry trends. In 2020, most companies switched to fully remote operations. What we see now is that this remote shift could be here to stay. This means that recruiters, hiring managers, and other stakeholders have to find new ways of attracting the best talent remotely.
To make sure we're able to help them, some of the main developments are centered around employer branding and data analytics. This will ensure that our customers are able to build a strong digital employer brand and gather more data and information on their hiring process, allowing them to make the best hiring decisions.
12. Can you tell us about your team and how it supports you?
Recruitee would not be such a success without the amazing team that we've put together. I feel very fortunate to see our company passing the 100th employee milestone and having all these dedicated professionals build Recruitee's bright future. A company's success is never the result of one person's work, it's a team effort.
As for my role, in particular, I made sure to set up a great operational team around me that helps with the daily execution. This helps me focus on setting company-wide goals, while not getting lost in details.
13. What movie inspires you the most?
One movie that comes to mind is "The Game" (1997). Directed by David Fincher, the movie has quite a unique plot. I don't want to give anything away, so I'll just say that it has an interesting way of reminding us to not take things for granted.
14. We have heard that you have a very joyful work culture, we wouldn't mind having some pictures to look at!
We do, indeed! As a young and enthusiastic team, we're super passionate about all the work we do at Recruitee and make sure to also have fun along the way. Below, you can see some of our get-togethers at the office, and also remote. We made sure to keep building our fun team culture even during the unexpected shift to remote working.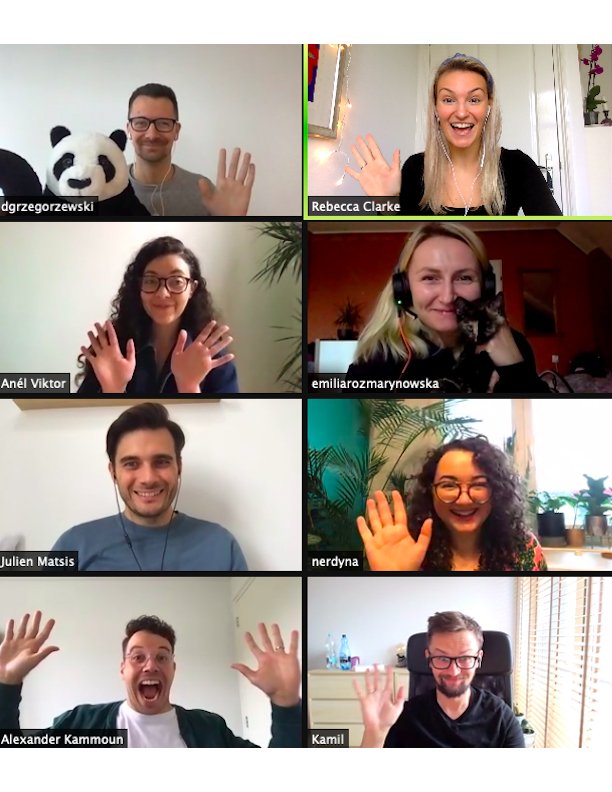 15. What apps do you use the most?
Most of the apps l use are business-related, like Slack, Clickup, or Intercom. These are also tools that our teams use, and help me keep connected on-the-go.
For more such Updates Log on to www.hrtechcube.com