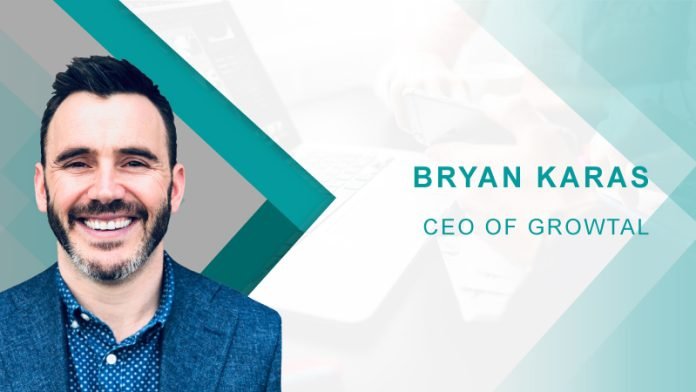 Bryan Karas is the CEO of GrowTal, a Silicon Valley based marketplace that specializes in connecting marketing professionals with organizations that require top notch expertise. Before founding GrowTal, Bryan founded Playbook Media a digital marketing agency that specializes in growth marketing for startups.
1. Tell us about your role at GrowTal?
I am the Cofounder and CEO of GrowTal. I oversee the entire operation and set the strategy for where we plan to take the business in both the short and long term.
2. Can you tell us about your journey into this market?
GrowTal was conceptualized in 2019 out of our experience in running a digital performance agency in Silicon Valley. We noticed that some huge trends were driving change in the advertising services industry.
On one hand the traditional agency model is breaking down as media consumption has moved toward digital mediums where the barriers to entry in running advertising is quickly dissipating. This has led to downward pricing pressure on agencies as businesses have increasingly in-housed their marketing operations.
On the other hand businesses often underpay marketers relevant to the value that they provide and instead compensate them with stock options that oftentimes are not worth much in the long run.
This has led to an increasing number of marketers to look to move toward independent consulting where they know they can charge top dollar for their services on an individual level which still undercuts the costs of agencies.
We launched GrowTal as a marketplace to help these independent marketers find businesses who are looking for their expertise. We help to de-risk the relationship for the businesses by pre-vetting the marketers on our platform so they can have confidence in the folks they are hiring even if they do not have the expertise to vet the talent in-house.
3. How do you think technology is changing the HR Sector?
Companies like us, Gusto, Zenefits, and others are making the difficulties that HR departments face much easier. Soon a host of 3rd party platforms will take care of sourcing, paperwork, benefits, insurance and most other major components of HR. Companies will be able to get rid of the tedious portions and focus on the most important component of HR, which is building and maintaining company culture.
4. How is digitization empowering the hiring processes?
Similar to what I said above, compliance, paperwork, reviewing resumes, interviewing, etc. are all a nightmare. Companies shouldn't need to build expertise in these areas when 3rd parties can build technology and core competencies in these areas.
I see a world where companies can be steadfast focused on their mission and products vs dealing with the risks not having proficiency in things like HR departments.
5. Why is it significant to find the right marketing expert for better understanding the goals of your business?
Depending on the specific function, hiring a marketing expert is one of the most important decisions a business can make. A single Facebook marketer can be in charge of millions of dollars in advertising spend for your business. Someone who is 10% better than their counterpart can bring in $100's of thousands of dollars to your bottom line.
In addition if you are looking for someone to build the overall strategy and team, it is massively important to find someone that understands the industry and challenges that you face to drive customer growth. That person needs to understand the market, your product, how to communicate your value propositions to the market, and how to do all this efficiently to keep costs under control. It's hugely important to hire the right person.
6. How can skipping resumes affect finding the best-fit marketer?
Oftentimes companies have hiring managers who are hiring for a position that they don't know much about. The technicalities of running digital marketing are quite involved, so if you don't have inside knowledge you won't be able to tell much about one resume vs another, let alone know the right questions to ask in an interview. GrowTal de-risks this situation because we have experienced digital marketers who have designed our vetting process to ensure that only proficient marketers join the platform.
7. What is the impact of freelance on the current job environment?
Freelancing was already a trend before COVID-19 and the current environment will only accelerate this. We are seeing fast growth on our platform and expect it to continue. The fact is that people don't plan to go back to the office anytime soon and freelancing has long been the way to work remotely. Now that people are working from home across the world, expect to see more people taking on side hustles and looking to move toward 100% freelance to improve their pay and optionality.
8. How can GrowTal help companies achieve better ROI on hiring?
We pre-vet all of the marketers on our platform and have created a streamlined matching experience. The talent we bring to companies will drive better results because they have been blessed by lifelong digital marketers. Plus it is a far more streamlined process vs looking through hundreds of resumes to find a needle in a haystack. Trust us, we do this day in and day out!
9. How do you prepare for an AI-centric World?
Lean in! AI is coming fast. It's important for business owners to educate themselves on emerging technology and evolve to test that technology within their own businesses. Most companies will find that I will augment their workforce vs replace it. This is definitely becoming true in media buying for instance. Facebook and Google constantly improve their AI in placing bids for media and driving outcomes. As a result companies need to shift focus toward product and creative differentiation.
10. What are the major developments you are planning, in recent times?
We are planning to continually improve GrowTal's matching algorithms and build benefits and services for our platform members. GrowTal will be viewed as a central hub for marketers to conduct their professional lives vs just a transactional platform to find clients.
11. Can you tell us about your team and how it supports you?
My team in phenomenal. They help with vetting, onboarding, marketing, product development, you name it. No doubt GrowTal is a team effort. Definitely not a one man show.
12. What movie inspires you the most?
Mastering of one's own psyche. I believe that we are all capable of great things and that our minds get in the way of our dreams. It is hugely important to know what you want out of life and to systematically overcome the obstacles that hold you back.
For more such Updates Log on to www.hrtechcube.com