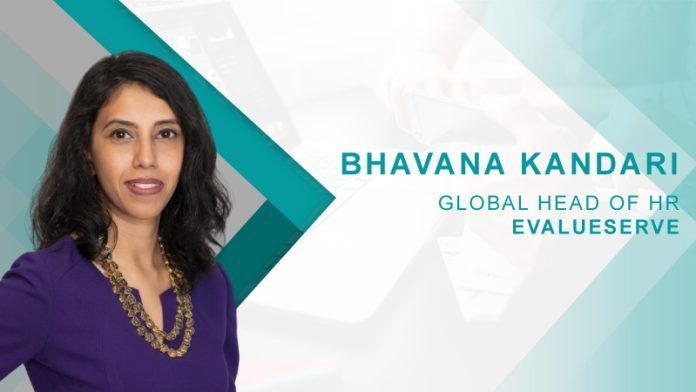 Kindly brief us about yourself and your journey as the Global Head of HR at Evalueserve.
My journey with Evalueserve began in 2006 in India, where I worked for six years before transferring to our UK location. During this time, I held internal and external client-facing roles, before moving to the US to take on a bigger role within the firm. I have had incredible opportunities in terms of learning during this journey, as I took on more complex roles, moving from a senior associate within the company to now the Global Head of Human Resources.
I am thankful to Evalueserve for not only providing me with a fast-paced career path brimming with opportunities but also for supporting me throughout my journey. The culture of ongoing learning within the organization motivated me to strive for even more, resulting in achieving greater goals for both my team and the company.
Please share with us your source of inspiration for venturing into the workforce management niche.
Early in my career, I realized I am passionate about working with and helping people become the best versions of themselves. While I could have done this for my team in any profession I may have chosen, being in human resources allows me to amplify the impact I can make. I enjoy working with managers and leaders across the organization to implement people strategies and initiatives that can generate a positive impact for thousands of employees.
Brief our audience about Evalueserve and give us an overview of its standout products and solutions.
At Evalueserve, we gather and turn information into decisions with our dynamic AI-driven products and solutions. Our 4,500 committed experts use a decision-based architecture to create AI-based products and solutions that produce outcomes in almost real-time. About 30 percent of Fortune 1000 companies turn to Evalueserve for our domain-specific AI. Coupled with our human intelligence, our AI helps companies answer their most unique problems.
What are the core values on which the organization is built and what is the mission of the organization?
There are several values that are at the core of who we are and how we operate. We use these as our guiding principles for taking all people decisions. For example – the 'Obligation to dissent' is not just a right but is seen as a responsibility that each employee must uphold.
One of my favorite quotes is by Adam Grant – "Loyalty doesn't require conformity. If consensus is wrong, you have an obligation to disagree. Weak leaders demand deference. Strong leaders welcome dissent because consensus makes you comfortable, but dissent makes you smarter."
Our aim is to provide an extraordinary work environment where all employees can deliver their best while being their true selves.
Being a thought leader, how do you plan to strategize Evalueserve's mission and vision?
We call our company strategy our 'North Star' as that is the light that guides us toward our long-term objectives. As an enabling function, our people strategy is aligned to support our company's North Star mission by ensuring that we have and are developing the right talent to fuel our accelerated growth.
Achieving that growth means attracting great technical talent to build our products and automation in a variety of key industries. The company is absolutely committed to developing domain-specific AI solutions that are at the forefront of enhancing and accelerating decision-making throughout enterprises. The North Star keeps us true to this mission, and that impacts all functions, from the way we market and sell to the ways we build our culture and staff our teams.
In today's rapidly changing networks, what advice would you give to organizational leaders about building high-performing teams?
At a time when companies fiercely compete for top talent, organizations need to go the extra mile to attract and retain top talent. The recipe for building a high-performing team requires several essential ingredients ranging from –
● Offering equal and fair opportunities,
● A place where everyone has a voice irrespective of one's level or job title because brilliant ideas can come from anyone;
● Sense of shared objectives and team goals aligned to reward and recognition so everyone can get behind a common goal,
● Culture of learning and development where upskilling and reskilling is the norm, and
● A culture where appropriate risk-taking is not just accepted but encouraged allows employees to experiment and innovate without the fear of failure
What is your opinion on aligning technological advancements like AI and ML for managing day-to-day operations?
We actively implement and use these tools wherever possible. For example, we have an automated chatbot Amber which is used to gauge employee satisfaction and inform management of any changes they need to make in their approach based on macro trends. It's been a great success. Anything we can do to use these tools to strengthen our culture and better our ability to serve customers is an obvious action. Further, it is important as a company that markets these tools that we actually use them. To know the possibilities of AI and ML advancements, one must experience them.
How has the integration of these technologies transformed the face of the HR industry?
The use of technology is no longer seen as 'good to have'. It has become essential to how organizations today operate. In the last several years, firms have moved from reporting data to predictive analytics – who is likely to attrite; how many employees would we need; investment is which area would make the biggest impact on employee engagement scores, etc. Today's decisions are backed by data and supported by technology.
Within Evalueserve, instead of using a traditional annual employee engagement survey, we rely on the above-mentioned AI chatbot Amber which periodically engages with employees to check how they are. Through this, we receive real-time employee sentiment analysis while being able to maintain confidentiality. This allows us to engage with thousands of employees and sort through cases that need more attention. Without technology, we would never be able to reach so many employees and understand the macro trends in employee feedback. This forms the cornerstone of our 'people' initiatives.
What advice would you give budding entrepreneurs and leaders aspiring to venture into the workforce management niche?
I would encourage those passionate about helping others to join this field. As human resource practitioners, we celebrate the highs together when an employee accomplishes great things. We witness closely and support when employees are going through their professional low points. We stay on the front lines when organizations take tough people decisions, balancing the employee and organization perspectives. Finding this balance when the organization and individual interests do not align is hard. Staying true to your core values in times like this is even 'harder'. Be prepared to take tough decisions but if you can find this 'elusive' balance, a career in HR can be very rewarding.
How do you envision scaling both–Evalueserve and your growth curve in the year 2023?
As a fast-growing professional services organization, our key asset is our people. In 2023 and beyond, we will continue to stay committed to investing in our people. We will do this through investing in learning and development through the Evalueserve University initiative, High-Potential, and Women's leadership development programs and offering fair and equitable work practices, etc.
We would like to see Evalueserve continue to be recognized as one of the best companies to work for.
Discover the full potential of your Hrtech strategy with our comprehensive Hrtech News and Hrtech Interviews.
Want to Contribute? CLICK HERE To Submit Your Guest Post and Join Our Community of Writers!!!