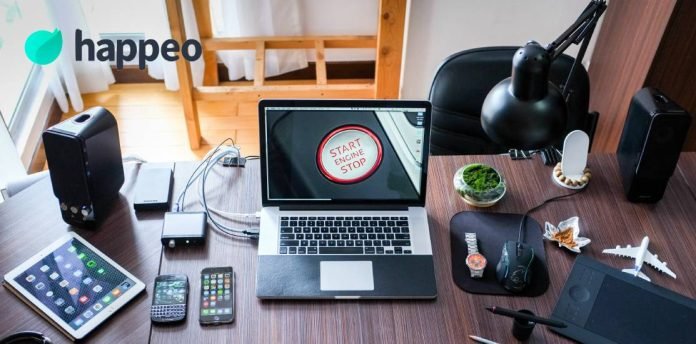 Happeo and Randstad Sourceright will share the stage at Google Cloud Next '19 in San Francisco. On Tuesday, April 9, the CEOs of both companies will share the secrets that help them unite a highly dispersed global workforce – through the adoption of G Suite, with Happeo as the underlying social intranet.
With an adoption rate of more than 80%, Randstad Sourceright uses Happeo and G Suite to streamline their internal communications, leading to a more productive and engaged workforce. The total integration of enterprise applications brings together knowledge and unites an entire workforce across time zones, borders and desks — whether in a company office or working from home.
Randstad Sourceright supports clients in more than 70 countries across the globe, with a workforce that is always on the go. Through the combination of G Suite and Happeo, the company has created a 'virtual-working culture' that helps employees to connect and collaborate together – all in one unified digital workplace.
"Being a leader in global talent solutions, we know just how critical talent and HR technologies are to achieving business success today," says Rebecca Henderson, CEO of Randstad Sourceright and Randstad Executive Board Member. "Connecting our people across teams, locations and time zones through a central, unified platform helps us to drive consistency, share ideas and foster a sense of community."
"As an organization that knows the value of insights-based decision-making, we also have meaningful intelligence that drives better understanding of employee engagement. As a result, we have seen significant increases in employee engagement, strengthening of peer-to-peer relationships, and a growing understanding of how everyone of our employees contributes to our strategy and company success," Henderson said.
"How Randstad Sourceright Went Global with Happeo and G Suite" will take place on Tuesday, April 9 at 12.45 – 13.40 at Google Cloud Next 2019, San Francisco. During the interactive session, Perttu Ojansuu, CEO of Happeo will share Happeo's vision, and Rebecca Henderson will provide implementation best practices for Happeo and G Suite. Session attendees will see the platform in action and have the opportunity to have their questions answered during a Q&A with Ojansuu and Henderson.
Additional details about the Google Cloud Next '19 conference, including the Next OnAir livestream can be accessed at: https://cloud.withgoogle.com/next/sf/.
About Happeo
Happeo combines a digital workplace and collaboration platform with a social intranet. By unifying a company's digital toolset into one integrated ecosystem, it minimizes distraction and breaks down information silos. Large enterprises and growing organizations like BMW, Givaudan and Randstad Sourceright use Happeo to revolutionize their Internal Communications, leading to a more engaged and productive workforce.
In 2017, Happeo was recognized as one of Europe's most promising startups by the European Union. In 2019, The Next Web and Adyen named Happeo one of Europe's hottest scale-ups. Happeo continues to grow 280% year on year. To learn more visit https://www.happeo.com.
About Randstad Sourceright
Randstad Sourceright is a global talent solutions leader, driving the talent acquisition and human capital management strategies for the world's most successful employers. We empower these companies by leveraging a Human Forward strategy that balances the use of innovative technologies with expert insights, supporting both organizations and people in realizing their true potential.
As an operating company of Randstad N.V. – the world's leading global provider of HR services – Randstad Sourceright continuously builds and evolves talent solutions through recruitment process outsourcing (RPO), managed services programs (MSP) and total talent strategies. Read more at randstadsourceright.com
Media contact: Jonathan Davies, 212352@email4pr.com, +31614197466, Media kit
SOURCE Happeo
SOURCE URL: https://www.prnewswire.com/news-releases/happeo-and-randstad-sourceright-at-google-cloud-next-19-how-they-bring-a-global-workforce-together-300826173.html
Was this post helpful?
Let us know if you liked the post. That's the only way we can improve.