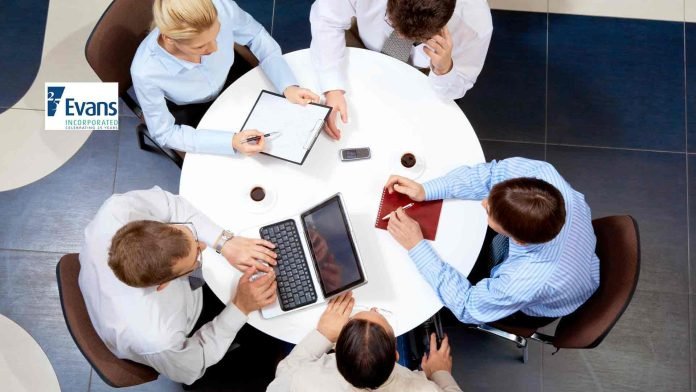 Evans Incorporated, an award-winning D.C. Metro Region organization consulting firm, announced completion of the ownership transition from Founder, Sue Evans, to Jack Moore and Bob Etris. Etris and Moore acquired the remaining shares of the company and will lead as co-Managing Partners hrtech news.
Sue Evans founded the company in 1994, cultivating its human-centered approach to organizational change. Under her leadership, the company grew to serve federal agencies, financial organizations, and Fortune 500 companies. Going forward, she will serve as Chairman of the Board, guide community engagement initiatives, and mentor emerging leaders collaboration in the workplace.
"In 2019, we celebrated a quarter-century of conquering organizational challenges with our human-centered solutions," said Evans. "We have also unveiled our strategic plan and vision for 2025 – to move society forward by leading as organization innovators. I have tremendous confidence in Jack and Bob in leading Evans towards this vision."
Moore, an executive-level consultant with over 25 years of experience in the federal and commercial sectors, joined the company in 2008. He was drawn to Evans' collaborative culture and relentless focus on addressing the human and technical sides of organizational change. As Managing Partner, Moore will lead the evolution of the company's brand by incorporating innovation into its service offerings and streamlining the company's operations.
"Evans Incorporated is unlike any other consulting firm," said Moore. "Our 'people-first' approach differentiates us in this age of technology-driven change. We credit Sue for her exceptional leadership in cultivating this ideal and will continue to leverage her approach as we grow."
Etris joined Evans in 2003 and has successfully led client delivery and growth. As Managing Partner, Etris will oversee client delivery and engagement, business development, and employee talent engagement.
"I feel fortunate to have worked with someone like Sue for my entire career," said Etris. "She embodies my favorite quote from John Wooden, 'Things work out best for those who make the best of how things work out.'  It's remarkable what she's created, and it's an honor to have her trust to lead Evans for years to come"