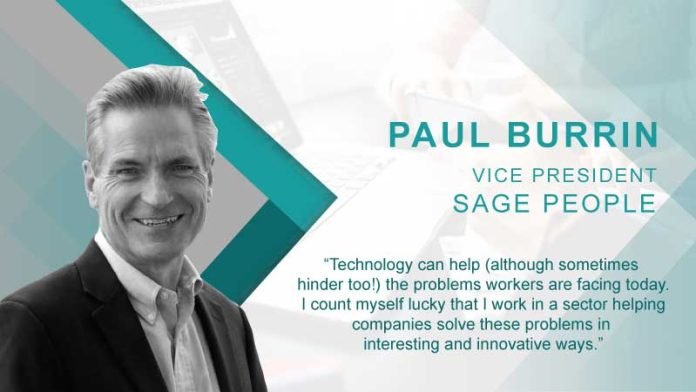 1. Tell us about your role in Sage
I lead product management and marketing for Sage People, part of Sage Business Cloud, a global cloud HR and People system which helps organizations transform the way they acquire, retain manage and engage their people.
Innovatively, Sage People helps organizations become what we call 'People Companies' – these are businesses which know that their people are pivotal to growth and success, and show that to their employees in actions as well as in words.
I've been in the role for four and a half years and joined the company as the CMO of Fairsail (then the fastest growing tech startup in the UK), which was acquired by Sage in 2017.
2. Can you tell us about your journey into this market?
I've worked in the technology sector for most of my career, with roles at some great brands including Oracle, Google, Hyperion and Citrix. One common thread woven over the last ten years of my career has been a fascination in the role that technology plays in changing the nature of work, workstyles, and the workplace.
The way we work today is constantly changing. Companies which are getting ahead are those which are leveraging these changes and embracing them – from flexible working, to designing great employee experiences, and understanding the role that new technologies such as AI and machine learning can play in making business easier, and life more enjoyable.
So many people relate when I jokingly ask: 'Too busy to get any work done?' Technology can help (although sometimes hinder too!) the problems workers are facing today.
I count myself lucky that I work in a sector helping companies address and solve these problems in interesting and innovative ways.
After all, employees spend so much time at work, why shouldn't they love doing what they do and be productive at the same time.
3. How do you think technology is changing the HR sector?
Technology is completely transforming not just the HR sector, but how we all work.
Low unemployment and the digital skills crisis have given people more choice when it comes to employment and organizations are having to work harder to attract the best talent. Employer branding, social recruiting and better management of the candidate experience are examples of how talent acquisition has changed and how software applications need to support these new processes.
People are used to great, seamless, consumer experiences in their day-to-day life and expect this to be the case when they are working, so this is placing demands on employers and organizations to provide better experiences at work. They want to be able book time off on their mobile at the touch of a button, as easily as they can shop online at the touch of a button.
The make-up of a company's workforce has also fundamentally changed; today's workforce is more diverse, mobile and technologically-savvy than ever. This change is expected to continue as we see further advances in automation, robotics and smart machines working alongside humans and becoming fully integrated into the workforce.
Progressive HR teams recognize these shifts and realize that their profession is changing. They are seeing core HR processes change. They are also aware that traditional HCM applications are struggling to keep up with this shift to people-centric organizations (People Companies) and new ways of working. This is creating opportunities for new vendors to enter the market as the shift from legacy transactional HCM to new HR and People applications continues.
4. Can you name some of the products that have started a new trend in the HR tech industry or have made a major contribution to the development of HR sector?
A number of commentators have covered the incredible changes happening in this sector. HR technology spending has increased by an astounding 10 percent this year, with global HR tech spending now well over $40 billion. In the last two years $12 billion of new investment capital also entered the market, and there are now an estimated 1,400 global-HR tech companies. Almost two-thirds of these companies are less than three years old, with many focused on new segments of the market, such as advanced use of AI or cognitive technologies, or the redesign of talent and HR applications. Given this reality, we are witnessing significant changes in how work gets done, and the shift in HR to this new People centric world, with many new brands entering this market.
5. How do you think payroll technologies and payment methods have developed over the years, how have tech professionals responded to it?
There are interesting developments in payroll and payments. Other than the integration of payroll with HR applications, the need for more flexibility regarding benefits and pay is becoming apparent. Research suggests over 70% of employees stress over personal finances, and so employee financial wellness platforms can help. There is also the emergence of flexible pay, where employees can select when in the month that they get paid, receive small advances with no interest or charges, or get paid immediately after a project has been completed if a contractor or gig worker.
6. It's been decades since Sage started, how have things have evolved in the HR tech industry and what favored Sage?
Sage has a long heritage and tradition of helping over three million small and mid-sized organizations all over the world manage their businesses with solutions that include accounting, financial management, payroll, HR and payments.
Sage is now leading the shift from older HCM to new HR to People solutions through its acquisition of Fairsail in 2017. Its subsequent acquisition of Intacct will enable Sage to lead the digital business management transformation in the mid-market through Sage Business Cloud, offering its customers transformative People, payroll and financial solutions.
7. What is the biggest digital innovation that will mark 2019?
The increasing application of AI technologies is heralding new forms of automation and has huge potential to augment, change and improve how people work. As we are already seeing, this next phase of automation is also raising wider economic, social and other considerations as the nature of work continues to evolve, challenging the status quo.
8. What is the vision which you and Sage are working on?
Sage's vision is to become the one and only cloud-based business management solution provider for its customers, transforming the way that people think and work so that their organizations can thrive.
What Sage Business Cloud is doing is truly innovative. We're not just automating existing processes, we're helping organizations through transforming HR and financials in the back office, providing companies with more actionable insights, better compliance, great experiences, and increased productivity.
9. What are the major developments you are planning, in recent times?
In a nutshell: we're becoming more competitive in country by offering not only a differentiated HR and People solution, but also payroll and other third-party application integration, through a partner ecosystem.
10. Can you give us a glance of the applications you use on your phone?
The most used apps I have include WhatsApp, Email, Teams, Uber, Time Buddy, ESPN, United, and Pinterest. I couldn't get by without Google Maps!
11. Which book are you reading these days?
'Why we sleep' by the brilliant neuroscientist and sleep expert Matthew Walker. In his well-written and often amusing book, he reveals that two-thirds of adults throughout all developed nations fail to obtain the recommended eight hours of nightly sleep. Yet a consistent seven to nine-hour sleep each night is the most effective thing we can do to reset our brain and body health. It turns out that sleep is perhaps the greatest legal performance-enhancing 'drug' available to humankind, yet not enough people are taking full advantage of it.
12. What advice would like to give to the startups?
Be crystal clear from the start the problem you are helping organizations solve – and start with answering the question why? Tech start-ups often focus on the technology they are using, rather than the problem they are solving and the value they are creating as a result.