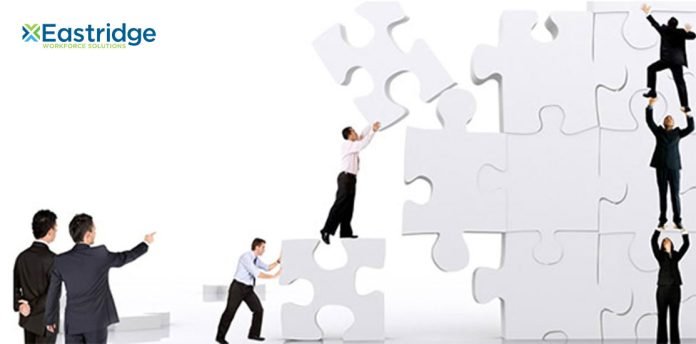 Eastridge Workforce Solutions, a global leader in the workforce solutions industry, announced today that it will offer to its employees' stock ownership in the company over a three-year vesting schedule. The international company will extend the Employee Stock Ownership Plan (ESOP) to Eastridge's internal and contract employees. With this forward-thinking announcement, Eastridge Workforce Solutions joins a growing list of companies that offer employees shares of the organization through its competitive ESOP plan.
The announcement stems from an idea created by brothers, business partners and leaders of Eastridge Workforce Solutions, Adam and Jason Svet. After more than 10 years with the company, Adam took over as chief executive officer in 2017, after the passing of their father and Eastridge founder, Robert Svet. The Svet brothers want to ensure their father's vision for the company and its culture are honored, all while continuing to innovate and expand Eastridge Workforce Solutions. The Svet family business has grown into an internationally recognized workforce solutions provider with 18 offices in over five countries. The competitive ESOP offering is yet another example of how Eastridge is focusing on extensive growth and development and will continue to invest in its culture and employees.
"When we met as a family to discuss the path forward, we had one important question in mind: What would Dad have wanted? We knew the ESOP would be a fundamental way to preserve the culture we have all worked to create at Eastridge Workforce Solutions. This is something he would have been proud of," said Adam Svet, chief executive officer of Eastridge Workforce Solutions. "We are incredibly proud of the sense of community we have built, and the announcement of the ESOP is our way of thanking our team for their hard work and dedication. My brother and I believe that offering ownership to each member of the team shows how much we believe in them, in Eastridge Workforce Solutions, and in the bright future that's ahead."
Employee ownership promotes collaboration and leadership in every aspect of the business. After just three years with Eastridge Workforce Solutions, employees will be fully vested in the company's ESOP at no cost to them. Eastridge Workforce Solutions joins the 6,600 companies in the United States that are employee-owned. According to the National Center For Employee Ownership (NCEO), ESOP companies overwhelmingly receive increased employee engagement. On average, ESOP companies produce three times the retirement assets compared to employees in similar non-ESOP companies and yield a 25 percent higher job growth rate.
Eastridge Workforce Solutions is headquartered in San Diego's Mission Valley with more than 300 internal employees across the globe. Founded in 1972, the almost 50-year-old company offers full-service recruitment and workforce management solutions to a variety of industries including MedTech, manufacturing, emerging technology, healthcare, scientific and more. Since its founding, Eastridge Workforce Solutions has expanded to over 18 offices in five countries, including the United Kingdom, Germany and Mexico.
For more information about Eastridge Workforce Solutions visit, www.eastridge.com.
###
About Eastridge Workforce Solutions
Eastridge Workforce Solutions, established in 1972, is an employee-owned company that provides full-service talent acquisition and management solutions for Fortune 500 companies across North America. Ranked as a top professional recruiting firm by Forbes and in the top 1 percent of firms by Staffing Industry Analysts, we are proud to help over 20,000 associates find jobs across all major industries every single year. With strategic contingent workforce management programs and comprehensive staffing solutions powered by our proprietary technology platform, Eastridge Cloud™, we make it easy for our clients to attract and manage a skilled workforce. For more information about Eastridge Workforce Solutions visit, www.eastridge.com.