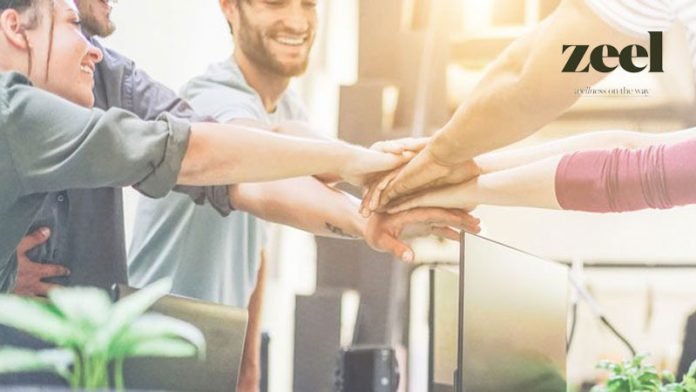 Zeel, the Massage On Demand® company and national wellness provider, has launched its revamped corporate wellness brand, Zeel@Work, just in time for National Employee Appreciation Day on March 1, 2019. The growing  Zeel@Work brand, which combines groundbreaking technology with a self-serve platform, now includes two additional wellness modalities: assisted stretch and yoga.
With the country's growing interest in tech-health services, the Zeel@Work rebrand represents the company's continued commitment to delivering top-tier wellness benefits through innovative technology.
"Chronic health conditions represent 90% of the nation's 3.3 trillion annual health care expenditures," says Ben Robinson, Zeel's SVP Sales. "Workplace interventions can help to reverse this trend by improving employee health, decreasing disability, reducing absenteeism, increasing worker productivity and creativity, and attracting and retaining top talent."
"Zeel@Work provides employers with an opportunity to show employees how much they truly appreciate their hard work," says Zeel founder and CEO Samer Hamadeh. "Having therapeutic massage, yoga, and stretch on site makes everyone feel valued and cared for, and with our advanced technology, these experiences can be delivered to businesses without the wait."
Employers using Zeel@Work design their ideal corporate massage, stretch, or yoga program directly on the platform, including date, duration, and location. Appointments are then fulfilled by massage therapists and other skilled providers  from the Zeel network of 11,000 licensed, vetted, experienced professionals across the United States. Zeel@Work streamlines the entire process for corporate customers, providing a custom signup link for employees, and bringing the massage table or chair and all other necessary supplies. Additionally, employees can use their FSA/HSA dollars to purchase in-home massages from Zeel.
"Since launching the Zeel@Work self-booking tool in November, we are better positioned than ever to provide workplace wellness programs to businesses of all sizes," says Hamadeh. "We are expanding our offerings to include yoga and assisted stretch as we continuously strive to meet customer demand  for additional wellness offerings at home, at work, and at hotels and spas."
Wellness On The Way®
Zeel brings Massage On Demand® to customers in homes, hotels, workplaces, and events in more than 100 major metro areas and travel destinations across the country.  Book in moments on the Zeel app or website. Customers choose  time, duration, location for the massage, and desired massage technique. The Zeel network comprises over 11,000 licensed, vetted, experienced professionals. Customers can click the massage near me link to be connected to their area's best therapists.
Powering Massage Everywhere®
Zeel also offers an award-winning staffing solution for spas with Zeel Spa®; a platform for hotels to provide in-room massage with Zeel Concierge®; and in-office chair massage, yoga and assisted stretch with Zeel@Work.
About Zeel
A rapidly-growing global wellness brand, Zeel created Massage On Demand® in 2012 and was the first company to bring same-day, in-home massage to its customers. Named one of the "Best Entrepreneurial Companies in America" by Entrepreneur and one of the fastest-growing companies in the country by Inc., Zeel is the leading and largest on-demand massage provider with over 11,000 licensed massage therapists delivering massage across the country. With best-in-class security protocols, Zeel offers on-demand, at-home massages in as little as an hour, 365 days a year, with start times as early as 8am and as late as 10:30pm. Zeel is also home to Zeel Spa, the on-demand staffing solution for spas; Zeel Concierge, which enables hotels to provide in-room massage bookings for guests; and Zeel@Work, which brings chair massage, yoga and assisted stretch to companies, events, and workplaces.
SOURCE Zeel
SOURCE URL https://www.prnewswire.com/news-releases/zeel-celebrates-employee-appreciation-day-with-new-wellness-offerings-for-american-workplaces-300803405.html
Also Read -Decision making kit for the most Optimum HRTech Stack