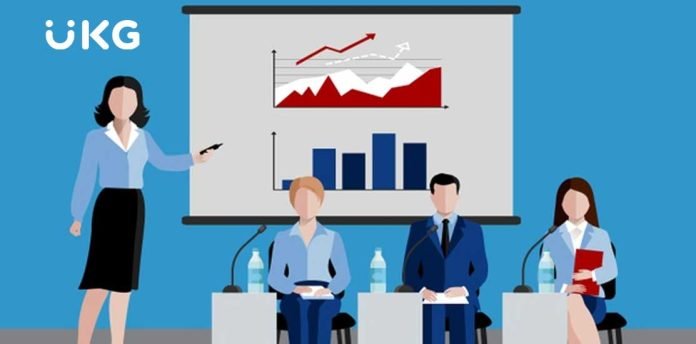 For the fourth consecutive year, Gartner has recognized UKG (Ultimate Kronos Group)1 as a Leader in the Gartner Magic Quadrant for Cloud HCM Suites for 1,000+ Employee Enterprises. Formed by the 2020 merger of Ultimate Software and Kronos, UKG is a leading global provider of HCM, payroll, HR service delivery, and workforce management solutions.
UKG delivers two HCM solutions to the market. UKG Pro (formerly called UltiPro) is a global HCM solution designed for large and medium-size enterprises to manage every aspect of the employee lifecycle, from recruiting, payroll, and talent management to employee sentiment and HR Service Delivery. UKG Ready (formerly called Kronos Workforce Ready) is an HCM suite designed to allow businesses of any size to manage the entire employee journey with ease and simplicity. Both HCM suites were evaluated separately. UKG is the only solution provider to have two solutions included in this year's Gartner Magic Quadrant for Cloud HCM Suites.
The Gartner Magic Quadrant for Cloud HCM Suites for 1,000+ Employee Enterprises is a rigorous independent evaluation of UKG's ability to execute on product development, services, and customer experience. It also evaluates completeness of the UKG vision, including product and innovation strategy, market responsiveness, and industry/vertical expertise. Gartner is the world's leading research and advisory company.
"UKG's guiding mission is our focus on people and continuous innovation which is at the heart of our success," said Aron Ain, chairman and chief executive officer, UKG. "Today, more than ever, organizations need solutions that help them take care their people, adapt rapidly to change, and keep their businesses healthy. I am so proud of the many people at UKG who work hard every day to help all of our customers achieve this goal and become a partner for life."
UKG helps organizations understand, support, and reward employees, ensure continuity of people operations, strengthen workforce skills and relationships, and build an inclusive and purpose-driven culture.
"Our team is committed to growing our global suite of products and services so that we can create exceptional work experiences for businesses of all sizes and industries," said Chris Todd, president, UKG. "We believe our position as a Leader underscores our ability to understand the needs of our customers, deliver the best solutions, and continue to raise the bar every day."
One criterion that led to the Company being named a Leader in the Magic Quadrant is in recognition of the UKG Pro (formerly called UltiPro) focus on innovation. Its expanding suite of HCM features includes employee sentiment analysis and HR service delivery. UKG Pro is a full-suite global HCM solution that spans the entire employee lifecycle – from recruiting and talent management to benefits, timekeeping, payroll, and more – to create a connected work experience. Xander, the people-first artificial intelligence platform embedded within UKG Pro, uses machine learning and natural language processing to help HR teams make better workplace predictions, analyze sentiment and emotion in survey responses, and deliver personalized recommendations to improve engagement.
The Company was also named a Niche Player in recognition of UKG Ready (formerly called Kronos Workforce Ready). It focuses on the small to mid-size business market, along with strong total cost of ownership (TCO) value, and customer support. UKG Ready was built to simplify the employee journey and combines the power of HR, talent, payroll, and time to deliver a personalized experience that cuts out busy work, increases efficiency, and helps maintain compliance.
For more such Updates Log on to www.hrtechcube.com