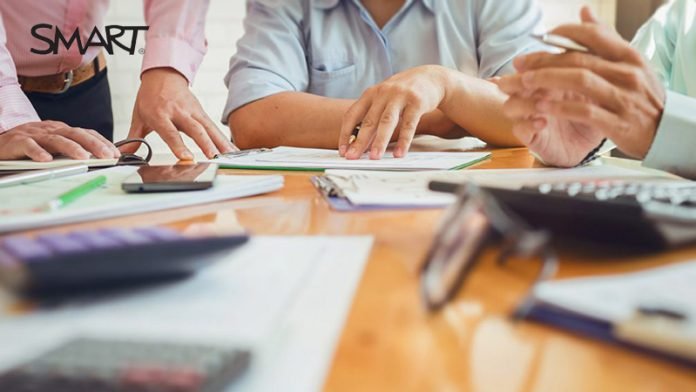 SMART Technologies today announced TeamWorks™, its latest visual collaboration software that aims to enhance productivity, creativity, and innovation for team meetings, regardless of physical location or device. Built on the foundation that better, more productive meetings are possible, SMART launched TeamWorks to help teams start meetings quicker, easily collaborate in real time, share content between devices, and provide meeting recaps for more natural content interaction with in-room or remote participants.
With executives and team members spending more time than ever before in meetings, TeamWorks helps participants plan, collaborate and recap content and discussions, enabling a streamlined meeting experience that is more effective and productive. Features such as one-touch meeting launch and wireless screen sharing address common issues when hosting meetings, helping to utilize existing technology and include dispersed teams. While competitive solutions address a limited set of niche tasks, TeamWorks, when paired with a SMART interactive display, such as the new SMART BoardⓇ 7000 Pro series with a built-in IntelⓇ Compute Card powered by WindowsⓇ 10 Pro, is a fully integrated collaboration solution that provides a holistic, simplified meeting room experience that caters to a full spectrum of needs.
TeamWorks offers the following advantages:
Integrated meeting start: TeamWorks offers integration with Microsoft Exchange and Skype for Business for a simplified, one-touch meeting start. It also fits with any existing conferencing solution, like WebEx, Zoom, etc. allowing users to screen share any content with remote participants.
Seamless content sharing: In-room and remote participants can join and contribute to the connected whiteboard workspace from devices via meeting PIN or QR code through a free app. Additionally, TeamWorks supports wireless screen sharing for up to eight devices at once – iOSⓇ (AirPlay), Android™ (Google Cast), and WindowsⓇ (Miracast) – at 60Hz for smooth, lag-free performance.
Unrestricted, real-time content collaboration: The TeamWorks connected whiteboard lets teams simultaneously write notes, add and interact with various dynamic content – images, PDFs, Microsoft Office® files, websites, and videos – for limitless collaboration. TeamWorks even recognizes voice commands and offers voice-to-text capability.
Easy meeting recap: Users can email or save a customized summary PDF of the workspace content to all meeting participants when the meeting is completed.
"We need to rethink how we bring people and content together to leverage the talent, innovation and creativity of our teams and inspire greatness," said Nicholas Svensson, Executive Vice President, Chief Development and Operations Officer of SMART Technologies. "With TeamWorks, we have democratized contribution so everyone can share simultaneously and users' ability to share content in real-time will give them a more active voice and richer way of sharing content in-person or remotely. The combination of SMART Board interactive displays and TeamWorks helps companies bring their employees together, be more productive and achieve better outcomes."
TeamWorks is now available for purchase.
About SMART Technologies
SMART is a world leader in classroom technology, providing interactive solutions to help every student and teacher discover and develop the greatness within them. A consistent innovator for more than 25 years, SMART is the inventor of the SMART Board® and the developer of SMART Notebook®, the world's most popular collaborative learning software, and part of the SMART Learning Suite. With their full range of interconnected displays, software, and accessories, used in more than 3 million classrooms, SMART helps students and teachers around the world achieve better learning outcomes. To learn more, visit smarttech.com.