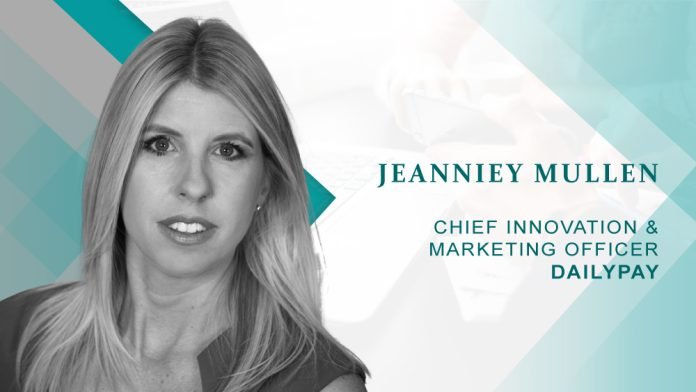 1. Tell us about your role in DailyPay?
I'm the Chief Innovation and Marketing Officer a DailyPay and tasked with ensuring we grow and communicate our brand in the most effective and exciting ways. Some of the areas I am focused on include; creating the most incredible customer experience from start to finish. Our team at DailyPay works tirelessly from enticing new clients to launching them and educating their employees. We don't stop there, we gather intelligence and insights that we share with our clients (who we call partners) to make sure they can use this data to improve their core operations, employee satisfaction and have a strategic seat at the table. Leading an incredible team of people who brig this story to life every day is truly an honor.
2. Can you tell us about your journey into this market?
My master's degree is in teaching- so I'm addicted to inspiring people to learn, and never stop learning and growing. It works really well for me as a CMO because I get to inspire my internal clients and external ones as well.  Prior to DailyPay, I was Global CMO at Mercer, the world's largest human resources consulting firm. I've also led global marketing and growth efforts for Fortune 1000 companies including Ogilvy, Barnes & Noble and JCPenney. I'm also a change agent. Similar to what DailyPay is doing within the payroll and benefits industry, I've helped create new categories at industry-transforming startups, including Zinio, RebelMouse and Ringblingz.
3. How do you think technology is changing the HR Sector?
In so many ways. Technology is transforming every aspect of HR. From streamlining and automating processes, unlocking new opportunities for recruiting, retaining and engaging talent and even leveraging AI to gather data and insights that transition companies into employee-led cultures. And, I don't this it's going to stop!
While company culture is rapidly evolving, not much has changed in payroll over the past 50 years. HR technology like DailyPay is transforming the way employees get paid, setting the stage for financial wellness in the future. In fact, instant access to pay is no longer a perk – it's expected by a type of employee we call MAGGIE (Millennials and Gen Z's who Get Instant Everything). From transportation to entertainment and food delivery, employees expect to have easy access through a service or app.  Technology allow HR to innovate to improve employee retention, recruitment and engagement, and has proven to deepen the bond between both the employee and the employer.
4. How do your services help in employee engagement and retention?
We're the magic touch they have been looking for. DailyPay enables employers to give control of money earned to the employee. This enables them to manage their finances in a way that works for them without going into more debt. DailyPay is not a payday loan.  Organizations who offer DailyPay see up to a 72% reduction in turnover, 95% reduction in cash-till fraud and up to 3X increase in productivity. Happier workers work harder and are more loyal to employers who value their needs and offer them solutions. In fact, we recently did a study that showed employees would take up to a 13% decrease in pay if they could receive their pay daily.
5. Allowing employees to control their pay day, how do the employers look at this?
They love it. With DailyPay, employers are able to help employees when and where they need it by taking pay, the original and most basic of all HR benefits, and turning it into a new lifestyle benefit for employees. From the employer point of view, employees are offered a benefit that improves their lifestyle, while the business benefits from higher rates of employee recruitment, engagement and retention – all at no additional cost, and in many cases, tremendous savings to the bottom line.
6. Do you think that payday has an effect on employee satisfaction?
Yes.
Not only is pay the original and most basic of all HR benefits, but it's what every employee depends on.
78% of full-time workers live paycheck to paycheck which often means they're paying bills late or overdrafting their bank account. This is why Americans pay $34.3 billion a year in overdraft and late fees. Interestingly, this amount dwarfs the already large $9 billion payday loan industry. The financial health of the American worker can be changed by providing an effective way to pay bills on time and avoid late fees – and that's exactly what DailyPay is doing. When employees are able to meet all their financial obligations through work, their satisfaction increases.
7. "Happy Employees Stay Longer," how do you explain this?
DailyPay proved our theory that when an employee can meet all of their financial needs at their place of work, they stay longer. We've seen on average a 41% reduction of turnover across our portfolio, with some customer experiencing as much as 72% reduction in turnover since implementing DailyPay.
8. What advice would you like to give to the upcoming HRTech Start Ups?
Focus on solving a tangible issue and stay compliant. Don't try to cut corners. It will never work out.
9. What work related hack do you follow to enjoy maximum productivity?
I hire people way smarter than me and then help mentor them. Surrounding yourself with the best people and helping them realize their full potential is both rewarding personally and professionally.
10. How do you prepare for an AI-centric World?
We're already doing it at DailyPay, and the truth is, every person on the planet that uses technology is already interesting with it. . Artificial Intelligence adds great layers of insight and automation. It finds new patterns in data, and when you keep it simple in that way, there's really nothing to prepare for or be wary of.
11. What are the major developments you are planning, in recent times?
We'd share them all with you, but we'd have to kill you. 😊  Seriously though, we leverage client and employee feedback to constantly challenge ourselves to create new products and enhance existing experiences. Stay tuned for the launch of a feature that Payroll teams will go crazy over, new ways for employees to make the most out of their DailyPay account and more….
12. Can you tell us about your team and how it supports you?
Here at DailyPay we are all a big team. We constantly share and try to overcommunicate We have diverse BRG"s set up, exciting multi-department task forces and teams that are the defacto experts in every area. I'm supported by dedicated marketing and communications professionals who are passionate about our mission of deepening the employer and employee relationship.
13. Which Book are you reading these days?
The Creative Curve: How to Develop the Right Idea, at the Right Time by Allen Gannett. It shows that creativity is everywhere and for everybody.
14. We have heard that you have a very joyful work culture, could you please share a couple pictures?


15. What are your most-used applications on your phone?
Email, Text, Google Maps, Delta, United, Lyft and CandyCrush