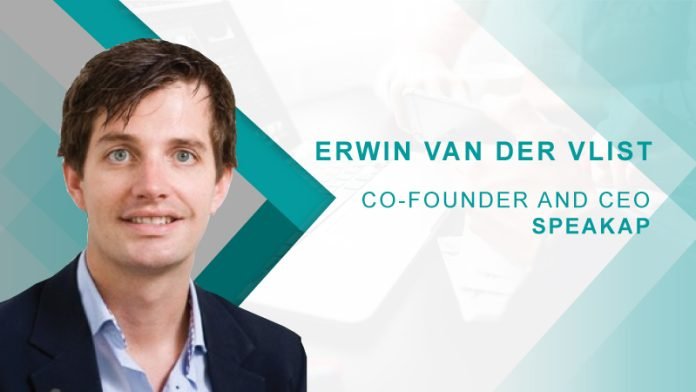 1. Tell us about your role in Speakap?
I am a co-founder and CEO of Speakap. My focus is on setting the vision and overall strategy for the business. On a daily basis, I lead our marketing, sales, and customer support teams. I work closely with the board of directors, manage investor relations, and build and lead a team of executives, charged with hitting our ambitious business goals.
2. Can you tell us about your journey into this market?
In Amsterdam in 2009, during my studies, my friend Patrick van der Mijl and I worked as shift managers in the retail sector. We quickly noticed the ineffective and inefficient communications that took place there, having to use memo boards to house important updates and going through a long call log anytime someone called in sick. With the rise of the smartphone and mobile internet, we knew things had to change and believed in a new, better form of communication that could solve real-world problems among frontline staff. This was how Speakap was born.
We introduced the app to the management at the store where we worked and it was a great success. It was so well received that it wasn't long before other companies in the area were asking us if they could use this kind of platform for their own internal purposes.
Today, our solution is trusted by over 350 leading brands across 27 countries. We focus on helping organizations with a high percentage of frontline workers connect with their workforce because we learned first-hand that this is an under-served, segment of the workforce that's growing quickly. Our company continues to expand, and last year I moved to the U.S. to launch our new global headquarters.
3. How do you think technology is changing the HR Sector?
As HR technology solutions emerge, we're seeing a tech boom that is fundamentally reshaping the way companies work, globally — and how we think about HR.
With the increase of AI and HR software, HR's role as an administrative function will continue to shift to being a strategic advantage for the organization. Using the latest HR technologies, companies will be able to streamline internal communications and foster more effective operations.
4. Why do you think developing better connections among the workforce can empower an organization as a whole?
In my personal experience, the best feedback often comes from the frontlines, which are ironically often the most overlooked.
It seems like common sense but should be emphasized here: Workers who interact directly with products and customers can share rich insights into improving business performance. Emerging technologies that include two-way dialogue between corporate teams and the frontline workers are readily available and can help solve this issue.
5. How has your platform created a secure and private communication network from head office to frontline employees?
We use ethical hackers, conduct periodic audits, and invest in ISO27001.
We also apply best practices and include the latest technologies for technical security. The platform itself is only issued to employees who have access to the network based on the HRIS integration, their location department, and relevant groups within their organization.
6. How do you differentiate your organizational communication platform from other such platforms in the market?
Speakap's technology was purpose-built to meet the needs of the frontline workforce and mirrors the unique organizational structure of each customer — delivering only relevant messages and information to each employee.
Speakap also provides customer launch support to ensure successful implementation and boasts the highest user adoption rate as compared to other platforms.
Speakap's look, feel and functionality are familiar to today's social media users, and the platform provides a workplace alternative that, unlike those third-party apps, is compliant with all privacy and security protocols (including ISO 270001 certification and FLSA compliance in the US, and GDPR compliance in Europe).
7. What advice would you like to give to the upcoming HRTech Start Ups?
Get complete clarity on your most important goal and dedicate dogged focus towards this — eliminating any distractions that dilute your time. Invest in your people and culture, these are the most important drivers of fast growth.
8. What work-related hack do you follow to enjoy maximum productivity?
To maximize my time, I disable all notifications, only have meetings if absolutely necessary, and use templates whenever possible.
9. What are the major developments you are planning, in recent times?
We are constantly releasing new features to help organizations improve collaboration, engagement, and knowledge-sharing with frontline employees. Our most recent feature releases were group polls and pinnable messages.
Using Speakap, users now have the ability to set up a short poll and share it on their organization's Speakap timeline as a way to gather information and feedback from their entire team or select group(s). Polls are a great way to support team building and enable organizations to collect feedback in live time.
Admin level users can also now pin important messages to the top of their organization's Speakap timeline to ensure that they are not missed. Pinnable messages may include things like priority announcements, need-to-know-information and links, such as emergencies, planned blackouts or outages.
It is so important for organizations with frontline employees to be able to communicate with their staff quickly and easily, and utilizing a platform that is familiar to them – such as Speakap's social media-esque solution – often works best in today's smartphone-heavy ecosystem. We are always looking for ways to improve workplace communications and we believe these features will do just that.
10. Can you tell us about your team and how it supports you?
Speakap is built upon creating an organization where we trust each other, are proud of what we do and have fun working together. We would not be where we are today without a global team of people who are constantly connected, learning, and supporting each other.
11. Which Book are you reading these days?
The last book I read was Scaling Up by Verne Harnish.
12. We have heard that you have a very joyful work culture, we won't mind having a look at some of the pictures?