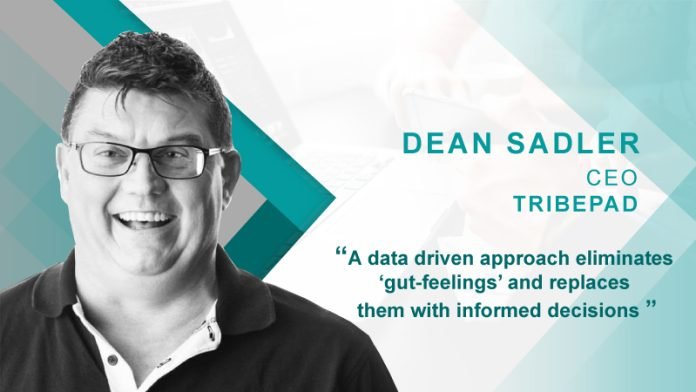 1. Tell us about your role in TribePad?
As the CEO, I'm responsible for the strategy of the business. This includes setting the company vision, and providing long-term thinking. This involves making sure everything we do is seen through the lense of our people first, product second, profits third, mantra. This means developing our people, building a first-class product that makes recruiters and HR teams lives less stressful, and driving forward innovation within technology in Sheffield and the north.
2. Can you tell us about your journey into this market?
I was CTO at the internet company Plusnet. I joined when the company had only just started out, and helped grow the tech team from a handful of people to several hundred. Throughout my time at Plusnet my biggest problem was recruitment; identifying and finding the best talent from the thousands of applications we received. After leaving and selling my stake in Plusnet, I was looking for my next opportunity, and this gem of an idea remained. How could I solve recruitment – one of the biggest headaches at businesses?
Cue a night in the pub. Several pints and some similar thinkers – including my co-founder Dan. We decided recruitment headaches could be solved through smarter uses of technology – and so TribePad was born.
3. How do you think technology is changing the HR Sector?
Technology is becoming more prevalent, and sophisticated. It's helping to augment the role of the HR person or recruiter; saving time by automating resource heavy tasks. It's also helping them to hire people based on their quality, rather than just based on how quickly they can fill a role.
Technology is also fundamentally changing the candidate journey for the better, providing an easier way to apply and interview for roles. This is done, for example, through online applications and video interviews. This new technology is also helping employers to look beyond race, gender, age, religion and are able to focus on promoting individuals based on their merits; using real information on how they have performed previously in similar roles or based on their career path to date.
For example, one of the things we're developing at TribePad at the moment is anonymous video interviews. The candidate will take part in a recorded video interview, which the recruiter won't see. All they will be given is the audio transcript and their personality profile from it. This removes the unconscious bias that may be present during a physical interview. If the recruiter likes the look of the candidate, it's only then that they can review the video itself.
4. How has a data-driven approach benefitted HR professional in the recruitment process?
A data driven approach eliminates 'gut-feelings' and replaces them with informed decisions
, helping hiring teams to understand the process better. This helps to get a better representation of the person they're hiring, as well as make decisions about people based on where they could be, rather than where they are right now.
5. How do you define your smarter analytics solution?
Our smarter analytics approach means organisations can evaluate, interpret, and react to real-time data in a holistic manner. It unlocks meaningful data, letting organisations understand where things are or aren't working in real-time, such as the channel used to advertise a job role, how it's performing, and suggestions for different ways to advertise the job role.
For example, one of our retail clients uses our solution to work out which job boards are working for them and analyse which agency is performing, which they couldn't easily measure before. This readily available information helps them save thousands a year and means they can put their money in the areas that work for them, making sure that every penny is working hard.
6. Contractor management is a rising part of talent acquisition and management; how does this software help HR professionals?
Managing and hiring contingent workforces, by their nature, can be a time-heavy task. It's also costly too: the NHS spends £3.6bn on temp staff, and schools spend a total of £1.8bn on supply teachers. Meanwhile, larger companies are dealing with staff on zero-hour contracts or managing an increasing number of staff wanting to work on a freelance basis, rather than full-time. Businesses are also looking for more flexible workplace solutions: nearly two thirds (62%) of businesses plan to hire part-time staff over full-time once the UK leaves the EU.
Contingent workforces are a fast growing sector, and it's why we launched our TribePad Flex platform, which is used by organisations such as the BBC, to manage their growing network of freelancers and contractors. This approach helps businesses to be more agile and nimble, as well as ensuring they can work with and maintain a central network of skilled people. While for freelancers and contractors, it gives them control of when, where and what they're available for.
7. How do you differentiate your applicant tracking system from others?
We pride ourselves on our highly personalised, people first approach. TribePad's ATS can be personalised for every customer, based on their needs and individual requirements. Our platform's modular design, for example, means that customers such as Card Factory, can easily retain their individual branding for different business divisions, enabling a unified hiring experience across all channels and devices, something that's increasingly important in the war for talent.
We think we've got one of the best products and approaches on the market. We combine cutting edge technology – such as AI, machine learning, personality profiling and video interviewing – with a bespoke approach which works closely with clients to answer their own specific needs. No ATS platform is the same, and we take great pride in working in partnership with our clients to help drive development of features they need.
8. What advice would you like to give to the upcoming HRTech Startups?
If you've got a piece of technology that works ridiculously well, focus on that, and grow it. Identify and own your niche, and then explain your value proposition clearly, and positively, to your buyers, and use that as a springboard to grow your user base.
I would also recommend that everyone has APIs built all around their platforms, so that you can integrate and collaborate with other HR tech providers, of which there are many, to give your buyer as much value as possible.
In this market it's not a winner takes all: everyone is completely different. What you need to do is identify what you're trying to solve, then find other businesses which will help you gain traction.
9. What work related hack do you follow to enjoy maximum productivity?
Read books. Nothing gives a greater return on investment in life. You can continuously develop yourself and build upon your knowledge for as little as a few quid! I read a book a week. It keeps me entertained, enlightened, sharp and motivated.
10. How do you prepare for an AI-centric world?
Right now, AI is being marketed in everything. At the HR Tech event in Las Vegas earlier this year, AI was everywhere… and nowhere. The problem is that what we would have simply called software years ago is now being called AI, which to be honest, isn't helpful.
As an industry, we're barely scratching the surface of what AI can do, but we need to make sure that when it does become widespread, the information that the systems are built on can make intelligent and informed decisions that will truly change the way HR departments operate.
We also have to be mindful of how candidates feel about greater use of technology in the hiring process. In our recent report Hiring Humans vs. Recruitment Robots, we found there remains big concerns about the role of automation and technology in recruitment: just under half (42%) of candidates agreed that decisions should be made by humans, not robots. A similar number (42%) felt it dehumanises the recruitment process; and that same figure (42%) were concerned it'd screen in/and or out the wrong people. But half of job-seekers (47%) also said it helped with speed of application, and a similar number (46%) agreed it sped up the response time from prospective employers. At the moment, people are comfortable with a 'bit of both' in recruitment, so any future introduction of technology will need to be managed well. AI won't be the answer for everything, and it's important that the final decisions that HR makes are always made by a human.
11. What are the major developments you are planning?
Customers often want to put together a team full of personalities and working styles that fit and work well together. So ensuring team make-up and blend are full of diverse personalities is growing in importance, especially as we begin to offer a platform which can dive deeper into who a person is, beyond what's on their CV. We're investing in technology that can do this deep dive, that can identify personality traits and help employers make informed choices.
One big milestone we've achieved recently is with our video interviewing technology, which can now translate answers into multiple languages, in near real-time. For example, a candidate can answer a question in French and it's translated into English for the recruiter to review. This opens up all sorts of new opportunities for both organisations and candidates looking for work abroad.
We also believe the next wave of tech will focus on career management, progression and relevance, so we're working on a new product which will show candidates applying for roles where their career could progress to, based on the aggregate past of other candidates, with similar jobs, who are further along their career journey. This is compelling for the candidate as it shows them how to move forward and where to get skills or help from.
12. Can you tell us about your team and how it supports you?
Our business' core mission statement 'People first. Product second. Profits third', is key to our success, and I take great pride in turning employee wellbeing into a competitive advantage. Initiatives such as a dedicated training budget and unlimited access to courses, means my team can continue to enrol in apprenticeships and masters qualifications to pursue their passions. We also offer free lunches, enhanced pension, healthcare, profit share, unlimited holidays, birthday vouchers, cakes and monthly socials; plus a financial advisor providing workshops on investing and managing money.
This culture has created a team of motivated, innovative, dedicated and flexible individuals where creativity and problem solving are encouraged and supported.
13. Which Book are you reading these days?
This week I'm reading 21 lessons for the 21st century by Yuval Noah Harari. His previous books have been heavy but enlightening, and this one is no different.
14. We have heard that you have a very joyful work culture, we won't mind having a look at some of the pictures?