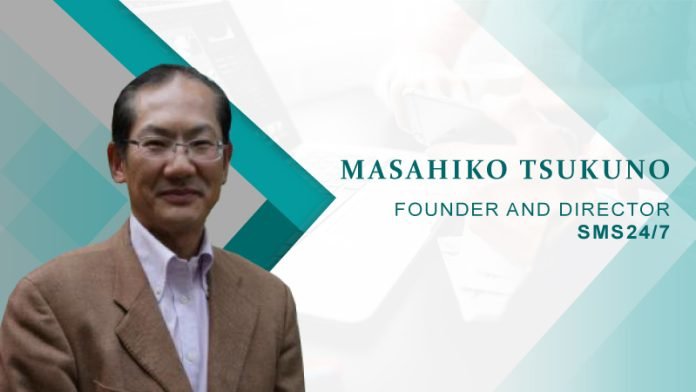 Masahiko Tsukuno, Founder and Director SMS24/7 talks about the significance of efficient communication during recruitment via a SMS-based system.
1. Tell us about your role at SMS247?
I am the founder and CED of SMS 24/7 Pte. Ltd.
I have been designing our HR tech service , its back end system, and conducting business development.
2. Can you tell us about your journey into this market?
I have been working at a major HR information provider for 8 years in Japan, and joined an AI tech-developing company for 16 years to handle HCI, (human computer interface) using conversation via verbal and text chatting (natural language processing) .
After my career stint in Japan, I have moved here in Singapore and launched SMS24/7, to provide the automated service to handle the communication management at the phase of the direct hiring for the companies ,which are recruiting a huge number of non-office workers, using my experience.
3. How do you think technology is upgrading the HR Sector?
In the HR sector, specifically in the human to human areas, the tech departments of the companies have to handle massive workflows. Of course, there are HR system services in place to process the data, but the human resources still needs to be personally involved in the recruitment process.
For example, the interview to select a person to hire still needs to be handled by human HR executives, but the HR team is smaller than the number of applicants.
I want to try to automate the process that comes just before these interviews so that the HR team can focus on the processes where human executives are required, such as the interviews.
4. How has technology eased staffing for organizations?
Even if the HR team is small, they can handle more interviews to hire. How? Our service solves the problem of lack of manpower at the business front of these companies by offering recruitment automation services.
5. Can you explain how does your platform helps individuals in getting recruited?
Most of the times there's a miscommunication or lack thereof, between employers and applicants during the recruitment process.
Typically, before applying, most of the applicants are used to using PC and web, apps, email, without any support, to search for the necessary information about the job vacancies and accordingly decide whether they'd be a good match or not. But with our product, candidates can simply send an SMS that doesn't even require an internet connection, and get responses to all of their queries about the job listing.
My experience has shown me that there are a lot of people out there who do not have IT literacy , and are not used to using PCs and upgraded software. Hence, I decided to launch this simplified HR tech service for them.
They, or almost all of them, can text, chat, and communicate via mobile phone without any need for support.
So, our service is based on the telephone system, and not on apps.
These communications between HR team executives and each applicant via phone call or SMS chatting are human to human. Therefore,
it is important to match up the timing to communicate with each other, and keep the logs with each other.
Let's say an applicant finds an HR poster about a vacancy at the outlet, newspaper ad, or bus stop poster, and calls or SMS' at 6pm on a Saturday, but nobody picks up the call, or replies to the SMS. This could lead to the applicant giving up because he/she can not wait till next Monday for a response.
Our service can set the interview appointment at the morning on Monday, so that the applicant doesn't have to wait till Monday.
We can save 40% – 50% dropouts by merely automating this response process.
6. What features of your staffing solution differentiates it in the market?
We are not an employment agency, nor staffing agency, but an HRtech service provider that helps with direct hiring by the HR team via a tool that improves their productivity. There are few competitors in this area here in Singapore. But as our clients have huge hiring needs, we help them save their cost of hiring to manage it by themselves, they trust us.
7. What advice would you like to give to the technology Start Ups?
I think they should Try first in the physical market, and upgrade the idea, service, and technology. Because technology is of no value if it is not used by people as a live service. You don't have to be 100% there, because time goes by, and new tech will come and go, and you can upgrade with time.
8. How do you prepare for an AI-Centric world?
After 5G, a higher level of service will be provided from the intelligent servers, to simple mobile phones with more simple interfaces.
We should make more simple HCI and high revel service for an AI-Centric world
9. What are the major developments you are planning, in recent times?
To make ourselves a more automated company, to serve more clients and applicants.
10. Can you tell us about your team and how it supports you?
We will be able to expand more in the HR market, with our limited resources.
For more such Updates Log on to www.hrtechcube.com