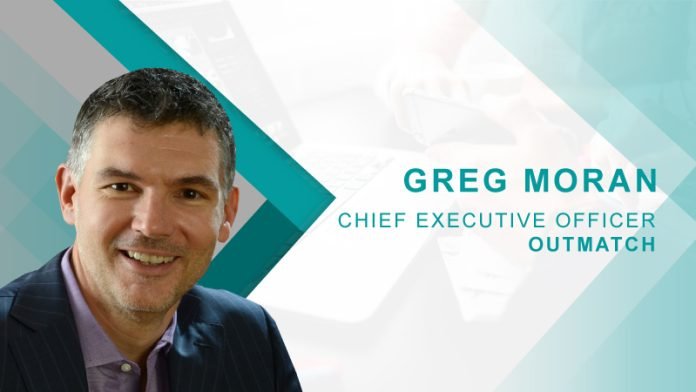 1. Tell us about your role in Outmatch.
I am the CEO of OutMatch, a leading candidate-driven talent selection platform, where I manage strategy, culture, and execution, leading our team to drive overall performance and company growth. Based in Dallas, Texas, OutMatch works with a wide range of clients, including Adidas, Lenovo, and Virgin Atlantic.
Additionally, I am the author of two books: "Building the Talent Edge: A Field Managers Guide to Recruiting the Best" (Spring 2005) and "Hire, Fire and The Walking Dead" (June 2006, W Business Books). I'm an avid athlete, having successfully completed multiple Ironman triathlons and marathons, and currently reside in Evergreen, Colorado.
2. Can you tell us about your journey into this market?
I got my start in music marketing at Saratoga Performing Arts Center. When artists came to perform, I would accompany them during press events and interviews. As much as I loved meeting and even becoming friends with celebrities, I knew it wasn't what I wanted to do long-term.
My parents were both entrepreneurs and I'm sure I got the entrepreneurial bug from them. I was constantly reminded of the advice and stories they'd told me about building a life for myself. Over the years, I've been a part of several exciting start-ups – serving as Founder for PeopleAnswers America, a leading provider of behavioral assessment and before that, Founder and President of Pinnacle Technology Solutions, an executive search, staffing, and HCM services firm.
I started a few other businesses before founding OutMatch in 1989. Since then, OutMatch has worked to help companies match the right person with the right job and build bridges between those gaps to enable hiring that is simple, smart, and human.
3. How do you think technology is changing the HR Sector?
New technologies are certainly not new to the space, but have taken center stage in HR throughout 2020, as companies look for new ways to meet today's digital hiring demands. In fact, 24% of businesses have started using AI for their talent acquisition needs, while 56% of managers are planning to adopt automated technology within the next twelve months.
In today's remote world, technology is assisting talent acquisition teams to make the smartest and most efficient hiring decisions for the long-term. Where HR used to be a non-digitized function, it is now a marriage between human capabilities and technology.
With remote work as a mainstay option, employers are now casting a global net for remote workers. This means collaborative, seamless technology will become make or break for companies to weed through talent. To source the right employees (the first time around), recruiters should look to AI and Machine Learning to increase hiring quality, save time, and improve all stages of pre- and post-hire talent acquisition – without losing the critical human connection employees still crave.
4. How is digitization empowering the talent acquisition processes?
Traditionally, the talent acquisition process has been inefficient and time-consuming, demanding a ton of attention on the recruiter's side to keep the process moving forward and creating a disjointed experience for the candidate.
Digitization gives hiring managers their time back – allowing them to focus on more important aspects of the hiring process, such as creating personal connections with candidates. AI and automation, digital interviewing and virtual assessments are completely transforming the hiring process for both candidates and recruiters alike – driving speed, efficiency and engagement throughout the entire experience.
Digital hiring is not just a short-term patch for COVID-19, but rather a long-term hiring solution. As we enter 2021, we can expect to see a fundamental shift towards digital, remote-ready, AI recruitment and candidate screening tools, which will drive enhanced efficiency, effectiveness and long-term employee happiness.
5. What is the role of AI and ML in removing bias and improving the hiring functions?
A lot of companies, ours included, made the vow this year to promote and foster diversity in our workforces. Unfortunately, companies are struggling to get it right. The simple truth is that it starts with how you hire. Instead of quotas, minimums, and specialized hiring events, companies need data-based, sustainable hiring practices that remove bias and capitalize on the candidate's qualifications for the role.
Companies should look to technology, such as AI and ML, to improve decision-making by adding data, objectivity, and predictive models. For example, implementing video interviews helps to equalize the hiring process. Video interviews enable decision-makers to conduct the same video interview, with the same questions, to every candidate. This combats conscious and unconscious bias in the workforce – and gives people from all different backgrounds an equal playing field. Overall, companies must look beyond diversity as a quota and focus more on creating a culture where diversity can thrive.
6. What is the impact of video interviewing on candidate experience?
Traditionally, the market today has benefited the employer experience at the expense of the employee experience. OutMatch is the only company that applies AI and talent acquisition technology to solve that problem head-on, for both the employee and the employer.
Our new Talent Selection platform allows candidates to move more quickly through the selection process, saving nearly four days' worth of time- and operating in full transparency.
By combining assessment, video interview, and AI, companies see faster, more accurate hiring results that provide managers with the clarity, insight, and speed needed to match the right candidate with the right job.
7. How is predictive talent assessment amplifying the quality of the talent pool?
Remote work has changed the hiring field, offering workable options for candidates anywhere in the world. With a talent pool larger than ever before, so too becomes the competition. And recruiters are left mining loads of data, bottlenecking processes, and losing valuable time.
That's where tech comes in. Intelligent automation filters through data quickly and without error, saving recruiters time and sanity. Talent acquisition teams can act quickly and transparently, using AI to increase their ROI 25x or greater. In today's world, fast and accurate hiring decisions are paramount in keeping businesses running smoothly, and empower HR teams to focus on other important tasks such as cultivating company culture and monitoring employee happiness.
8. Can you explain to us in detail about Culture Analytics?
OutMatch Assess offers a new gamified culture assessment tool, empowering companies to practice intentional decision-making when it comes to culture-fit in the hiring process. Each assessment takes five minutes, engaging candidates to truly understand their values, and how they will align with the company's culture. OutMatch Assess is fully packaged with this assessment and will further enhance its core assessment capabilities.
9. How does your reference checking solution improve hiring?
The future of recruitment will leverage technology to drive efficiency for both recruiters and applicants. We recently announced the acquisition of Checkster, a global provider of pre-hire and post-hire talent insights solutions. This integration will address critical inefficiencies in the hiring process by automating the time-intensive process of collecting candidate references. Integrating Checkster's technology into our Talent Decision Platform will eliminate logjams in the recruiting process that frustrate both recruiters and candidates, while infusing more data for recruiters to identify the best talent.
Our post-hire tools bridge the gap between talent selection and job performance. Linking the pre- and post-hire talent analytics within our Talent Decision Platform creates a newfound ability to rigorously measure quality of hire, drive increased agility throughout the talent selection process, and create higher-performing teams with improved retention.
10. What are the major developments you are planning, in recent times?
We are currently working to further our position as a global leader in the digital hiring space through major partnerships, product launches, and announcements. Just last week, we announced:
The acquisition of talent assessment company, FurstPerson: Specializing in pre-hire simulation assessments, FurstPerson offers hiring managers and job candidates the critical information needed to make the smartest hiring decisions.
A new gamified culture assessment for OutMatch Assess: In just 5 minutes, candidates can now complete two engaging culture assessments. Clients will be able to deeply understand how each candidate aligns with their current and ideal organizational culture.
A new comprehensive talent decision management platform: The new platform ties candidate screening, assessments, video interviewing, and artificial intelligence into a single integrated, automated experience – driving speed, efficiency, and engagement, while removing bias and improving hiring decisions for both the candidate and recruiter.
For more such Updates Log on to www.hrtechcube.com