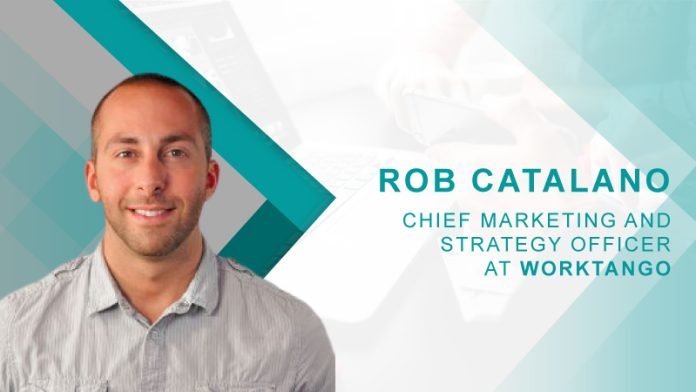 Dynamically changing workplaces require more engagement and inspiration. How can HR tech facilitate better work culture in organizations?
1. Can you tell us more about yourself?
I am currently the Chief Strategy & Marketing Officer at Kazoo + WorkTango and have spent the last 18 years building HR Technology companies. I'm super passionate about building fantastic workplaces and enjoy speaking and writing about how we can improve experiences at work – somewhere we all spend half of our waking time at! To fuel that passion, I have started communities that connect HR professionals and share best practices and find a lot of joy in engaging, educating, and inspiring the HR community. I'm also an avid hockey and volleyball player, traveler, used to play guitar in a metal band, and in my own terms a 'pointaholic' – I collect loyalty points for everything and anything!
2. Could you give us a brief about your career before joining Kazoo & Work Tango?
I started my career in marketing agencies helping large enterprises with their marketing strategies and execution. A perfect fit given my studies in Marketing, but after sitting in client offices every week and seeing how unhappy people were at work, I became less interested in the theory of consumer behavior and why people buy products, and more enamored with why employees are engaged and attach themselves to an organization.
I quickly left that experience and joined a small HR technology startup company (Achievers) focusing on recognizing and rewarding employees to drive employee engagement. I spent 10+ years growing that organization from the ground up focused on advising customers on engagement strategies and leading the marketing and global expansion of the company. That took me from Canada, to the US, and to the UK.
Once Achievers was sold in 2015, I co-founded WorkTango to support a better way for companies to build better workplaces through listening to the voice of companies. We recently sold WorkTango to Kazoo, and are now enjoying the exciting journey and challenge of merging the company together. I find myself back in the Recognition & Rewards category from back in the Achievers days.
3. Through the acquisition, Kazoo with WorkTango will expand its capabilities. Can you tell us about the new combined functionality you will now offer to customers?
I'm excited for what is to come as we support the world's most forward-thinking companies on how to engage and inspire their people, especially given the changing workplace. The two companies' combined capabilities position us to offer the only Employee Experience Platform that enables meaningful recognition and rewards, offers actionable insights through employee surveys, and supports alignment through goal setting and feedback.
4. You mention that Kazoo & WorkTango offers a complete solution for any company culture. Can you elaborate on this?
There is tremendous value in how the platform works better together to improve the overall employee experience. When you think about strategies and actions in a company with the intent to better the employee experience, those insights are best served by understanding the sentiment of what they are actually experiencing. A great way to get authentic feedback is through insights from employee surveys.
With actions seeded by what really matters to employees, our platform supports accountability and alignment through our Goals & Feedback engine. The ability to prioritize key actions and infuse that into continuous conversations at the company or team level in turn supports real change.
Furthermore, once a company's actions are defined and aligned, our platform then compliments those by amplifying the key behaviors the organization wants to see more of from employees through the Recognition & Rewards function.
This all creates a cycle that supports the entirety of the employee experience. Creating a fantastic employee experience doesn't happen from one activity in isolation, nor is it constituted by checking in with your team once a year. Continuously listening to the voice of employees and obtaining sentiment from them more frequently identifies the impact of an organization's past actions and informs better people decisions in the future.
As far as the value to HR goes, the platform provides real-time data allowing business leaders to make better people decisions while iterating and improving the employee experience. More importantly, the value for employees is that priorities become clear, achievements are celebrated, and they have a voice that will be heard within their organization.
5. How is your work changing as your company scales up?
From one lens, it's not changing much at all. I am still spending a lot of my time evangelizing how critical building a better employee experience alongside writing and speaking about what Kazoo + WorkTango is passionate about as an organization. I'm continuing to spend a lot of time with my team trying to remove barriers within the workplace while also building a meaningful experience for them.
From another lens, my role has changed from the CEO role to one that's more focused on our strategy and marketing functions. I still get the excitement and passion of growing our team at the executive level and think broadly about our growth with a strategy hat on, but I also get to influence the growth of the company more specifically with our marketing efforts.
6. Your company has not sought any external funding, and everything that you have earned is organic, is that right? How did that work?
Correct, before the acquisition, WorkTango did not have any external funding at all.
Prior to my time at WorkTango, I worked in a Venture Capitalist environment and learned a lot through that experience, but valued capital efficient growth more than 'growing at all costs.'
Additionally, funding comes with other components attached to the funds. WorkTango chose the path of "bootstrapping" because we were able to run the organization how we felt it would be successful and focus all our efforts on building a great company, not one solely focused on growth rates. Not to say that growth rates aren't important, they certainly are, but given our past experiences, we felt confident in our business model. We knew we needed to grow, however, we didn't want that to overshine our desire to focus on being a great company to work at, or a great customer to partner with.
WorkTango also holds the true belief that if you focus on employees first, they are the only input that you can nurture and support to ensure you receive fantastic outputs like customer happiness and increase business growth (i.e. financials, profitability, shareholder value).
Our organic success resulted from a few things. First, we focused on great talent. We hired people that were passionate about our journey and purpose. The goal was that by providing a great workplace experience to our internal employees as well they would want to be involved in our growth experience. We also provided exceptional service to our customers. We created a virtue that was to 'Create Raving Fans' that we lived every day. It wasn't an environment where 'everyone is in sales' it was 'everyone is in service'. That focus really propelled our growth organically.
7. What according to you are the most important pillars for better employee experience?
The journey we're on today with Kazoo + WorkTango supports my belief that we're addressing many of the key pillars for a better employee experience. I believe that a better employee experience starts with employee listening and collecting employee feedback complemented by recognizing and rewarding great work. From there, organizations must focus on employee alignment and accountability, support learning and career development of employees, and ensure employees' personal wellness is considered while allowing employees to bring their true selves to work.
8. Could you tell us more about your team and how they support you?
Nothing happens independently or in isolation, and working with my team is where magic happens. From a marketing and strategy lens, I get the pleasure of working with teams that are not only passionate about the work they do but are incredibly talented, and could realistically get a job anywhere they pleased. My colleagues are the drivers of the Kazoo + WorkTango mission and have huge autonomy in doing what is needed to succeed. I'm there for a sounding board and advice, but I think we definitely support each other.
As for the whole organization, it's quite similar. There is such alignment of what the company and employees are passionate about, which is easy with a purposeful product and the value we offer our customers.
We support each other through transparency and vulnerability. Building a company is hard. Celebrating wins is easy, but digging into issues and navigating turbulence takes alignment and trust. That ability to speak about the problems and be transparent on what we feel is working or not working is what develops highly connected and successful teams.
9. What are your predictions for the HR tech space over the next one-two years?
As the nature of the workforce changes dramatically with continued remote/hybrid work and rapid business transformation, there will be a few new trends in the coming years in my opinion:
Data will be the lifeblood of HR tech (if it isn't already) – the ability to leverage data to make better people decisions is now within our reach. The focus on people analytics and predicting talent and business outcomes is in high demand. That being said, this will drive a second trend.
Consolidation of HR technologies – the consolidation of different HR tech pillars is offering interesting ways to support not only the data being collected but also provide more seamless employee experiences. Best in breed has value, but the growth of the space is driving consolidation of platforms through acquisition activity which I also expect to accelerate.
New tech-enabled experiences – the discussion of the metaverse isn't going away. The ability to interact with each other in unique ways, but also leverage new technology and AI for accelerated learning and upskilling will separate the winners from the laggards
A human-centric culture – I expect more and more technology will boom to support employee wellness and personal needs at work. They were humans before employees after all.
We're finally getting over the hump where HR tech is about enabling more than HR but rather focusing on improving the overall employee experience. HR leaders know they have to prioritize employee success. And if there's one thing that holds true, the pandemic demonstrated the power and leverage employees hold in this employer-employee relationship.
10. What are your plans for expansion and growth? How do you see the company and the industry in the upcoming years?
The plan is growth! Growth means continuing to innovate our product and offering to the market to offer more value.
It means building a better customer experience than what they have today and getting their support in guiding us. And lastly, it means hiring and retaining passionate talent. Without talent, we don't have a wonderful product to offer the market and customers to serve.
11. Which motivational quote drives you to achieve more at work?
"If I had asked people what they wanted, they would have said faster horses." Henry Ford's quote rings true that you can't just rest on what's always been done. Innovation is out there somewhere, I'd like to be part of a team that finds it.
12. What is the most significant piece of advice you would want to give to company leaders?
Lead with vision. Lead with transparency & autonomy. Lead with empathy.
If you have a passion or an end goal, it must be crystal clear. Achieving a goal isn't easy, and in order to do so, you'll need people around you for support. If you can't let them drive to success with all the information that you have, they'll never be bought in. Finally, your employees are humans. They have lives, families, and desires just like you do. Be people-first in how you treat them.
For more such Updates Log on to www.hrtechcube.com